The Five greatest guards in NBA History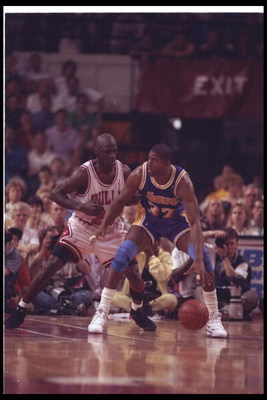 These five guards are my opinion five of the top 10 or 12 players in NBA history they have all been the best in a their particular era or right there amongst the best; between them they have won 17 NBA championships and ten MVP awards. What they all have in common is an ability to dominate the game without scoring despite the fact that all of them could score, and four of them were dynamic scorers in their careers. I would feel confident building a franchise around any one of these players, despite the fact that conventional wisdom says that you always start with a big man. I hope you enjoy the list.
Michael Jordan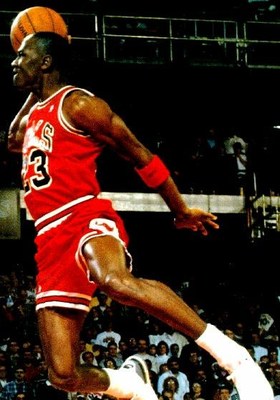 This of course was an obvious choice for number one Jordan is universally regarded as the greatest player ever; Jordan holds the highest career scoring average in botht the regular season and playoffs. For all of Jordan's accomplishments and the list is endless the most impressive thing is his winning six championships without a dominate or even all-star big man. This is something that had never been done before and will never be done again; similar to Kobe Jordan mastered every part of the game as his career moved along. In 1988 Jordan had one of the great individual years of all-time, he would average over 35 ppg, 5.9 apg, 5.5 rbg, 3.2 spg and 1.6 bpg, that season Jordan won both the MVP and Defensive Player of the Year awards. In the 80's Magic and Bird saved the NBA; but it was Jordan who took it to a level never seen before, he is the definition of a transcending athlete.
Magic Johnson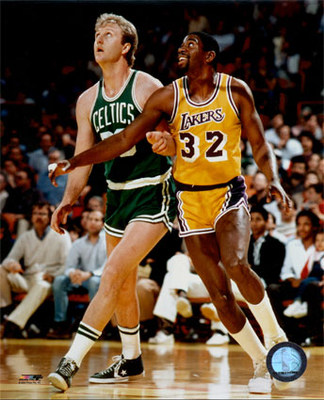 It did not take long for Magic to make his bones in the NBA, in game six of the 1980 Finals Johnson played all five positions in leading the Lakers to a win without the injured Kareem Abdul Jabbar, Johnson had 42 points, 15 rebounds and 7 assists, it is considered to be one of the great performances in Finals history. Johnson did this as a rookie. During Johnson's career he was triple double waiting to happen, only Oscar Robinson has more career triple doubles, at 6'9 Johnson could see the floor as well as anyone who has ever played the game. Johnson would lead the Lakers to five NBA championships and was named MVP in three of those FInals Series, for his career Johnson averaged 19.5 ppg, 11.2 apg and 7.2 rpg. Despite being surrounded by future Hall of Famers Kareem Abdul Jabbar and James Worthy, it was Johnson who was not only the Lakers best player but their unquestioned leader. Along with Larry Bird Johnson saved the NBA and reignited one of sports greatest rivalries.
Kobe Bryant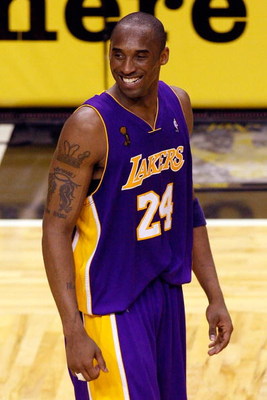 This was a very tough call between Kobe and the player ahead of him I went back and forth; but Kobe is without question a solid number three and climbing, Bryant is coming off championship number four PS (post-shaq) and at 30 seems to be primed for more. Bryant has simply mastered every aspect of the game and this season he continued to remind everyone that he is still the game's best. Bryant made First Team All NBA for the ninth time in his career and was First Team All Defense for the seventh time; his leadership is what has taken him to the next level, winning a championship as a guard and the best player on the team is a rare feat. In the last two seasons Bryant has won a championship, an Finals MVP, a regular season MVP, gold medal and he has not missed a game. I never thought I would say this but Bryant has an outside chance of one day being the best guard ever.
Oscar Roberson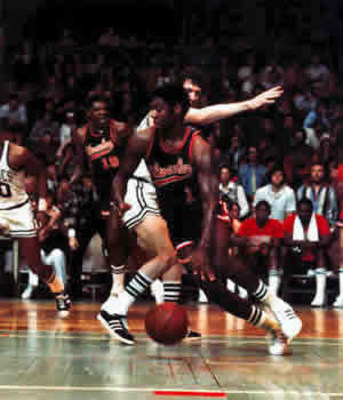 Nicknamed the Big O, Robinson at 6'5 was the first big point guard that could do it all, for his career Robinson averaged 25.7 ppg, 9.5 apg and 7.5 rpg. Robinson to this day is still the only player to ever average a triple double for an entire season. Robinson was nearly a one-man show for his career until a young center by the name of Lew Alcindor came along, in 1971 Alcindor would help Robinson win his only NBA championship. Alcindor would eventually change his name to Kareem Abdul Jabbar. Robinson gets the nod over West because I believe if had he played with the talent that West had he would have won two or three more championships. Could you imagine Robinson with Elgin Baylor it would have been scary.
Jerry West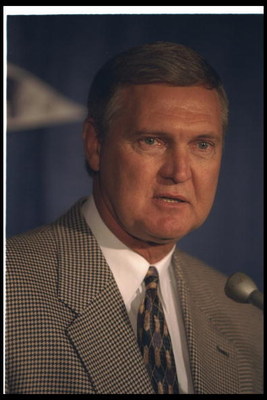 How strong is this list that the NBA logo would be fifth, but this is one of the few lists West would not be near or at the top of, West was one of the most gifted scorers in NBA histrory finishing his career with a 27.0 ppg average, but he was at his best when is counted the most, a 29.1 ppg playoff average leaves him only second to Michael Jordan. If there was a torchered soul it was West who always being denied a championship by the mighty Boston Celtics, West is still the only player in NBA history to win finals MVP on a losing team. West would finally win his championship in 1972 leading a Laker team that many consider one of the greatest ever, during that season the lakers had a NBA record 33 game winning streak and won a then record 69 games. West was All NBA First team ten times and is still the lakers all-time leading scorer. For all of his greatness and clutch shots West should have won more championships; over the course of his career he played with Gail Goodrich, Frank Selvy, Elgin Baylor, Dick Barnett and Wilt Chamberlain.
Keep Reading