The start of the 2014-15 Premier League season is drawing ever closer, and Manchester United continue to be linked with transfer moves for a number of top players around the European leagues.
The same names keep popping up as the Red Devils look to add more star power and versatility to a squad that already looks to be in much better shape than it was one year ago.
Louis van Gaal has injected a level of optimism in the fanbase, and one more key signing would only add to the excitement among the Red Devils faithful. Here is the latest buzz surrounding some of the biggest names being linked with a move to Old Trafford.
Angel Di Maria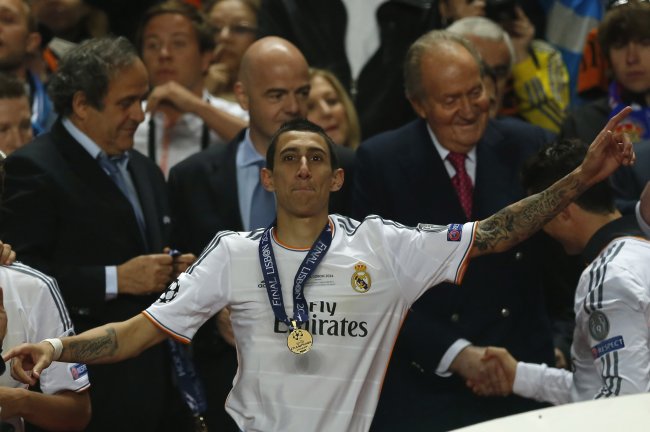 Andres Kudacki/Associated Press
Van Gaal told the Sunday Mirror (h/t Sky Sports) he feels his squad lacks a top quality winger, mentioning the Real Madrid man by name. When asked whether the club would still spend big in the market, he said:
It is a strategy of Manchester United to do that. At this moment, we have five No.9s and four No.10s—and we don't have wingers to give us attacking width.

Or, I should say, we don't have wingers of the highest level, like [Cristiano] Ronaldo or Di Maria or somebody like that. So, I have to play in another way – and you have seen that already. I only buy when I think we need to buy – in the position that is necessary.
Di Maria is one of the wingers most frequently mentioned as a potential transfer target for United, along with Fiorentina's Juan Cuadrado.
The Argentine international is expected to join French champions Paris Saint-Germain, but as shared by Bleacher Report's Jonathan Johnson, Le Parisien suggests the club would have to sell Edinson Cavani before they would be willing to add more players:
Le Parisien suggest that PSG could move for Angel Di Maria, Wayne Rooney or Andre Schurrle if they decide to cash in on Edinson Cavani.

— Jonathan Johnson (@Jon_LeGossip) August 10, 2014
PSG's reluctant approach could open the door for the Mancunians, particularly now that Van Gaal has openly spoken of the quality of the player. There's no question Di Maria is a world-class winger, but he also has the versatility to line up in a more central role.
Any offer for the World Cup star would have to be a substantial one, and without the incentive of Champions League football in 2014-15, convincing Di Maria to join the club could prove difficult.
Daley Blind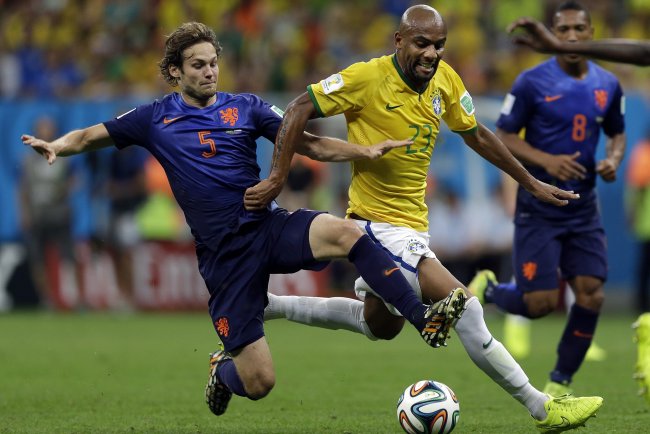 Andre Penner/Associated Press
The Dutch international is widely expected to join the Red Devils during the summer of 2014, and the Daily Mirror's Simon Mullock reports that the versatile defender didn't hide the fact that he is currently listening to offers:
What will I do when Louis van Gaal tells me he wants me to come to Manchester United? I will consider it.

The World Cup has been a massive boost for my experience and I have made no secret that I will listen when a nice offer comes my way.
The Red Devils missed out on Thomas Vermaelen, who joined Barcelona, leaving Blind as the most likely defensive reinforcement.
Blind has experience in the 3-5-2 formation Van Gaal has implemented at Old Trafford and knows exactly what to expect, having played under the new United boss during the 2014 World Cup. He can line up anywhere on the left and even help out as a centre-back, another reason why the Mancunians are reportedly interested.
Manchester Evening News' Rob Dawson agrees his versatility makes him the ultimate club target:
If Barcelona have beaten United to Thomas Vermaelen, it would make pursuit of Daley Blind even more important. Would cover three postions.

— Rob Dawson (@RobDawsonMEN) August 8, 2014
The player appears ready to move to a bigger club after spending years at Ajax, and a reunion with the coach who helped his star shine brighter at the 2014 World Cup just makes too much sense for it not to happen.
Matthias Schrader/Associated Press
Blind may be the most likely defensive target, but Mats Hummels remains the dream signing for fans of the club. The Daily Star's Paul Hetherington claims the Red Devils will make a final, £30 million offer to Borussia Dortmund before looking to Blind if the offer is turned down.
The German centre-back has given no indication that he plans on leaving Die Schwarzgelben during the summer of 2014, and his coach, Jurgen Klopp, has dismissed any talks of a potential transfer, per Hetherington.
But that won't stop the Red Devils from testing the waters on the 25-year-old, who is widely regarded as one of the top young defenders in football. Hummels led Germany's defence on their way to a World Cup win in 2014.
With the amount of top defenders seemingly available on the market at an all-time low, the club's continued interest in Hummels is understandable. The centre-back appears unlikely to move, however, so fans shouldn't get their hopes up too much.