Clowney Flashes All-Pro Tools, Limited Skill Set in Strong NFL Debut
August 10, 2014

AP Photo/Rick Scuteri
Jadeveon Clowney is a freak of nature. A once-in-a-generation talent. An Earth-scorching speed-rusher with physics-defying size, he's a living nightmare for offensive linemen and quarterbacks alike.
We knew all these things before Clowney blew up the NFL Scouting Combine back in February.
We knew all these things before the Houston Texans drafted him No. 1 overall back in May, pairing him with All-Pro defensive end J.J. Watt.
We knew all these things before he took the field for the first time as a professional, rushed his first professional passer for the first time and this happened:
Credit: NFL Preseason Live
Clowney didn't get the sack on that play, nor did he end up with a sack during the two series he played. Still, his incredible speed and dominant power were on display that play and on nearly every snap thereafter.
There have been plenty of impressive physical specimens who never developed into dominant players. NFL history is littered with flash-in-the-pan rookies who never earned their keep. Against the Arizona Cardinals, Clowney answered a few of the questions that nagged him throughout the draft cycle, even if he underlined a couple of others.
After the Texans drafted Clowney, I took an exploratory look at how he might fit into the Texans pass rush. There was plenty of uncertainty: Would he play behind Watt? On the other side of Watt? Might he flex between right outside linebacker and defensive end? Would the Texans move to a hybridized 4-3 and let Clowney put a hand down?
Saturday's preseason game helped answer some of those questions. 
Clowney was listed as the starting JACK linebacker on the team's first camp depth chart, per CBS Houston, and that's exactly how he played, as a pass-rushing right outside linebacker. Here's Clowney's position in the Texans' base 3-4 alignment:

Credit: NFL Preseason Live
Clowney didn't do any moving around. In my film review, I didn't see any snaps where he played from the interior or on the left-hand side. On one play, it looked like he was lining up as an end in a 3-3-5 nickel set, but he picked up his hand and reset in a two-point stance, making it a 2-4-5.
As a pure pass-rusher, Clowney repeatedly used his stunning edge speed and get-off to try to beat the tackle to the outside. Then, he'd use his upper-body strength to try to turn the corner. He gave starting Arizona left tackle Jared Veldheer plenty of work; the closest Clowney came to getting a sack in the two drives he played came here against second-stringer Nate Potter:
Credit: NFL Preseason Live
Against the run, Clowney was no less single-minded. He rushed full-bore through his assigned gap, whatever it might be, and did whatever damage he could. He was burned by Cardinals tailbacks a few times when he aggressively overpursued. Clowney's approach produced spectacular results, though, when Cardinals tight end Darren Fells tried to block him one-on-one.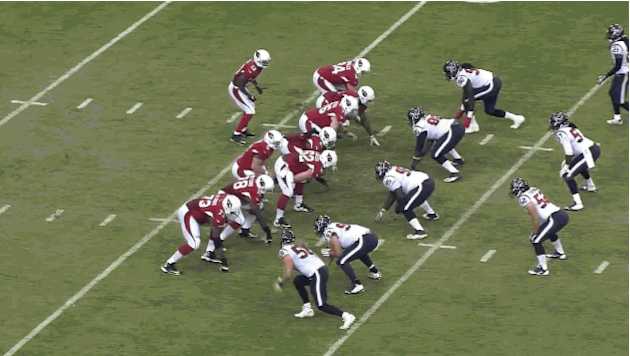 Credit: NFL Preseason Live
This was the Clowney Moment we were all waiting for.
It wasn't as spectacular as the Hit That Launched 1,000 GIFs, his 2013 Outback Bowl slobberknocker on Michigan running back Vincent Smith. It was, however, confirmation that Clowney will be a devastating force in the NFL, a player who must be accounted for.
Even if Clowney never does anything other than bull rush like a maniac whenever the ball is snapped, he'll require offensive coordinators to chip- and double-team—and pull any blocking schemes like the above out of the playbook. That kind of impact from a single defender is huge and exactly what the Texans are paying for.
As valuable as that ability is, though, it's not the only thing the polished All-Pro talent does on a down-to-down basis. Even a player as talented as Clowney can be schemed out of the game if all he has is one move at one speed; even a pure rush linebacker has to drop into coverage sometimes.
How did Clowney do when he dropped into coverage? Disastrously:
Credit: NFL Preseason Live
Though this touchdown was called back on an offensive penalty, this is exactly how opposing offensive coordinators can and will attack Clowney.
First, the Cardinals line up two tight ends and a receiver on his end of the line, ensuring Clowney will either be responsible for one of them or one will be wide open. Tight end John Carlson will release into the flat in front of Clowney, then turn upfield.
Watch Clowney's transition from squared-up rusher into man-on-man coverage. He's caught flatfooted and doesn't smoothly flip his hips:

Credit: NFL Preseason Live
Clowney then stumbles out of this transition, leaving Carlson as open as open gets in the NFL. Clowney can't turn and close in pursuit either, so Carlson has two steps on him. According to NFLDraftScout.com, Carlson ran the 40-yard dash at the NFL combine in 4.88 seconds—and that was six years ago. Clowney, an inch taller and 10 pounds heavier than Carlson, cut a 4.53 this spring, per NFL.com.
It seems like Clowney's incredible athleticism should make him a natural in coverage, but he has nearly zero experience and shows precious little aptitude.
Criticizing a pure pass-rusher for his poor coverage skills might sound a little nitpicky, but this is the NFL. If Clowney is going to be out there on passing downs, he can't be a complete liability in pass coverage. He's never going to be Derrick Brooks and doesn't need to be in this scheme, but if he can't do a more credible job of covering tight ends, he's going to give up more big plays than he makes.

Christian Petersen/Getty Images
The terrifying pass-rushing combination of Clowney and Watt gave up two touchdowns on the two drives they played together. No matter how fearsome the Texans pass rush is, they need to get much better play out of the secondary for it to matter; we won't even discuss the shutout offense.
Even so, it was a tantalizing debut for Clowney, one that only leaves us wanting more.
As he gets more camp and preseason reps and grows comfortable with his role (he missed minicamp while recovering from surgery), he should improve significantly. As good as he already is, the ideal of him improving significantly should strike fear into the hearts of anyone who'll be unlucky enough to oppose him in 2014.