Barcelona are reportedly very close to a £15 million transfer for Arsenal's Thomas Vermaelen, and while the Belgian won't have fans buzzing with excitement, the Blaugrana faithful should hold off on grabbing the pitchforks and lighting the torches.
According to the London Evening Standard's James Olley, Barcelona will beat out Manchester United for Vermaelen's signature, and Bleacher Report's Guillem Balague knows Luis Enrique is confident the transfer is in the bag:
Barcelona convinced everything done 4 Vermaelen 2 be under Luis Enrique's orders very soon. They r sure 2 have beaten Utd for his signature

— Guillem Balague (@GuillemBalague) August 8, 2014
The news broke just one day after Arsene Wenger confirmed Arsenal were aware there was little they could do to stop the player from leaving:
Wenger: "Vermaelen could leave us because he needs to play now. We're in a position where it's difficult to stand in his way"#AFCvMCFC

— Arsenal FC (@Arsenal) August 7, 2014
Vermaelen will join Jeremy Mathieu as Barcelona's main defensive reinforcements for the summer, and that area of the pitch was widely seen as the team's biggest weakness coming into the summer transfer window.
Goal's Ben Hayward disagrees with the club's approach to solving their defensive issues:
So €20m for Mathieu and now €15m for Vermaelen. Barcelona could have bought one truly world-class defender for that. Baffling.

— Ben Hayward (@bghayward) August 8, 2014
He has a point. The Blaugrana are spending a lot of money on two good players, and their combined transfer fee could have been used on a single player with higher upside.
But the 2014 summer window has been a funny one, with clubs all over the world breaking their transfer records to bring in new players. As for world-class defensive options: The market simply didn't give Barcelona that many options.
Most of the (frankly ridiculous) sums that were paid for defenders went to young, unproven prospects who will need time to grow into their roles. Barcelona need to fix their issues now—someone like Eliaquim Mangala would not have been a perfect solution.
Top players like Mats Hummels simply aren't available, and Roma's Mehdi Benatia still hasn't vocally expressed his desire to leave. Enrique took a good look at the market and did what he had to do: Move for older, experienced options who fit his system and don't carry an enormous price tag.
It wasn't all that long ago when Vermaelen was viewed as one of the top defenders in the Premier League, after all. Arsenal made him captain for a reason, and, as shared by WhoScored, the player's statistics indicate his talent:
Thomas Vermaelen: Only Laurent Koscielny (19) has made more last man tackles in the last 3 Premier League seasons than Vermaelen (12)

— WhoScored.com (@WhoScored) August 8, 2014
Vermaelen's Arsenal career took a nosedive after an impressive start, courtesy of a bad Achilles injury and the Gunners' miss-management of the centre-back. The Belgian international is a thumper who needs to play next to someone organising things—when asked to organise himself, he gets nervous.
Arsenal made the mistake of asking him to do too much, and once it became clear that wasn't Vermaelen's game, the Gunners searched for a replacement rather than admit their mistake and redefine his role.
Vermaelen has both the physical requirements and technical ability to fit Barcelona's fast-paced style of play. He's not a world-class option, but he will be a solid piece to add to Enrique's puzzle.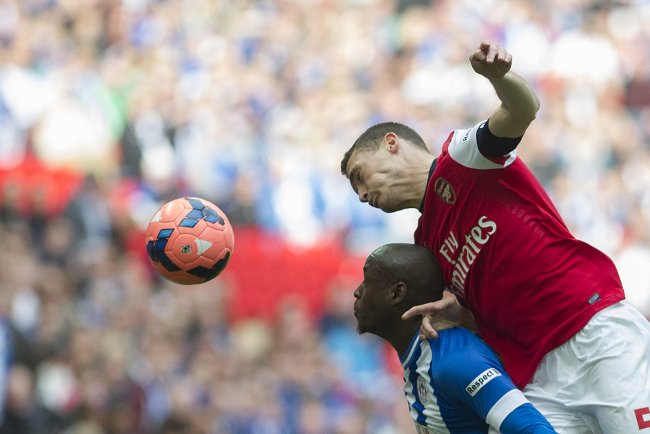 Bogdan Maran/Associated Press
He's also versatile enough to play on the left side of a 3-2-3-2 formation, and Goal's Ben Hayward believes Enrique could be looking into implementing such a system.
When looking at the 2014 summer market, Barcelona kept it safe by going after an established centre-back who will at the very least add some depth to an area of need. The Blaugrana didn't throw north of £25 million at a youngster who might not fit their philosophy, putting all their eggs in one inexperienced basket.
Yes, Barcelona could have added a bigger name that would have generated a lot more excitement. But looking at the finances involved, they could have done a lot worse than Vermaelen. And if the Belgian can return to his pre-injury form, they may just come away with a massive bargain.