Mehdi Benatia seems to be edging closer to AS Roma's exit door, and Chelsea have to make sure they're in the thick of the race for his signature.
Italian media are reporting the Giallorossi are set to sign Greek defender Konstantinos Manolas, with many seeing the move as insurance against a potential departure from the Moroccan international, per Jamie Anderson of the Daily Express.
Roma coach Rudi Garcia touched on the player's future during a pre-match presser last week, and he didn't sound overly confident in the club's ability to keep him in the squad. As reported by Anthony Wright for Roma's official website, he said he expects the player to be professional about the situation:
It's obvious that he'll give 100%, he's an exemplary professional. We saw this in the last couple of games that he played, there are no problems as far as I'm concerned. I hope that before long he'll have the chance to talk with you and give his thoughts. The best way to get an opinion of someone are to listen to his words. Wait for that day to come.
Benatia's future is somewhat murky, as he is yet to come forward and openly request a transfer. Gianluca Di Marzio's David Amoyal thinks the writing is on the wall, however:
Roma pursuing Manolas and Balanta even after getting Astori backs up Di Marzio's report they would sell Benatia for right price

— David Amoyal (@DavidAmoyal) August 7, 2014
He also explains why clubs are so willing to break the bank for a player most fans had never heard of 12 months ago:
Benatia is the best defender somewhat available on market since Thiago Silva, CBs of his quality are so rare- that is why he is so valuable

— David Amoyal (@DavidAmoyal) August 7, 2014
The 27-year-old was WhoScored.com's second highest-rated defender in Serie A last season, behind Juventus' Giorgio Chiellini, and he anchored Roma's defence on their way to their best season in recent history.
Benatia is one of the most complete defenders in all of football. He has all of the physical traits necessary to excel at the position, has phenomenal vision, is a vocal leader on the pitch and has enough technical ability to contribute to the build-up play.
Chelsea don't need another centre-back. They felt comfortable parting ways with David Luiz during the summer, brought in Filipe Luis to play the full-back position and have shown a great deal of trust in youngster Kurt Zouma.
The Frenchman has tremendous potential, and his early showings for the Blues have been promising. The 19-year-old has the potential to be a world-class defender in a few years' time, but as of right now, he lacks the experience to consistently make a difference at the highest level.
Benatia does not. He's the very definition of world class, even if his name hardly rings a bell with the casual football fan. The Moroccan was by far the best defender in Italy in the past few seasons, a league that includes the likes of Chiellini and Andrea Barzagli.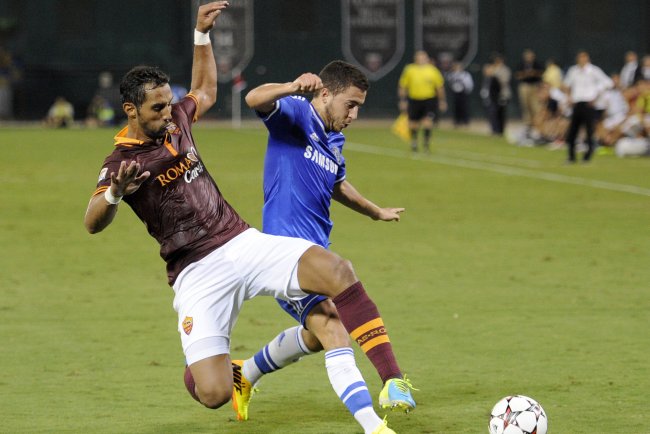 Nick Wass/Associated Press
No, the Blues don't have a need at his position. But that doesn't mean they shouldn't chase talent. Benatia would instantly make this team better, and he's still young enough to be a force in Chelsea's defence for the better part of the next decade.
Should the Blues consider adding Benatia?
The Premier League doesn't field a lot of world-class centre-backs, and one could argue he would instantly become the best player at the position across the league. Yes, he's that good.
Top clubs make room for world-class talent, and the Blues should do the same. Coupled with Gary Cahill, Benatia would give Chelsea the strongest defensive duo the Premier League has seen in years.
If Benatia becomes available, and it now appears he will, the Blues should do whatever they can to avoid the Moroccan ending up at a direct rival such as Manchester United. More importantly, his addition would vault this squad from title contenders to title favourites.