Updates from Monday, Sept. 1
William Carvalho has refused to rule out a Sporting exit, adding to suggestions he may yet join Arsenal on Monday.
Arsene Wenger is believed to be in the market for a central midfielder who can play at centre-back if necessary, per B/R UK expert Guillem Balague:
. @GuillemBalague: Arsenal were never in the equation for Falcao: They are trying to finalise deal for centre-mid who can play centre-back

— Bleacher Report UK (@br_uk) September 1, 2014
Carvalho said of his future, quoted by A Bola, per ESPN FC:
I am under contract with Sporting and I'm a Sporting player. There is no way I can say I am going to leave. I am fine at Sporting.
However, Sporting has confirmed they rejected a big from Arsenal (via Duncan Castles):
Sporting say that they have rejected an offer from Arsenal for William Carvalho. #AFC #SCP #POR

— Duncan Castles (@DuncanCastles) September 1, 2014
Updates from Saturday, Aug. 30
Wayne Veysey of Gaol.com reports Arsenal have made a new bid for William Carvalho:
Arsenal have tabled an improved £21.3 million bid for Sporting midfielder William Carvalho, Goal can reveal.

The Gunners have made a second offer for the midfield anchorman as they try to push through a deal in the final days of the transfer window.

Arsenal are waiting on a response from Sporting Lisbon, who have indicated in discussions that they are prepared to reduce their initial £28m valuation.

The London club have been working on signing Carvalho for many weeks and are now in the final stages of ironing out the complications of his third-party ownership.
Updates from Thursday, Aug. 28
Manchester United and Sporting have a strong relationship when it comes to transfer dealings, built on the back of successful negotiations involving Cristiano Ronaldo, Marcos Rojo and Luis Nani.
Now William Carvalho's name may be added to the list as Louis van Gaal eyes an alternative to Arturo Vidal, according to Ian Ladyman of the Daily Mail:
Manchester United have spoken to Sporting Lisbon about central midfielder William Carvalho as the ailing club try to beef up their squad before the transfer window closes on Monday.

Manager Louis van Gaal [...] is keen on a deal for Juventus and Chile midfielder Arturo Vidal, but United are also in contact with Sporting about Carvalho after the Portuguese club dropped their asking price to £23.8million.
Updates from Wednesday, Aug. 27
William Carvalho is being offered to Arsenal for around £24 million, according to a report from Portuguese source Record.
101 Great Goals summarises the latest on the Sporting midfielder:
Arsenal invited to buy Sporting's William Carvalho for €30m [Record] http://t.co/kOsMd0HshE pic.twitter.com/Z8A27cCjOW

— 101 Great Goals (@102greatgoals) August 27, 2014

According to Portuguese paper Record, Sporting are willing to accept a €30 million bid for William.

Noticeably, earlier in the summer Sporting had seemed resolute to only accept bids of around €45 million for the player (as is the price of his release clause), while recent days have seen O Jogo say that the Gunners could land the player for €30-35 million provided they loan the Portuguese club a player as part of the package.
Original Text
Arsenal are yet to take any action in their hunt for Sporting Lisbon star William Carvalho, according to the Portuguese giants.
The North Londoners have been linked with Carvalho for some time now, but Pete O'Rourke of Sky Sports cites Sporting in saying that an approach is yet to be made:
Sporting Lisbon say they are yet to receive an offer for reported Arsenal and Man Utd target William Carvalho. #AFC #MUFC

— Pete O'Rourke (@SkySportsPeteO) August 8, 2014
The midfield anchorman is known to have a £37 million release clause in his contract, but according to a recent report from Portuguese newspaper O Jogo (h/t 101GreatGoals), he may be available for substantially less.
This is due to a third-party ownership complication in Carvalho's current situation, whereby a Portuguese investment firm Banco Espirito Santo boast 40 percent of the player's rights. Twitter's Messi Minutes provides details of the alleged contract scenario:
A few people have been asking me about William Carvalho's 3rd party ownership situation. I've found some really interesting stuff...

— Messi Minutes (@MessiMinutes) August 4, 2014
BES bought 40% of his rights. They have the rights to 40% of his value in the future, but crucially Sporting retained all of his playing

— Messi Minutes (@MessiMinutes) August 4, 2014
in Portugal. Unsurprisingly, they also have ties to superagent Jorge Mendes, who now represents Carvalho (probably partly due to this deal!)

— Messi Minutes (@MessiMinutes) August 4, 2014
Sporting retain a majority stake in Carvalho's services and, more crucially, all of his playing rights, so they would still need to agree any deal taking Carvalho away, but it's believed BES are very much in need of the funds.
Whats more, it's added that Carvalho earns a wage that would pale in comparison to that which he could earn at the Emirates Stadium—a fee which would be considerably less than the £150,000 per week it's thought alternative target Sami Khedira would demand:
This is kind of crazy. @18DialSquare86 made me do a little digging into William Carvalho's wages. Looks like he's only on £8k a week!

— Messi Minutes (@MessiMinutes) August 4, 2014
That figure is from this edition of @ojogo back in May. For context, that's less than Francis Coquelin earns! pic.twitter.com/20QGdce4x3

— Messi Minutes (@MessiMinutes) August 4, 2014
Also for context: Sami Khedira currently earns over TEN TIMES what William Carvalho earns at Sporting Lisbon. Could be significant.

— Messi Minutes (@MessiMinutes) August 4, 2014
O Jogo (h/t 101GreatGoals) reported last week that this had led the Gunners to lining up a €30 million (£24 million) bid for the player, which would be far more acceptable by their usually stringent standards.
The most advantageous aspect for Arsenal would be Carvalho's supposedly much lower salary, which can often distort the true cost of a deal when speaking in the long term.
Carvalho has risen to become one of the Primeira Liga's most impressive midfield generals over the past year or so, but £24 million would still be a significant fee to part with for a player who's relatively untested among the European elite.
ESPN FC's James McNicholas has backed the move, however, predicting that the 22-year-old can ease the shift of Mikel Arteta's gradual gravitation toward the Emirates Stadium exit, likening the Portuguese international to past Gunners great Patrick Vieira.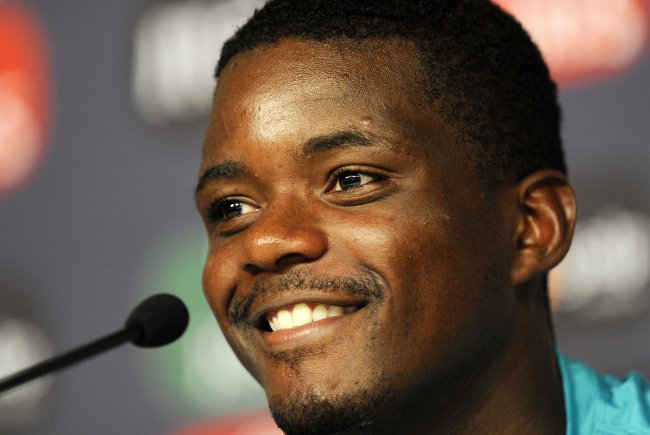 Paulo Duarte/Associated Press
Carvalho made 29 league appearances for Sporting last season, picking up eight yellow cards in the process, an average of just under one every three games.
With the likes of Jack Wilshere and Aaron Ramsey around him, the burden of relieving pressure on his potential Arsenal defence could be lighter in the Premier League, but Carvalho could find the English top flight suited to his aggressive style.
It's largely believed that a tougher midfield presence is required at the Emirates, and even though no motions have been made as of yet, three weeks of the summer transfer window remain in which to tie up a deal.