The Dallas Cowboys defense was in midseason form Thursday night in a 27-7 loss to the San Diego Chargers in Week 1 of the NFL preseason.
In fact, the Chargers didn't even throw an incomplete pass until the fourth quarter and finished with 395 total yards. Kellen Clemens led the way with 134 passing yards and a touchdown, while Dontrelle Inman tallied 107 receiving yards and a touchdown.
As for the Cowboys offense, it was much more effective in the first half under Brandon Weeden. Weeden threw for 107 yards and a touchdown.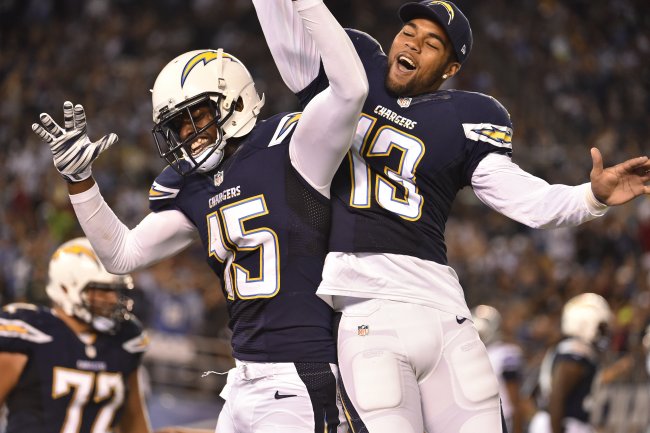 Denis Poroy/Associated Press
With a number of superstars sitting out this game, including Tony Romo, it looked appropriately sloppy early. Neither team found the scoreboard in the opening 15 minutes, and the first quarter was defined by missed opportunities more than anything else.
However, Dallas got the scoring started in the second quarter with an impressive strike from Weeden (no, that is not a typo). He put it right where James Hanna could catch it, and the receiver responded by hauling it in.
Brandon George of The Dallas Morning News highlighted the play:
Hey, James Hanna makes a play. Had dropped some passes in practice of late. TD Dallas. Nice job by Brandon Weeden there.

— Brandon George (@DMN_George) August 8, 2014
Not to be outdone, the Chargers responded and finally found pay dirt against the Dallas defense. Branden Oliver, who was arguably the best player on the field in the first half, scampered to the end zone from 16 yards out to tie the game.
George and David Moore of The Dallas Morning News were more critical of the Cowboys defense than complimentary of San Diego's offense, though:
Huge holes up front. Dallas Cowboys DL can't get off of blocks. Linebackers not making plays either. TD San Diego.

— Brandon George (@DMN_George) August 8, 2014
Part of reason Cowboys believe defense will be better is that it can't be worse. Not sure the first half supports that theory.

— David Moore (@DavidMooreDMN) August 8, 2014
The Chargers added a field goal before intermission and took a 10-7 lead into the locker room.
Despite only allowing 10 points, the Dallas defense was far from great in the first half. It allowed 221 total yards and let Oliver tally 64 on the ground on only seven carries. What's more, Philip Rivers and Clemens were a perfect 7-of-7 for 110 yards through the air.
It wasn't all good news for the Chargers either, though, as Kevin Acee and Michael Gehlken of U-T San Diego pointed out:
Ryan Mathews fumble at goal line ends excellent drive. Chargers had gone 80 yards in 11 plays. Ah, deja vu.

— UTKevinAcee (@UTKevinAcee) August 8, 2014
Chargers offense with two goal-to-go situations tonight. One turnover. One field goal.

— Michael Gehlken (@UTgehlken) August 8, 2014
As the second half started, the Cowboys removed Weeden in favor of Caleb Hanie. It was clear the offense was missing something it had in the first 30 minutes, and Drew Davison of the Fort Worth Star-Telegram pointed out just how effective Weeden was under center:
Brandon Weeden was 13 of 17 with 107 passing yards, including a TD, in first half. #Cowboys

— Drew Davison (@drewdavison) August 8, 2014
Weeden discussed his mentality coming into the start, via Todd Archer of ESPNDallas.com:
We want Tony to play all 16 games but if I'm thrown into the fire these are the guys I'm going to be communicating with and relying on both ways to get the job done. This is exciting but at the same time it's important for me. I want to go out and play well and put together as many drives as we are out there and put together some successful drives.
San Diego's offense didn't show any rust out of the locker room. Clemens threw a perfect strike along the sidelines to Inman, who sprinted the rest of the way for the game's most exciting play. In all, it was a 70-yard touchdown pass that gave the Chargers a 17-7 lead.
Gehlken described the play from San Diego's perspective, while Rowan Kavner of DallasCowboys.com provided the Cowboys' side of things:
Dontrelle Inman as advertised. Having strong camp. Would almost shock at this point if he doesn't make team. 70-yard TD catch.

— Michael Gehlken (@UTgehlken) August 8, 2014
CB Korey Lindsey gets his first action for the Cowboys - ever. No practices yet. Chargers beat him deep for a 70-yd TD

— Rowan Kavner (@KavnerDC) August 8, 2014
It was Clemens' fifth straight completion, and Bleacher Report's Matt Miller was far from surprised:
Veteran QBs (like Kellen Clemens) have a huge advantage in preseason games due to experience. They should look great out there.

— Matt Miller (@nfldraftscout) August 8, 2014
Schuyler Dixon of the Associated Press at least had the excuse ready for the Dallas defense:
Looks like Cowboys are going to stress "missing starters" narrative with defense tonight. Guess we'll give them that mulligan.

— Schuyler Dixon (@apschuyler) August 8, 2014
When it rains, it pours, and the Cowboys turned the ball over on their next possession. Hanie was sacked from behind and coughed it up, and the Chargers responded two plays later with yet another touchdown to push the lead to 24-7.
It was Thomas Keiser who forced the fumble and Kerwynn Williams who found the end zone from a yard out. Acee made a point of highlighting Keiser's production:
Thomas Keiser made team by making big plays last preseason. He just made one. Still say he's on outside looking in, but having good summer.

— UTKevinAcee (@UTKevinAcee) August 8, 2014
The Dallas offense continued to struggle under Hanie's direction after falling behind by 17, and Kavner tried to get at the reasoning:
A lot of hesitation for Hanie to get the ball out. Will have to see later if that's more just indecision on his part or WRs not getting open

— Rowan Kavner (@KavnerDC) August 8, 2014
Heading into the fourth quarter, the Chargers were a perfect 12-of-12 throwing the ball. It's just the preseason, but it would be understandable for Cowboys fans to feel a bit worried. However, Clarence Hill of the Star-Telegram tried to give Dallas fans a bit of a pep talk:
remember the cowboys still have dez bryant, jason witten, tony romo, demarco murray and the leagues best oline..its not all bad in dtown

— Clarence Hill (@clarencehilljr) August 8, 2014
The completion streak finally came to an end at the 14:24 mark of the fourth quarter when third-string quarterback Brad Sorensen overthrew an open receiver down the middle of the field. The Chargers added a field goal on that drive and extended the lead to 27-7.
Things didn't get much better for Dallas when it had the ball in the final quarter. The offense was stagnant for the majority of the second half, and David Helman of DallasCowboys.com noted that the receivers simply weren't playing like they had in camp:
Camp practices lead me to expect Boyd would haul that in.

— David Helman (@HelmanDC) August 8, 2014
The news got worse for the Cowboys in the final minutes of the game, as Hill pointed out:
ahmad dixon has had some big hits tonight but he is being evaluated for a concussion

— Clarence Hill (@clarencehilljr) August 8, 2014
Dallas finally got something going with Dustin Vaughan under center in the waning minutes of the fourth quarter. In fact, he drove the Cowboys down the field and got the ball inside the 5-yard line. Helman and Aaron Nagler of Bleacher Report were certainly impressed:
This is one of those classic preseason "Nobody's watching, but this kid ain't playin' half-bad" drives by Vaughan. Nice scramble.

— David Helman (@HelmanDC) August 8, 2014
This Vaughn kid ain't half bad.

— Aaron Nagler (@AaronNagler) August 8, 2014
In a fitting end, though, Vaughan was sacked on a fourth-down play, and Dallas came away without a point.
Alas, it was the last gasp for the Cowboys, and the Chargers won 27-7.
What's Next?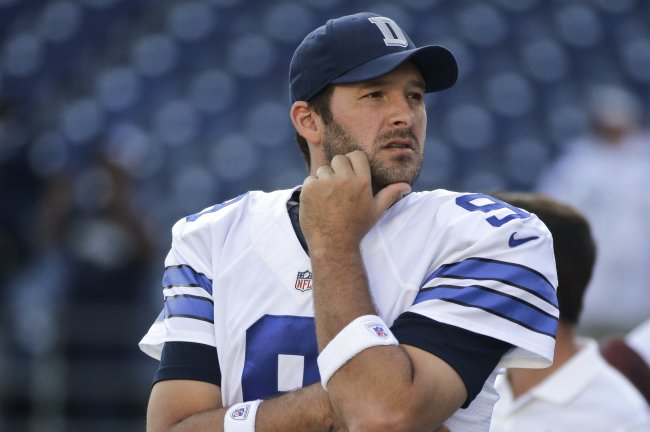 Jae C. Hong/Associated Press
Dallas returns home Aug. 16 against the Baltimore Ravens for its second preseason game, while the Chargers travel to Seattle to take on the defending champs Aug. 15.
Of course, any time you are going up against a defense as strong as Seattle's, it represents an important opportunity to see how regular season-ready the offense is, even if it is only an August game.
For the Cowboys, Romo's performance will be of particular interest. It always is, but he missed the first contest Thursday night. That means it will be the first time Dallas fans get a look at their signal-caller before the 2014 season.
Perhaps it will help them forget about their defense.