Tyrod Taylor, Lorenzo Taliaferro and Kamar Aiken did their best Joe Flacco, Ray Rice and Torrey Smith impersonations as the Baltimore Ravens knocked off the San Francisco 49ers in Week 1 of the NFL preseason 23-3.
Taylor led the way for the Ravens with 116 passing yards, 59 rushing yards and a touchdown toss, while Taliaferro added 71 yards on the ground and Aiken chipped in with 46 receiving yards.
San Francisco's offense was stuck in neutral most of the night, and Josh Johnson led the way with 63 passing yards, while Carlos Hyde tallied 39 rushing yards on five carries.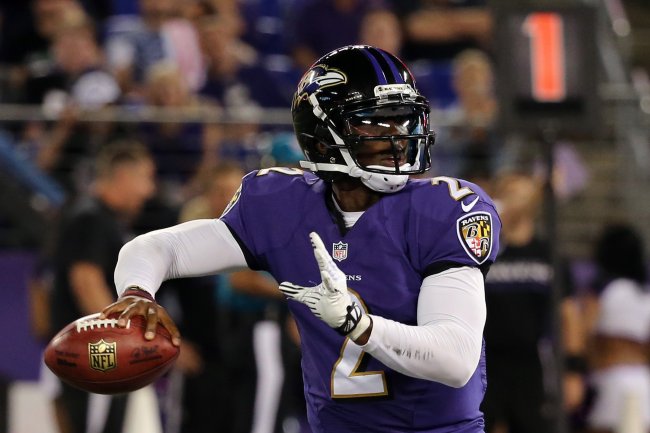 Rob Carr/Getty Images
It certainly wasn't Super Bowl XLVII (hey, at least the lights stayed on this time), but anytime the Harbaugh brothers matchup on the football field, it is noteworthy. Both the 49ers and Ravens were looking to get some early momentum with the 2014 campaign right around the corner in this preseason matchup.
John Harbaugh commented on the occasion, via CBS San Francisco: "It'll be a great chance to get together, but (it's all) football. So, I guess it'll be exactly what it's supposed to be with our family."
The 49ers wasted little time getting on the board and marched down the field on their opening drive for a field goal. Sports Illustrated's Doug Farrar was particularly impressed with the efforts of young Hyde:
Carlos Hyde gained over three yards after contact per carry last season. Get used to this, America.

— SI_DougFarrar (@SI_DougFarrar) August 7, 2014
Baltimore responded with a touchdown drive of its own, and Farrar made sure to point out that Steve Smith looked to be in midseason form already:
Carolina is really going to regret this Steve Smith thing. There, I said it. Like, really. A lot.

— SI_DougFarrar (@SI_DougFarrar) August 7, 2014
However, it was Bernard Pierce who found the endzone from two yards out, as the Baltimore Ravens noted:
TOUCHDOWN BERNARD PIERCE!

— Baltimore Ravens (@Ravens) August 7, 2014
Aaron Wilson of The Baltimore Sun passed along a quote from Pierce regarding the touchdown:
Bernard Pierce on touchdown run: 'I looked at my read, and it was sliding. I really had no choice but to get a good push and drive my feet.'

— Aaron Wilson (@RavensInsider) August 8, 2014
Outside of the early scoring, the Ravens defense made their presence felt with a first half interception. Jeff Zrebiec of The Baltimore Sun gave credit where credit was due, but the NFL on ESPN and Eric Edholm of Yahoo Sports were quick to point out who was on the throwing end of that pick:
Interception for Asa Jackson who is again outplaying Chykie Brown in battle for the third CB spot. Jackson has had very good camp.

— Jeff Zrebiec (@jeffzrebiecsun) August 8, 2014
Blaine Gabbert so far: 2/8 for 13 yards and one not-so-great interception. #49ers

— NFL on ESPN (@ESPNNFL) August 8, 2014
You want to know why guys like Dalton get paid? Fear of dudes like Gabbert having to play.

— Eric Edholm (@Eric_Edholm) August 8, 2014
Baltimore took a 13-3 lead into the locker room, but the 49ers had graver concerns than the scoreboard, via Eric Branch of the San Francisco Chronicle:
#49ers may be down to five defensive linemen. DT Demarcus Dobbs (ankle) is questionable to return.

— Eric Branch (@Eric_Branch) August 8, 2014
Baltimore took the first possession of the second half, but Taylor didn't do a lot to inspire any confidence. In fact, he threw an interception right into the hands of Chris Cook. Branch and Zrebiec noted just how unfortunate of a throw it was by Taylor when put into context:

#49ers CB Chris Cook, who -- say it together -- "doesn't have a career INT in 29 starts" -- with a preseason pick.

— Eric Branch (@Eric_Branch) August 8, 2014
Bad interception there by Taylor. He had Chapas open underneath and tried to force the ball to Marlon Brown.

— Jeff Zrebiec (@jeffzrebiecsun) August 8, 2014
To Taylor's credit though, he was at least making plays with his feet, as Jamison Hensley of ESPN.com acknowledged:
Bad throw by Tyrod Taylor on that interception. He's now 8 of 13 for 73 yards. Taylor almost has as many rushing yards (44).

— Jamison Hensley (@jamisonhensley) August 8, 2014
San Francisco put together a solid drive after that turnover and got deep into Baltimore territory behind Johnson. Johnson completed two straight passes for 26 yards and impressed Ravens writer Turron Davenport in the process:
If I'm the 49ers, I'd be more comfortable with Josh Johnson as the #2 than Gabbert.

— TURRON DAVENPORT (@TDavenport_PPI) August 8, 2014
That's how you deliver the ball to the out. Good ball placement right there.

— TURRON DAVENPORT (@TDavenport_PPI) August 8, 2014
However, the drive came to a halt when Johnson fumbled the snap deep in Baltimore territory for the game's fourth turnover.
Baltimore responded with another Justin Tucker field goal, but it was received Kamar Aiken who impressed on the drive, as Davenport and Zrebiec pointed out:
Nice job of going down and digging that ball out by Kamar Aiken. Followed by another hands catch. That's five catches so far.

— TURRON DAVENPORT (@TDavenport_PPI) August 8, 2014
Fans are seeing what reporters have seen throughout camp. Kamar Aiken has been making plays all over the field in camp, too.

— Jeff Zrebiec (@jeffzrebiecsun) August 8, 2014
The third quarter came to an end, and it was painfully clear that the backups were on the field in terms of offensive production. Both teams seemed to be going through the motions, and the Ravens took a 16-3 lead into the final 15 minutes.
One player who was still bringing the intensity in the fourth quarter though was Baltimore running back Taliaferro. He actually led all rushers with 71 yards and helped the Ravens seize some field position back after starting a drive inside their own 10 yard line.
Christian Gin of Examiner.com took note:
Lorenzo Taliaferro has been tearing up this reserve #49ers defense.

— Christian Gin (@Christian_Gin) August 8, 2014
Unfortunately, things took a turn for the worse later in the fourth quarter when Lawrence Okoye left the game with an injury. Branch and Matt Maiocco of CSNBayArea.com pointed out just how dire the situation was for the 49ers:
Lawrence Okoye limps off with apparent knee injury, leaving the #49ers with four healthy defensive linemen.

— Eric Branch (@Eric_Branch) August 8, 2014
Okoye goes down with a non-contact injury. That doesn't look good.

— Matt Maiocco (@MaioccoCSN) August 8, 2014
With Okoye off the field, Baltimore marched down the field and gradually killed the clock. The combination of Taylor's timely scrambles from the pocket, Taliaferro's bursts through the line and third-down conversions was enough to march nearly the length of the field to put the game away.
Taylor put an exclamation mark on the drive and contest, as Wilson pointed out:
Tyrod Taylor connects with rookie Jeremy Butler for a touchdown pass

— Aaron Wilson (@RavensInsider) August 8, 2014
The Ravens put the cherry on top with another interception, as Jason Butt of Scout.com and Zrebiec noted:
Dominique Franks with a pick. That should do it with just over 3 minutes to go and the Ravens up 23-3.

— Jason Butt (@JasonHButt) August 8, 2014
Domonique Franks with the interception. He needs to have a good couple of weeks to get in that CB picture.

— Jeff Zrebiec (@jeffzrebiecsun) August 8, 2014
What's Next?
Baltimore's second preseason contest comes against the Dallas Cowboys Aug. 16, while San Francisco returns home to play the Denver Broncos Aug. 17.
Both squads will have a chance to test their secondaries against dangerous passing attacks, but the running back situations will be most interesting to watch.
Ray Rice is suspended for the first two regular season games, so Pierce's workload will be worth keeping track of as the preseason continues. What's more, Hyde has an opportunity to seize the No. 2 running back spot for the 49ers behind Frank Gore with a solid preseason.
Both were solid Thursday and will look to build on their performances as the season approaches.