The worst part about the NFL preseason is injuries, but Chris Ivory's latest setback Thursday could open the door up to more production if you are a Chris Johnson fantasy owner.
Seth Walder of the New York Daily News provided an update:
Chris Ivory has a ribs injury and will not return.

— Seth Walder (@SethWalderNYDN) August 8, 2014
With Ivory out, it didn't take long for Johnson to make his presence felt against the Indianapolis Colts. He and Michael Vick led the Jets down the field for an 80-yard touchdown drive in the second quarter. It was Johnson who found the endzone on a one-yard run to tie the game at 10.
Kimberley A. Martin of Newsday painted the scene:
Fireworks go off as Chris Johnson runs into the end zone. His one-yard score (and Folk's extra point) ties it at 10. #jets #colts

— Kimberley A. Martin (@KMart_LI) August 8, 2014
Perhaps the most encouraging part of Johnson's early performance for those who already have him on their team or who plan on drafting him was his involvement with the passing game. He reeled in two early passes, including a 10-yarder, in the first half against the Colts and looked comfortable catching the ball out of the backfield.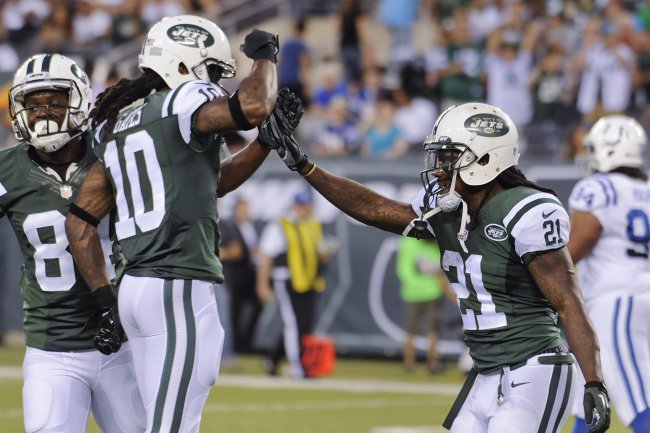 Bill Kostroun/Associated Press
Johnson discussed his health coming into the game, via J.P. Pelzman of NorthJersey.com:
"My knee felt great, coming out here and not having to wear a brace or anything. I'm feeling good. Once you're in there and you get comfortable, you know your own body and you know when it's enough."
The combination of Johnson's receptions, clean bill of health and goal-line carry certainly is enticing for his fantasy production going forward.
Johnson finished the day with only two yards rushing though, so it wasn't all great news. However, 16 receiving yards and a touchdown will certainly do in a limited sample size.