Updates from Thursday, Aug. 14
Jay Cohen of The Associated Press passes along comments from director of USA Basketball Jerry Colangelo, who spoke about Kevin Durant's decision:
Interesting stuff on Durant's withdrawal from Colangelo ...

— Jay Cohen (@jcohenap) August 14, 2014
"He found himself in a situation where he had no choice," Colangelo said. ...

— Jay Cohen (@jcohenap) August 14, 2014
Asked by @nrarmour in terms of, "Just contractual situation," Colangelo responded.

— Jay Cohen (@jcohenap) August 14, 2014
Original Text
Team USA has been dealt obstacle after obstacle in terms of building a FIBA World Cup roster over the last month, but on Thursday, the team announced its biggest loss of the summer.
USA Basketball revealed Kevin Durant is officially withdrawing from the competition.
Kevin Durant has announced that he was withdrawing from participating with the 2014 USA National Team http://t.co/81flFXgJ1T #USABMNT

— USA Basketball (@usabasketball) August 7, 2014
Yahoo Sports' Marc J. Spears previously passed along the announcement from director of Team USA basketball Jerry Colangelo:
"Kevin reached out to Coach K & myself this afternoon & expressed that he is just physically & mentally drained from the season,"- Colangelo

— Marc J. Spears (@SpearsNBAYahoo) August 7, 2014
Durant commented on his decision, per The Oklahoman's Darnell Mayberry:
Kevin Durant statement - pic.twitter.com/5gslzSYEHt

— Darnell Mayberry (@DarnellMayberry) August 7, 2014
Spears also had more on Durant's thought process:
USA's Jerry Colangelo said Kevin Durant "made it very clear" his departure had nothing to do with Paul George breaking his leg.

— Marc J. Spears (@SpearsNBAYahoo) August 8, 2014
Mayberry also provided thoughts from Oklahoma City Thunder general manager Sam Presti:
Sam Presti on Durant -- "We respect and support Kevin's decision and understand how difficult it was for him to come to this conclusion."

— Darnell Mayberry (@DarnellMayberry) August 8, 2014
We don't have to tell you what kind of loss this is for the red, white and blue. With no LeBron James on the squad, Durant was the clear go-to player for Mike Krzyzewski's squad.
The reigning MVP averaged 32.0 points, 7.4 rebounds and 5.5 assists per game last season, finishing with a silly true-shooting percentage of 63.5 percent. He led the NBA in player efficiency rating (29.8), win shares (19.2) and win shares per 48 minutes (.295).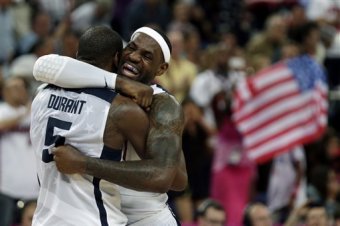 Charles Krupa/Associated Press
Moreover, as a 6'9" specimen who can dribble, shoot, rebound and play either forward position, he is built for the international game. That was clear when he led Team USA in scoring (19.5 points per game) during the squad's gold-medal romp in London in 2012.
Still, while his importance can't be overstated, you can't really blame him for this kind of decision.
He just watched teammate Paul George go down with a horrific injury, and he's coming off a season in which he logged an NBA-high 3,937 minutes (regular season and playoffs) last year. He's drained in more ways than one.
ESPN's Royce Young and Fran Fraschilla added to that point:
Durant's had an extremely busy summer and with his camp coming up, plus negotiations with Nike/Under Armour going on, just needs some time.

— Royce Young (@royceyoung) August 7, 2014
Kevin Durant. Wow!!!! On one level a shocker but on another, he's played nearly year-round since 2010.

— Fran Fraschilla (@franfraschilla) August 7, 2014
Overall, it's bad news for the Americans' chances in Spain next month. Anthony Davis and James Harden are now the only remaining members from the 2012 gold-medal-winning squad, and they logged fewer minutes than anyone on that team. The depth at the forward positions continues to just whittle away.
Still, this team is not void of talent. This provides yet another opportunity for USA's younger players to gain valuable experience and prove their worth on the international stage.
Unless otherwise noted, all statistics courtesy of Basketball-Reference.com.