Salford City thrashed the Manchester United Class of '92 in a showpiece friendly on Thursday night, defeating the legends 5-1 at the AJ Bell Stadium.
And that's it! FT: Salford City 5-1 #CO92 what an amazing occasion for the club!

— Salford City FC (@salfordcityfc) August 7, 2014
Though United's 1992 FA Youth Cup winners, who later became the backbone of the side at Old Trafford, had age acting very much against them, they were expected to put up much more of a fight than they did.
However, the evening well and truly belonged to Salford's stars, who proved the theory of form being temporary and class being permanent wrong, giving them a moment to savour.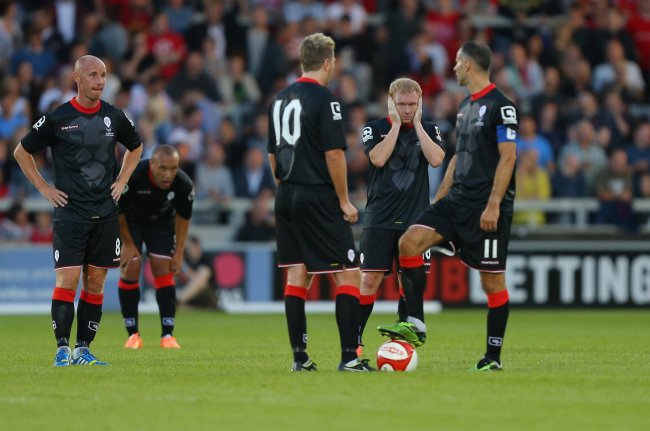 Dave Thompson/Getty Images
Though Gary Neville, Phil Neville, Paul Scholes, Nicky Butt and Ryan Giggs were in action, who incidentally own Salford City, they could do nothing to stop the hosts springing out of the traps.
Scholes did his best, though, flying into a characteristically wild challenge in the opening exchanges—as Rob Dawson of the Manchester Evening News revealed:
Less than two minutes on the clock and Scholes flies into a challenge. Nothing ever changes.

— Rob Dawson (@RobDawsonMEN) August 7, 2014
Salford established a 2-0 advantage midway through the first half despite Scholes' efforts, but then came a still-got-it moment from Giggs.
After the Class of '92 were awarded a penalty for handball, the Welshman accepted the responsibility—and did so in style, delicately chipping the ball straight down the middle over the committed goalkeeper, per Quays News:
WATCH! Ryan Giggs' amazing chipped penalty to make it Salford City 2-1 #Classof92: https://t.co/TuyTX08lvL

— Quays News (@QuaysNews) August 7, 2014
It was the touch of class that Giggs had been threatening throughout the first half, as Bleacher Report's Chris Fleming commented that he was dictating play throughout the opening 45:
Ryan Giggs just scored a very cheeky Panenka penalty against Salford City. He and Scholes easily the best players on the pitch.

— Chris Fleming (@Chris__Fleming) August 7, 2014
However, that's as good as it got for the Class of '92, who conceded three goals in the second half to succumb to the heavy defeat.
The game got a little silly throughout the second half, with fans running on the AJ Bell Stadium pitch to shake players' hands—per BBC Sport's Simon Stone—but it was all played in good spirits:
Number of fans now running on - chiefly to shake Gary Neville's hand.

— Simon Stone (@sistoney67) August 7, 2014
Even comedian Jack Whitehall and former cricketer Michael Vaughan got a few minutes under their belts, and while the scoring could have been heavier for Salford, the 5-1 scoreline will live long in players' memories.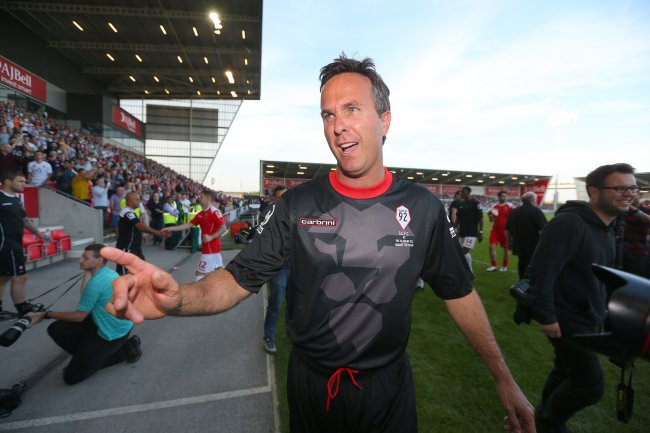 Dave Thompson/Getty Images
Scholes, Giggs and Co. will now switch their allegiances back to Salford City, with their Evo-Stik League First Division North campaign underway next week.
Such a moment to savour will stand to give the non-league side plenty of confidence heading into said season, as beating such heroes of the game so convincingly couldn't possibly get better.