Updates from Tuesday, Aug. 19
Legia Warsaw have failed in their bid to take their appeal to the Court of Arbitration for Sport (CAS), after they were kicked out of the Champions League for fielding an ineligible player.
Celtic, who were beaten 6-1 over two legs, advance to the play-off round, confirmed by a CAS statement, per Sky Sports:
The Court of Arbitration for Sport has denied the urgent request for provisional measures filed by the Legia Warszawa SA in the course of its appeal against the UEFA Appeals Body decision of 13 August 2014.

The UEFA Appeals Body had confirmed the result 3-0 (forfeit) in favour of Celtic FC against Legia in the second leg of the third qualifying round of the UEFA Champions League. The UEFA considered that Legia had fielded an ineligible player (Bartosz Bereszynski) during the match.

Legia Warszawa filed an appeal to the CAS at 17:30 on 15 August 2014 together with an urgent application for provisional measures requesting that it be provisionally admitted to participate in UEFA Champions League matches until the CAS renders its final arbitral award.

The President of the CAS Appeals Arbitration Division considered the parties' written submissions and has denied Legia Warszawa's request. Accordingly, Celtic FC remains qualified to participate in the UEFA Champion's League 2014/2015 and will play its next match against NK Maribor on 20 August 2014.
Updates from Thursday, Aug. 14
Legia Warsaw have failed in their appeal to UEFA against the sanction that cost them their Champions League place.
As a result, Celtic will remain in the competition after Legia fielded an ineligible player, per the Daily Mail:
BREAKING: Legia Warsaw have lost their appeal to appear in this season's Champions League. Celtic keep their place

— MailOnline Sport (@MailSport) August 14, 2014
Legia have, though, confirmed they will now appeal to the Court of Arbitration for Sport:
BREAKING: Legia Warsaw confirm they plan to appeal to the Court of Arbitration for sport tomorrow.

— Eurosport.com (@EurosportCom_EN) August 14, 2014
Updates from Wednesday, Aug. 13
Celtic will find out by Thursday lunchtime whether Legia Warsaw have been successful in their appeal to UEFA over the decision to sanction the club for use of an ineligible player.
As it stands, Celtic are in the Champions League play-off stage, but Legia registered their appeal on Wednesday ahead of UEFA's forthcoming verdict. BBC Sport provides Legia's statement:
The atmosphere during the meeting was fully professional and the club's representatives were granted the possibility to thoroughly present their stand on the issue.

The decision of the Uefa Appeal Body is to be announced in the evening or tomorrow morning.
Updates from Tuesday, Aug. 12
Celtic face a nervy wait for official confirmation of their Champions League re-entry, as Legia Warsaw prepare to appeal their UEFA sanction on Wednesday.
Legia were dumped from the competition after fielding an ineligible player, despite beating Celtic 6-1 on aggregate during their recent qualifier. They believe the punishment is harsh, and Rob Harris of the Associated Press reports:
UEFA appeals body to hear Legia Warszawa's challenge against Celtic game decision on Wednesday.

— Rob Harris (@RobHarris) August 12, 2014
Updates from Sunday, Aug. 10
BBC Sport's Staff provides a statement from Legia Warsaw, directed at Celtic, requesting a one-off match for the rights to earn a spot in the Champions League play-off round:
'Meet in Warsaw or in Glasgow and let's settle this matter honourably,' wrote Legia co-owner Dariusz Mioduski in the letter.

Mioduski praised the stature of both clubs and describes Uefa's punishment as 'deeply unjust and contrary to the spirit of fair play.'
Updates from Friday, Aug. 8
Celtic have been handed a Champions League lifeline after Legia Warsaw were kicked out of the competition by UEFA for fielding an ineligible player.
The Bhoys had lost the qualifying tie 6-1, but Legia's oversight sees their 2-0 second-leg victory overturned to a 3-0 defeat, meaning Celtic advance on away goals.
The official Champions League Twitter account confirmed:
Legia have been sanctioned for fielding an ineligible player, meaning Celtic take their place in today's #UCLdraw.

— Champions League (@ChampionsLeague) August 8, 2014
A statement from UEFA, provided by Sky Sports, elaborated:
The match has been declared as forfeit and Legia have lost the match 3-0. As a consequence, Celtic have qualified for the play-offs on away goals (agg: 4-4) and Legia will compete in the UEFA Europa League play-offs.

In addition the player Bartosz Bereszynski has been suspended for one additional UEFA competition match for which he would be otherwise eligible.

This suspension shall be added to the remaining two match suspension which the player still has to serve in accordance with the Control and Disciplinary Body decision of 13 February 2014.
Original Text
Celtic were handed a dramatic lifeline in their hopes for a place in the Champions League next season, after Legia Warsaw announced that they may have fielded an ineligible player against the Scots in their decisive qualifying match on Wednesday night.
Journalist Robert T. Blaszczak revealed the news:
Legia have just released a statement that there is a possibility that an ineligible player was fielded against Celtic last night. #UCL

— Robert T. Błaszczak (@RobertBlaszczak) August 7, 2014
Legia dumped Celtic out of the competition thanks to a comprehensive 6-1 aggregate victory, but it all could account to nothing with Bartosz Bereszynski's eligibility for the second leg coming under the microscope.
Bereszynski came on as an 88th-minute substitute in the third qualifying-round, second-leg match at Murrayfield, but he may well have been unknowingly suspended for the tie.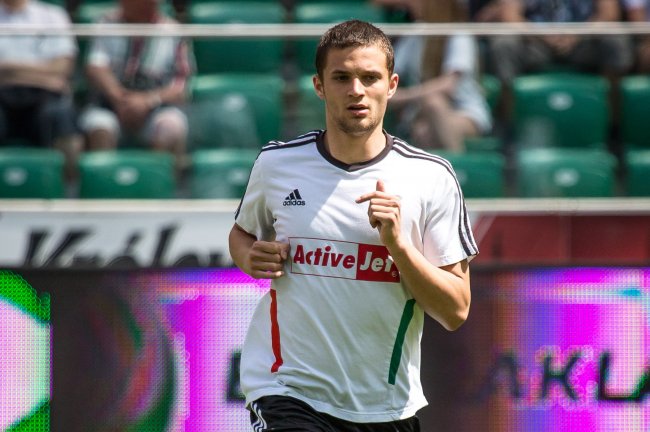 EuroFootball/Getty Images
The right-back was sent off in Legia's final Europa League match last season, meaning that his suspension carried over into the new European campaign.
While he sat out of the club's victory over St. Patrick's Athletic in the second qualifying round, not being registered to serve his suspension for that tie means that he shouldn't have taken to the field against Celtic, per Blaszczak:
Legia's right-back Bereszyński was red-carded last season but wasn't registered vs St Patrick's to serve his suspension.

— Robert T. Błaszczak (@RobertBlaszczak) August 7, 2014
The brief cameo appearance from Bereszynski against Celtic with the victory already secured looks to be costing the Polish outfit dearly, then, but it's not like the Scots will care.
What's Legia's loss is certainly Celtic's gain. If the club are found guilty then the qualifying result will be overturned—giving the Scots a place in the play-off round and putting them within touching distance of the group stage.
UEFA will now be looking into the incident, but Blaszczak believes that it doesn't look good for Legia:
It could still be a matter of interpretation but things don't look bright for Legia as we speak. UEFA have confirmed an investigation.

— Robert T. Błaszczak (@RobertBlaszczak) August 7, 2014
Should Celtic come back into the competition, they'll need a dramatic step-up from their demolition at the hands of Legia, with some potentially daunting opponents standing between them and a place among Europe's elite.
However, with enormous financial and moral benefits coming from a place in the Champions League, they'll be determined to seize their second chance with both hands.