Updates from Tuesday, Sept. 9
Theo Walcott commented on his status and when he expects to return via John Cross of The Mirror:
I hope to be quicker, definitely. I've been working very hard. You've got to look at these injuries as a bit of a blessing at times. I've never had the opportunity to work on the strength in my legs and with that I think hopefully I should be quicker and stronger. So that's what I'm looking forward to.

I'm all about positive thinking. When you think about injuries, you don't want to be all negative about it. If you're negative or down in the dumps, then it'd take longer. This injury was always going to take nine months.

I haven't put a specific date or looked at a game yet.

I think there was rumours of me coming back for the Spurs game [on September 27], which is definitely not going to happen, that's for sure. But I'll definitely be there for the one in February.
Chris Harris of Arsenal.com relayed additional quotes:
You've just got to look forward to the rehab and work as hard as you can. There have been a lot of long days in rehab and being in over summer when there weren't any other players at the training ground, but a positive for me is that I've been able to spend a lot of time with my family, because during a normal season, we're away and in hotels for long periods of time.

[...]

I knew how long the rehab would be, it was always going to be around nine months. But I approached it that I had to enjoy it, and that's what I have done, it's given me the opportunity to work on my legs and build up the muscle strength. If anything, I hope to come back stronger and quicker.

[...]

We're not setting specific comeback matches, but I'm just pleased it's hopefully now only a matter of weeks before I'll be back playing," he said.

There may be one or two under-21s matches I'll be involved in first. I'm just looking forward to getting out there and playing again.
Updates from Wednesday, Sept. 3
Theo Walcott is expected to be back in the Arsenal first-team picture by the end of September, according to Arsene Wenger.
The Gunners are taking their time with Walcott's recovery from a serious knee injury, but Wenger has now sketched out a timeline for his return, per the Daily Mirror's John Cross:
He's doing well, but we'll respect the time. We have plenty of players who can fill in that role and we will respect the delay.

The timing with Theo is end of the month to join in again, after the break in full training.
Original Text
Arsenal fans will welcome the good news shared by Arsene Wenger on Thursday, when he confirmed that Theo Walcott is nearing a return to the first team.
The Frenchman explained that the England international should return to training by the end of this month as he looks to attain the fitness needed to pick up his career.
The Arsenal Twitter feed broke the news, with SuperSport presenter Carol Radull also responding to the latest information on Walcott:
Wenger on @theowalcott: "He will come back into the group on August 31 - he is doing well but he's not ready yet" pic.twitter.com/p0ppQZu343

— Arsenal FC (@Arsenal) August 7, 2014
Theo Walcott is due back in action on the 31st of August against Leicester. #COYG #BPLTitleBound

— Carol Radull (@CarolRadull) August 7, 2014
Walcott was superb last season, in between his lengthy spells on the treatment table. Cruciate damage ended his campaign, but he showed flashes of brilliance and maturity.
The speed merchant only featured in 13 Premier League matches for the Gunners, as per WhoScored.com, but he was involved in nine goals for Arsenal—scoring five and assisting four times.
His form looked sharp when he was on the pitch, and had he managed to stay fit for longer periods, Arsenal may have gotten closer to the league title.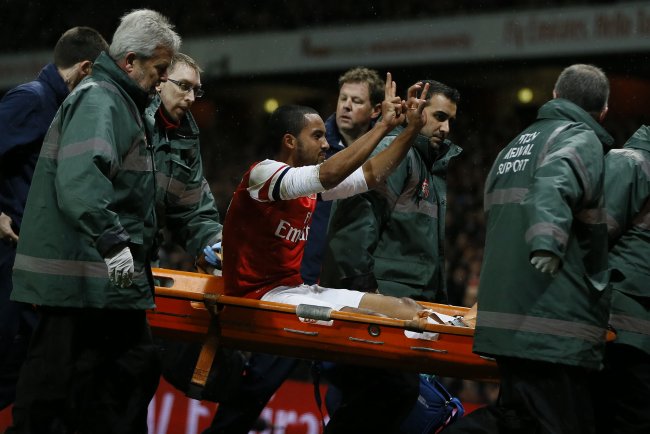 Kirsty Wigglesworth/Associated Press
But now, his biggest threat comes from within the team with the recent acquisition of Chile superstar Alexis Sanchez.
Sanchez can play anywhere across the attack, but there is a chance that Wenger may prefer him ahead of Walcott, in his right-sided role.
Journalist Piers Morgan believes he has the tonic for fitting in both players to Arsenal's line-up:
Arsenal's most dangerous line-up will be @theowalcott & @Alex_OxChambo on the wings, @Alexis_Sanchez down the middle, Ozil in the hole.#afc

— Piers Morgan (@piersmorgan) August 3, 2014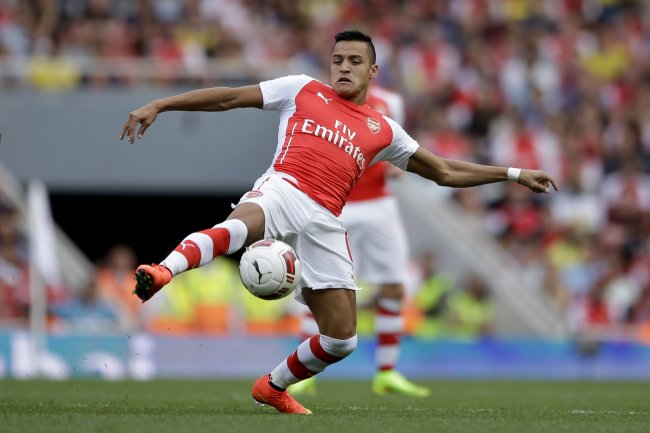 Matt Dunham/Associated Press
Morgan's idea would mean playing Sanchez as the striker, and this would indeed protect Walcott's wider berth.
But with Olivier Giroud a favourite of the manager, it is easy to envisage the former Barcelona man coming from a wider position, pushing Walcott from the immediate picture.
However, Walcott himself recently spoke about teaming up with Arsenal's big-summer purchase and proclaimed they will be a deadly force when they are finally in the team together, as per Elliott Bretland of the Daily Mail.
Posting a picture on Twitter, Walcott said, as per Bretland: "Watch out Premier League. Me and Alexis Sanchez will be a deadly force!! Speed matters."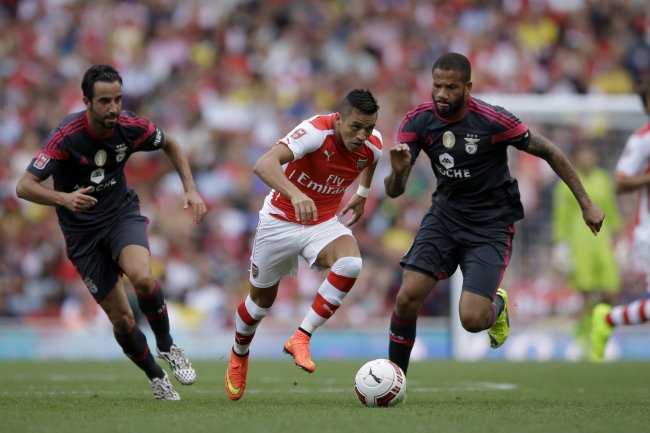 Matt Dunham/Associated Press
There is no doubt that speed wins football matches in English football, and the combination of Walcott and Sanchez should leave Arsenal fans salivating at the prospect of watching them.
Morgan was correct in his earlier assumption that Sanchez should play through the middle; although not a natural striker, he knows how to score goals.
Will Arsene Wenger play Alexis Sanchez and Theo Walcott together?
With Mesut Ozil feeding both Walcott and Sanchez, Arsenal have a genuine chance of becoming Premier League champions. Getting Walcott fit and consistently available is the next trick now, and Wenger failed with this last year.
It was bad luck that he suffered the cruciate damage last season, so Wenger will need to manage his involvement and not rush him back.