After a short-lived retirement following the 2012 Olympics, Michael Phelps' return to the pool has already gotten underway. But heading into the U.S. Swimming Nationals, the decorated swimmer will have a true test in Irvine, California.
With the likes of Ryan Lochte, Nathan Adrian and several other emerging stars in attendance, Phelps will need to be on top of his game to contend. The pressure is on as every swimmer has hopes of making the team for next year's world championships in Kazan, Russia.
This event, along with the Pan Pacific Championships later in August, will determine which swimmers make the team for the world championships.
Throughout the event, Phelps will compete in the 100-meter freestyle, 100 butterfly, 100 backstroke and 200 individual medley. Leading up to nationals, Phelps spoke about the importance of the competition, per Nicole Auerbach of USA Today:

It'll be interesting to see what happens. We're getting down to that time. This is always a big summer for U.S. swimmers because we pick two teams. You really have to be ready this year. If you're not, you're pretty much sitting around until Olympic trials.
As he competes in the event from Irvine, Phelps will work to get closer to making the U.S. team in the world championships. The Associated Press notes that the program will be one of the most difficult events since his return:
VIDEO: @MichaelPhelps faces his most grueling program since coming out of retirement. http://t.co/5clU8kx2xI

— AP Sports (@AP_Sports) August 6, 2014
The 22-time Olympic medalist started the Phillips 66 National Championships on Wednesday and will be competing throughout the rest of the week. Here's an updated look at the latest from his results.
Michael Phelps' Results at 2014 U.S. Swimming Nationals

| | | | | |
| --- | --- | --- | --- | --- |
| Date | Event | Time | Place | Time Behind |
| Aug. 6 | 100-meter freestyle prelim | 48.77 | 3rd | 0.53 |
| Aug. 6 | 100-meter freestyle final | 49.17 | 7th | 0.86 |
| Aug. 8 | 100-meter butterfly prelim | 51.17 | 1st | N/A |
| Aug. 8 | 100-meter butterfly final | 51.30 | 2nd | .01 |
| Aug. 9 | 100-meter backstroke prelim | 53.76 | 4th | .65 |
| Aug. 9 | 100-meter backstroke final | 53.95 | 6th | 1.20 |
OmegaTiming.com
*Results for all events can be found at OmegaTiming.com.
Day 1 Recap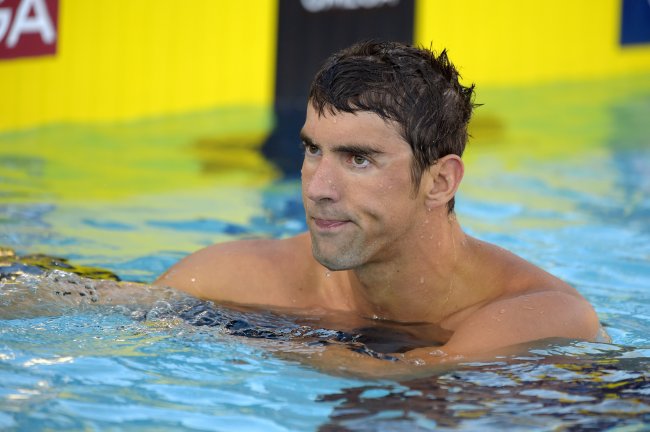 Mark J. Terrill/Associated Press
The hype building around Phelps was teeming on Wednesday as he returned to the pool at nationals. In his first national meet since coming out of retirement, Phelps was solid in the opening event.
While the 18-time gold-medal winner didn't win his opening preliminary, he qualified for the 100-meter freestyle final on Wednesday night. Phelps finished with a time of 48.77 seconds, good enough for third in the heat.
Nathan Adrian won the event by a considerable margin, as Auerbach points out:
Nathan Adrian with the top qualifying time in the 100 free (48.24) & won his heat w/ Phelps by nearly a body length. #Phillips66Nats

— Nicole Auerbach (@NicoleAuerbach) August 6, 2014
Phelps' time was good enough to enter him into the final field with rival Lochte. But if he plans on winning the much-anticipated event, he'll need to improve his start.
In the first heat, Phelps fell behind early before recovering down the final 50 meters of the race. Swimming World Magazine notes just how dramatic the comeback was to finish third:
Michael Phelps, in his first shaved meet since returning from his retirement, qualified third in prelims with a 48.77. He turned seventh in the heat with Adrian, and managed to still get his hand on the wall second in the heat and third overall. Although Adrian looks untouchable tonight in the final, Phelps could make his way into an individual 100 freestyle National Team spot.
Though he wasn't as fast as his competitors off the blocks, Phelps recovered to make the field for the final. But with an even more stacked field to compete against later in the day, the American will have to get much better to earn a victory.
Following the heat, Phelps spoke about improving his start, via Auerbach:
Really getting into the stroke better in warm-up is something I'll try to do tonight. The first 50 has to change. ... Nathan and Anthony are going to be out so fast.

I really just want to set myself up in some kind of place tonight in the first 50 that I'm in some kind of striking distance coming back.
Adrian, the reigning Olympic gold medalist in the 100-meter freestyle, is the clear favorite. But Phelps' performance down the final stretch proves he can remain competitive in the event.
Alan Abrahamson of 3 Wire Sports passes along his thoughts on the event:
Michael Phelps swims 48.77 in men's 100 free prelims. Nathan Adrian goes 48.24 to win the heat. That's big-boy swimming.

— Alan Abrahamson (@alanabrahamson) August 6, 2014
Following his first event in Irvine, Phelps had another shot to make an impression when he swims on Wednesday night in the 100-meter final. Unfortunately, the Olympic legend fell well short of his mark with a time of 49.17, finishing seventh.
Adrian also won the final heat with a final time of 48.31, easily defeating Lochte (48.96) for second place in the event.
This time around, it was the turn that did Phelps in. Though he built momentum off the blocks, he lost it all when he nearly missed the wall and fell behind to finish seventh. He referenced the poor turn, per Philip Hersh of The Chicago Tribune:
"It stinks I missed the first wall," Phelps said. "It's kind of frustrating. We'll never know where we are in the race right now. (And) I felt really good the first 50."
With three more events to swim in during the competition, Phelps still has a lot to look forward to. Though he didn't start the week off with a triumph in the 100-meter final, the Olympic legend has multiple events where he can pull out a victory.
Day 3 Recap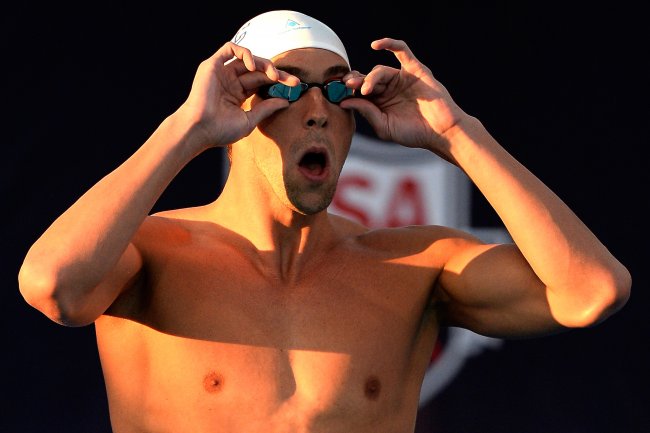 Harry How/Getty Images
Michael Phelps finished second place in the men's 100-meter butterfly on Friday evening by the thinnest of margins, losing out to Tom Shields by .01 seconds.
It would have been easier to spot a contact lens in the swimming pool than spot the difference between the two competitor's races. Unfortunately for Phelps—who happens to be the world-record holder in this event—the times on the scoreboard told the story.
Shields finished in 51.29 seconds, while Phelps came in at 51.30 seconds. Swim Nation News provided some insight on Shields' time:
Tom Shields out-touches Michael Phelps in the 100m fly by .01 w/ 51.29. Ties for 2nd fastest time in the world this year.

— Swim Nation (@SwimNationNews) August 9, 2014
Phelps came agonizingly close to erasing the pain of his disappointing seventh-place finish in the 100-meter freestyle from the first day of the 2014 US Swimming Nationals.
He looked set for victory in one of his strongest events, as his time of 51.17 seconds proved to be the best result in the preliminary races early Friday afternoon. Phelps didn't hesitate to express his feelings regarding the result.
"This will definitely be something that sticks with me," he said, via USA Today's Nicole Auerbach.
Of course, Phelps has been on the other side of these razor-thin results before. In the 2008 Beijing Olympics, Phelps narrowly out-touched Milorad Cavic at the wall to win the gold medal in the 100-meter butterfly. The margin of victory in that race: .01 seconds.
Phelps still has two more events to compete in at the US Nationals, the 100-meter backstroke and the 200-meter individual medley. Hopefully, the disappointing results will motivate Phelps rather than have him question his abilities moving forward in this meet.
Day 4 Recap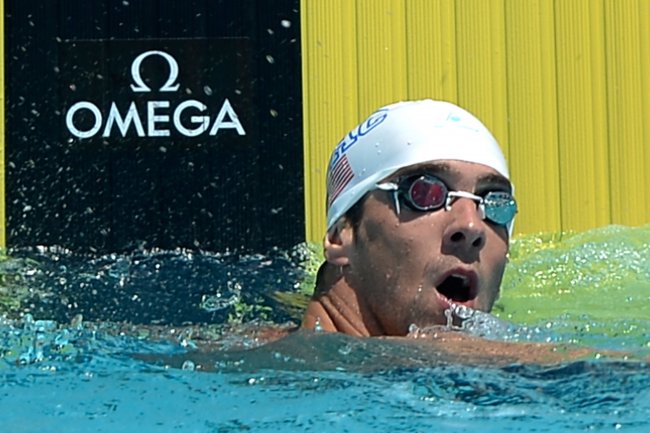 Harry How/Getty Images
Michael Phelps finished fourth in qualifying for the men's 100-meter backstroke on Saturday afternoon, good enough for him to advance to the eight-man final during the night cap.
Phelps' time of 53.76 was second in his heat and placed fourth overall—more than half a second behind the winning time. That belonged to Matt Grevers, with the winning time of 53.11.
David Plummer and Ryan Murphy also finished in front of Phelps in second and third, respectively.
In the night session, Phelps wasn't much better. He finished sixth in the 100-meter backstroke. The results clearly left him beside himself.
Michael Phelps was not happy after a sixth-place finish: "I hate this." http://t.co/C7zFVckCfi (via @GettyImages) pic.twitter.com/gFwAAWIaCq

— The Baltimore Sun (@baltimoresun) August 10, 2014
Phelps still has the 200-meter individual medley on Sunday, but it seems safe to say that his performance in Irvine has been disappointing.
Day 5 Recap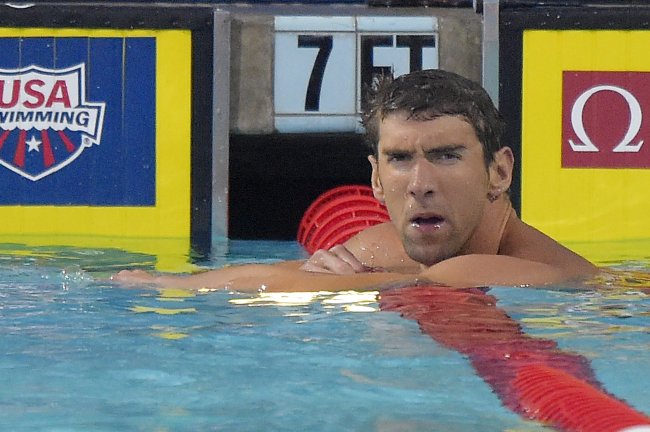 Mark J. Terrill/Associated Press
Uncharacteristically for Michael Phelps, he's gone without a victory in his performance at the U.S. Championships. But he'll have one last chance to do so Sunday.
Phelps advanced to the men's 200-meter individual medley final on Sunday with a fourth-place finish in the preliminaries, posting a time of 1:58.74.
He convincingly won his heat, but only posted the fourth-best overall time. That's more than enough for him to advance to the final.
Per SwimSwam:
Michael Phelps wins the final heat of the m200 IM at 1:58.74. Lochte 2nd 1:59.05 #Phillips66Nats

— SwimSwam (@swimswamnews) August 10, 2014
Phelps has come close, but hasn't broken through so far in Irvine. Finishing second in the 100-meter butterfly was enough to advance him to the Pan Pacific Championships, but has otherwise failed to impress.
However, he can go out a winner with a big performance in the individual medley Sunday night.
Among those set to compete against Phelps in the 9:50 p.m. ET final are Tyler Clary and Ryan Lochte.
Follow R. Cory Smith on Twitter: