Updates from Monday, Sept. 1
Radamel Falcao is heading to Manchester United confirms the team's official Twitter account:
BREAKING: #mufc is delighted to announce Radamel Falcao has joined on a 1-year loan from Monaco with an option to buy pic.twitter.com/gnhR4rdsmF

— Manchester United (@ManUtd) September 2, 2014
Falcao briefly discussed the news via the club's website:
I am delighted to be joining Manchester United on loan this season. Manchester United is the biggest club in the world and is clearly determined to get back to the top. I am looking forward to working with Louis van Gaal and contributing to the team's success at this very exciting period in the club's history.
Manager Louis van Gaal added:
I am delighted Radamel has joined us on loan this season. He is one of the most prolific goalscorers in the game. His appearance-to-goal ratio speaks for itself and, when a player of this calibre becomes available, it is an opportunity not to be missed.
It was previously reported that Manchester United had agreed on a shock loan deal to take Radamel Falcao from Monaco.
The news was widely reported by major voices in the English press on Monday:
And now something definite: #MUFC have agreed a loan for Falcao, subject to medical and personal terms.

— Daniel Taylor (@DTguardian) September 1, 2014
CONFIRMED: United sign Falcao on loan. £12m loan fee. City pipped to the post. Unbelievable. Details here soon http://t.co/hymMd9bKST

— ALEX KAY (@Alex_Kay_DM) September 1, 2014
Loan agreed for Falcao at Mufc

— Mark Ogden (@MOgdenTelegraph) September 1, 2014
Manchester United have signed Radamel Falcao from AS Monaco. #MUFC #ASMFC #RMCF #MCFC #JUVE #COL

— Duncan Castles (@DuncanCastles) September 1, 2014
Simon Stone of BBC Sport adds one key detail that will please United fans:
And Utd have option to buy.

— Simon Stone (@sistoney67) September 1, 2014
The Daily Mail claims this private jet will take Falcao from Nice to Manchester, arriving late on Monday afternoon:
The private jet taking Falcao to Manchester, apparently. All the Man United latest here http://t.co/ds1DpGjNTB pic.twitter.com/8FNNBOFqQA

— MailOnline Sport (@MailSport) September 1, 2014
Reports out of Colombia were first to the story, as summarised by Eurosport and Spanish daily AS:
FALCAO UPDATE: Spanish newspaper AS and multiple Colombian journalists now reporting deal to take striker to Man Utd is done. €65m. #MUFC

— Eurosport.com (@EurosportCom_EN) September 1, 2014
Spanish paper AS say that Falcao to United is a done deal. #transferdeadlineday http://t.co/y4VP3Euk3U pic.twitter.com/DhX7lpcj8S

— Bleacher Report UK (@br_uk) September 1, 2014
Spanish football and B/R UK expert Guillem Balague explains Louis van Gaal's thinking behind the loan. Balague also claims United have secured a permanent agreement, if they wish to take Falcao on a permanent basis:
Van Gaal thinks Van Persie will continue struggling with injuries and Falcao is more than an ideal replacement

— Guillem Balague (@GuillemBalague) September 1, 2014
Falcao agents insist he's been bought €65m for 4 years. Loan deal first for FFP reasons?

— Guillem Balague (@GuillemBalague) September 1, 2014
DIRECTV Sports and Terra Colombia journalist Saris Bello provided initial details of the agreement, as reported by Get French Football News, via 101 Great Goals:
According to Bello, Falcao is moving to Old Trafford on a four year deal for €65 million. Moreover, Man City's attempts to sign Falcao have come to an end due to restrictions placed on the Citizens by Financial Fair Play rules.

It is further being claimed that Falcao will have a medical on Monday ahead of his United move, and the forward will become the highest paid player in the Premier League once he becomes a Red Devil.
Updates from Saturday, Aug. 30
Mail Online Sport pass along a Tweet Radamel Falcao posted and abruptly removed;
BREAKING: @FALCAO confirms then deletes a tweet which says he is joining Real Madrid pic.twitter.com/AftpAcv1Xg

— MailOnline Sport (@MailSport) August 30, 2014
ESPN FC's Jonathan Johnson speculated on Falcao's future after his status for today's match was announced:
Falcao not even in the Monaco squad for Lille clash. Was supposed to be on the bench, now not even in the 18-man group. Transfer imminent?

— Jonathan Johnson (@Jon_LeGossip) August 30, 2014
David Lynch of the Manchester Evening News has the latest on the Falcao rumours:
Manuel Pellegrini says the Falcao links are "just rumours". #MCFC

— David Lynch (@DavidLynchMEN) August 30, 2014
Updates from Friday, Aug. 29
Arsenal continue to press their interest for Radamel Falcao, amid emerging rumours that Real Madrid have ended their pursuit of the Colombia forward.
Tom Conn of Inside Spanish Football notes the claims of Spanish radio station Cadena COPE:
Cadena COPE are reporting that AS Monaco offer Falcao to Real Madrid, but the reigning Champions League winners have rejected the chance to sign the former Atletico Madrid star and have informed the French Ligue 1 side that they have no interest in signing the player.
However, according to Italian journalist Gianluca di Marzio, Madrid remain front-runners for Falcao's signature, despite Arsenal's interest. Enrico Passarella translates:
Falcao's agent Jorge Mendes is in Monte Carlo, the next hours will be decisive for the future of Radamel Falcao. [...] Real Madrid are the frontrunners, it's not a secret that El Tigre dreams to become a galactico. Arsenal are in the race too, even if they are more distant. Falcao waits to know his future.
Updates from Wednesday, Aug. 27
Radamel Falcao's agent, Jorge Mendes, is evaluating his client's options amid renewed hope of a move to Real Madrid.
Gianluca di Marzio, via Enrico Passarella, reports that Falcao's "dream move" could yet happen this summer thanks to the cash raised by Angel Di Maria's sale to Manchester United:
Falcao's desire could be satisfied. [...] El Tigre always wanted to be a galactico and, in the final days of the transfer market, his dream could come true.

His agent Mendes will be in Monte Carlo to evaluate the possible openings from Monaco. Real Madrid are lurking, ready to make the decisive push. After the sale of Di Maria, the economic aspect won't be a problem.
Jonathan Johnson of ESPN FC passed along a potential loan fee for Falcao:
Per @ESPNFC sources Monaco's Radamel Falcao available for loan fee of €20m as French side are looking to "restructure" their first team.

— Jonathan Johnson (@Jon_LeGossip) August 28, 2014
Updates from Tuesday, Aug. 26
Radamel Falcao has been targeted by Serie A champions Juventus, who are ready to rival AC Milan for the striker's services.
101 Great Goals provides the latest back page of La Gazzetta dello Sport:
Juventus aim to sign Monaco's Falcao, AC Milan close in on Chelsea's Torres [Gazzetta] http://t.co/MvG1GNuapI pic.twitter.com/dH5T29kQwM

— 101 Great Goals (@102greatgoals) August 26, 2014
Updates from Wednesday, Aug. 20
Radamel Falcao wants to leave Monaco, and Manchester City are favourites to land the striker, according to beIN SPORTS' Tancredi Palmeri.
Palmeri tweeted the following about the highly sought-after star:
Falcao is personally pushing for a transfer from Monaco and asking club to let him go. He is ready to cut part of his wages 1/2

— Tancredi Palmeri (@tancredipalmeri) August 20, 2014
Following clubs contacted Falcao;in order of chances to sign him: Manchester City,Real Madrid,Liverpool,Manchester United,Juventus,Inter 2/2

— Tancredi Palmeri (@tancredipalmeri) August 20, 2014
Jonathan Johnson of ESPN FC passed along another report on interest in Falcao:
Per @RMCsport's @mohamedbouhafsi Liverpool seriously considering loan (€15m) with obligation to buy (€50m) bid for Monaco's Falcao #LFC #ASM

— Jonathan Johnson (@Jon_LeGossip) August 20, 2014
Updates from Tuesday, Aug. 12
Radamel Falcao appears calm over his future, amid ongoing reports of a move to Real Madrid.
Falcao currently remains a Monaco player, and insists he will merely focus on his own fitness until any situation develops. He told Colombian radio station Caracol, per Andres Garavaglia of Sky Sports:
I am better, my knee is improving very well and I well on the pitch.

I'm focused on this season. I want to recover well and help the team achieve. I am only thinking about getting back to my best and nothing else.
Updates from Monday, Aug. 11
Radamel Falcao's father has confessed the Monaco striker could be on the move by the end of the summer transfer window.
Falcao has been linked to Real Madrid and Liverpool in recent times, and father Radamel Garcia was quoted saying by Ben Burrows of the Daily Mirror:
I can't rule out that my son might leave..

But the only thing I can say is that, for now, he has a contract with Monaco.
Updates from Friday, Aug. 8
Liverpool's hopes of landing Radamel Falcao appear to be fading as quickly as they emerged, after it was claimed the Monaco striker is heading for Real Madrid.
The Guardian's Andy Hunter reports:
Liverpool have made an eye-catching attempt to bring Radamel Falcao to Anfield only to be informed the Monaco striker is destined for Real Madrid this summer.

The Colombia striker was subject to an inquiry from Liverpool several days ago as Brendan Rodgers attempts to secure a replacement for Luis Suárez. Liverpool's approach revealed the 28-year-old [...] is set to follow James Rodríguez out of Monaco but that a deal with European champions Real is close to being agreed. The inquiry from Liverpool has gone no further.
Updates from Thursday, Aug. 7
The Daily Mail's Simon Jones insists Real Madrid remain in pole position to land the Monaco striker, as the saga continues.
Liverpool have become unlikely favourites to land Radamel Falcao, following tweets from BBC, ESPN and CNN football correspondent Mina Rzouki.
Rzouki wrote:
Italy may be beautiful for a holiday but it's also useful. Meetings today & a v. good source told me Liverpool have the advantage for Falcao

— Mina Rzouki (@Minarzouki) August 6, 2014
It's not yet done. Falcao is between Liverpool and City but the former quite a bit in the lead to land the player. What a coup it would be

— Mina Rzouki (@Minarzouki) August 6, 2014
Original Text
A fresh twist to the Radamel Falcao transfer saga has placed Manchester City in the running to capture Monaco's star forward.
The Colombian continues to be linked with a loan move to Real Madrid, as reported by Simon Jones of the Daily Mail. Despite the consistency of these rumours a deal is yet to be agreed, leaving the door open for City, according to Gazzetta dello Sport (h/t the Daily Mail's Joe Ridge).
A loan deal is once again cited when considering the English champions, who will only go through with the transfer if they can get rid of a current star. "The Italian daily newspaper also say that should the Colombia striker join City, then Stevan Jovetic will be off to Juventus," writes Ridge.
Which club best suits Radamel Falcao's playing style?
Teddy Cutler of the Independent indicates Manuel Pellegrini is "unwilling" to let Jovetic leave. The Chilean is said to be targeting Falcao as a temporary replacement for the injured Alvaro Negredo instead, making the situation somewhat unclear.
Falcao recently showed his class with an effective performance during Monaco's 1-0 Emirates Cup win over Arsenal. He led the line well, continued pressuring the opposition's centre-backs and headed home a first-half winner. Despite not playing for nine months through injury, Falcao appeared sharp inside the box.
This led Monaco boss Leonardo Jardim to claim the player is "indispensable," per Cutler. The newly installed manager also suggested his star attraction "will remain" at the principality club next season, meaning City or Real will need to state serious intent if he is to exit.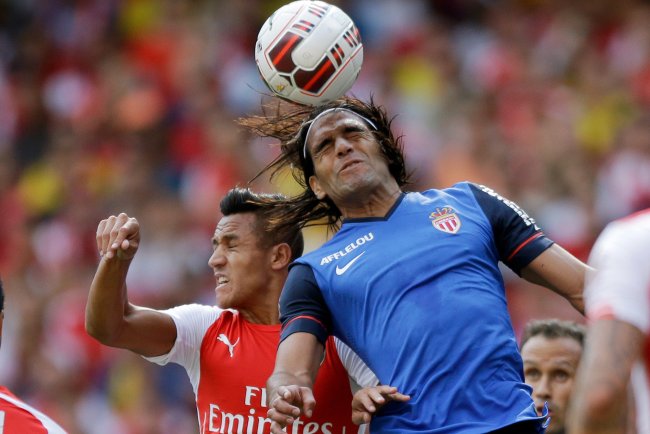 Matt Dunham/Associated Press
A loan move would halt Monaco's chances of catching Paris Saint-Germain at the top of Ligue 1. Despite last year's ascension to second place, the mega-rich club finished nine points behind their fellow financial juggernauts. Jardim wouldn't receive extra cash to invest in his squad and would also be forced into finding an alternative focal point before the transfer window closes.
Of course, City need to ensure they remain within UEFA's Financial Fair Play parameters when signing anyone. Pellegrini's team were fined £49 million and had their Champions League squad numbers restricted after failing to comply with the first inspection, a punishment which could seriously harm the club if repeated.
This pretty much ensures only a loan deal can happen, unless City offload Jovetic or another big-name player. Real Madrid are in a similar situation after splashing out on Toni Kroos, James Rodriguez and Keylor Navas without receiving a major fee in return for one of their unneeded stars.
Kathy Willens/Associated Press
Falcao has proven his goalscoring talents in Europe with successful spells at Porto, Atletico Madrid and currently Monaco. He remains one of the sport's most wanted players despite injury and has the capacity to improve any club's attacking efficiency.
Both City and Real's offensive units are crammed with talent, but neither are likely to turn down the opportunity to sign Falcao if he becomes available.