Apparently, the New York Knicks really want to get rid of Wayne Ellington.
According to ESPN's Marc Stein, Phil Jackson and Co. have tried to ship the reserve guard, but with their efforts yielding zero positive results, they are willing to include veteran point guard Pablo Prigioni to help increase talks:
How 'bout a Knicks rumble? I'm told they're trying to find a new home for Pablo Prigioni as well as Wayne Ellington to create roster room

— Marc Stein (@ESPNSteinLine) August 6, 2014
Attempts to move Ellington solo have been unsuccessful, so Knicks said to be weighing prospect of attaching Prigioni to deal as a catalyst

— Marc Stein (@ESPNSteinLine) August 6, 2014
NOT a case of Knicks not liking Prigioni. It's more NYK being unable to move Ellington unless they attach likes of Prigioni or Shane Larkin

— Marc Stein (@ESPNSteinLine) August 6, 2014
As Stein noted, it's an effort to create cap and roster space, and that makes sense. Ellington made just 45 mostly nondescript appearances with the Dallas Mavericks last season, and he's pretty much buried on the depth chart behind J.R. Smith and Tim Hardaway Jr.
So yeah, he's definitely expendable. But why so anxious to get rid of him? Is the $2.77 million he is set to make in 2013-14—an expiring contract, mind you—really going to create enough room to make a significant move elsewhere?
And whatever little effect moving him may have on the roster—is it really worth giving up the greatest point guard in the history of the game?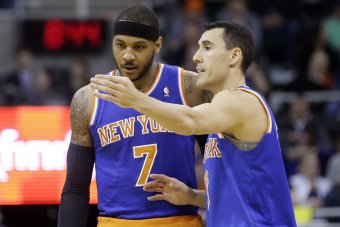 Rick Bowmer/Associated Press
In all seriousness, Prigioni isn't going to set the world on fire. He's 37 years old and has had a player efficiency rating (PER) of 13.0 in his first two NBA seasons, per basketball-reference.com. Hell, depending on Shane Larkin's progression this season, he could be pushed to third on the depth chart at some point.
Still, he's a good fit in Phil's triangle offense; he's a reliable pass-first point guard who has averaged 6.6 assists per 36 minutes in two seasons and shot a deadly 46.4 percent from beyond the arc last season. He is a rock-solid backup and, perhaps most importantly, a huge fan favorite in New York for under $2 million.
Pablo! Say it ain't so. MT @ESPNSteinLine: How 'bout a Knicks rumble? I'm told they're trying to find a new home for Pablo Prigioni

— Dennis Doyle (@theoakmancometh) August 6, 2014
Moreover, he already has a solid rapport with new starting PG Jose Calderon, as he told the New York Post's Marc Berman:
I'm very happy to have the opportunity to play with Jose one more time. We played together in Spain and we did really well. He is a great player and very good professional, a great 3-point shooting guy. He can run the team and read the game very well and is a good defender. He has all that a good point guard must have.
Perhaps the Knicks have something bigger planned in which they need more roster spots. But trading Prigioni, a solid fit for this team, just so they can get rid of Ellington seems unnecessary, at least on the surface.
When the end game seemingly has little effect on the landscape of the team or the Eastern Conference, the answer is always the same: keep Priggy Smalls.