Legendary Green Bay Packers quarterback Brett Favre drew the ire of Cheesehead fans when he capped off his career with the archrival Minnesota Vikings. According to reports, even that messy separation wasn't enough to prevent Favre from a prompt induction into the Packers Hall of Fame.
Favre confirmed reports in a statement on his website late Sunday night:
I'm pleased to announce that I will be returning to Green Bay, Wisconsin in 2015 for induction into the Green Bay Packers Hall of Fame and retirement of my jersey.

It was a tremendous honor to play 16 years for the Green Bay Packers. Now to have my name placed among others such as Starr, Hornung, Kramer, Taylor, Lambeau, Nitschke, Lombardi, Davis, White and Hutson is a special honor that I share with all of my teammates and coaches, and that would not have been possible but for the foresight of Ron Wolf, the greatest GM in the history of the NFL.

I'm truly looking forward to celebrating and sharing this special moment with all of the great fans of the Green Bay Packers.

Go Packers!
ESPN's Rob Demovsky first reported that Favre's No. 4 jersey will be retired in 2015, with an announcement coming Monday:
Monday's announcement: Brett Favre will be inducted into the #Packers HOF in 2015 and have his No. 4 retired, per sources. Story coming.

— Rob Demovsky (@RobDemovsky) August 4, 2014
Jason Wilde of ESPN Wisconsin confirmed that through his own sources:
Per two sources and as reported by others, #Packers will NOT retire No. 4 in 2014. Favre into @PackersHoF in July 2015, then jersey retired.

— Jason Wilde (@jasonjwilde) August 4, 2014
The Packers' official Twitter account posted about the impending announcement on Sunday, though not specifying how Favre would be involved:
Brett Favre will be subject of joint announcement by #Packers & Packers Hall of Fame Monday: http://t.co/oOGsI4J20b pic.twitter.com/XKRFrdh12O

— Green Bay Packers (@packers) August 4, 2014
Kicker and longtime Favre teammate Ryan Longwell knows what it's like to burn the fuse at both ends, having played for both the Packers and Vikings in his career just as Favre did. Demovsky reported what Longwell had to say about Favre's prospective induction:
Former Favre teammate @4thandLongwell: "Good for him. He deserves it. The fans deserve it, and the community deserves it."

— Rob Demovsky (@RobDemovsky) August 4, 2014
An inference could have been made that Favre would indeed be inducted to Green Bay's Hall of Fame even without the outside reports purporting that to be the case.
ESPN.com's Mike Sando quipped in some commentary about Monday's announcement:
I wonder how many times Brett Favre's jersey will come out of retirement.

— Mike Sando, ESPN.com (@SandoESPN) August 4, 2014
The Packers were at a crossroads before the 2008 season, when Favre reneged on his decision to retire. His heir apparent, Aaron Rodgers, was ready to roll as the new face of the franchise, but Favre's return forced general manager Ted Thompson to make a bold decision.
Thompson stuck with Rodgers, trading Favre to the New York Jets, where he played for one season and missed the playoffs before joining up with the Vikings. The 2009 campaign turned out to be perhaps the best of Favre's career, as he threw for 4,202 yards, 33 touchdowns and just seven interceptions.
However, a late interception in the NFC title game led to a loss to the eventual Super Bowl champion New Orleans Saints. That next year, Favre had little left in the tank and managed just 11 TD tosses to 19 picks in 13 games.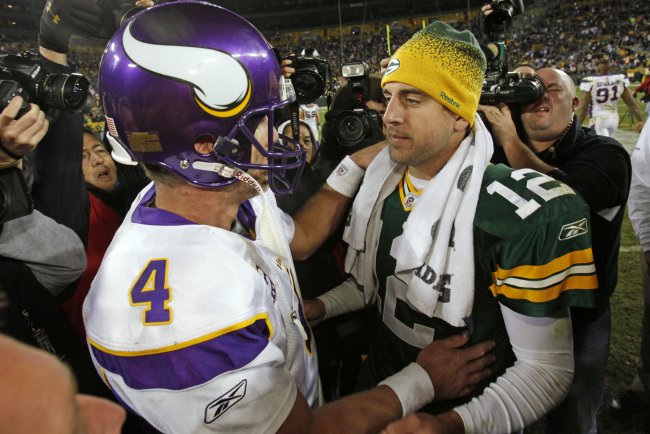 Mike Roemer/Associated Press
But Favre will always be remembered for the greatness he achieved as a longtime Lambeau Field staple, where he served as the starting QB from 1992 through 2007.
No matter how he ended his career, Favre was going to be ultimately embraced in Green Bay for all the years he gave to the organization—and all the consecutive starts, a streak that stopped at 297 in his final season.
It was probably for the best that both sides waited several years for a reunion and for Favre's coronation. There is still even a year between Monday's announcement and Favre's official enshrinement.
Since there were some chilly relations between him and Rodgers, and an unceremonious departure from the current regime of Thompson and coach Mike McCarthy, that's to be expected.
After multiple flirtations with retirement before he finally walked away from the game, though, Favre has stayed out of the spotlight to a large degree. Now seems like a fitting time for the Packers to welcome him back, and it was only a matter of time before he'd be honored in the team's Hall of Fame.