It is difficult to comprehend any idea that Cristiano Ronaldo may actually be better in the upcoming season than he was last term. However, thanks to Real Madrid's summer purchases, that may well be the case.
In 2013-14, he scored 31 league goals in 30 appearances and netted 17 times for Real in the Champions League as they won the competition, a record per Opta:
17 - Cristiano Ronaldo scored 17 times during the 2013/14 Champions League; a record for a single European Cup season. History. #Goal50

— OptaJoe (@OptaJoe) July 28, 2014
Those are some serious numbers, and there is no doubt that Real would not have claimed La Decima—their long-awaited 10th European Cup—without him.
However, he then went on to the World Cup and was relatively poor—as illustrated by WhoScored's shot-conversion statistic, although he did eventually find the net—with a disappointing Portuguese side who were knocked out at the group stages:
Cristiano Ronaldo: Has had the most shots on goal without scoring (14) at the 2014 World Cup #por

— WhoScored.com (@WhoScored) June 23, 2014
Thus Ronaldo cannot simply be the best through his own immense skill; he relies on the quality of those around him for sustained brilliance—an obvious point considering football is a team sport.
With the talent Real have added to their squad this summer with the purchases of Toni Kroos and James Rodriguez, Ronaldo should be even more prolific next term.
He cannot be this good forever, but he is still in his prime, and the addition of such quality players should improve him even further.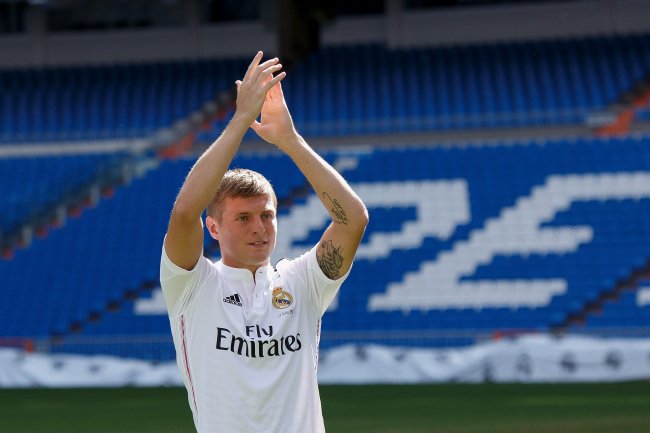 Pablo Blazquez Dominguez/Getty Images
Rodriguez was mainly touted for his goalscoring at the World Cup, but he is a perennial creator also, having provided 12 assists in Ligue 1 last season for a Monaco side that finished a distant second to Paris St-Germain.
Aside from genuine assists, he also creates goalscoring opportunities at an incredible rate, per Squawka, surely music to Ronaldo's ears:
James Rodriguez created 85 chances in the league last season, Gareth Bale & Cristiano Ronaldo created 87 combined. pic.twitter.com/lwOG4cTfr9

— Squawka Football (@Squawka) July 17, 2014
He will no doubt be even better amongst the behemoths of Madrid next term and that, in turn, will provide Ronaldo with more opportunities to score goals.
Equally, Kroos is a wonderful midfielder and terrific passer of the ball who is incredibly versatile per Pinnacle Sports' Ted Knutson:
Kroos good business all around. Bayern get €30m, Real get one of the best and most versatile CMs in the world for _only_ 30m

— Ted Knutson (@mixedknuts) July 17, 2014
He will be able to adapt his style of play to the main-man Ronaldo and seek out the Ballon d'Or winner whether he be playing out wide or up front.
Ronaldo should benefit hugely from playing with such creative players as he will theoretically receive the ball in better positions, more often, allowing him to then do what he does best and terrorise opposition defences.
There is one small issue concerning the 29-year-old's continued good form which ESPN's Miguel Delaney and the Daily Mail's Rik Sharma both acknowledge:
@MiguelDelaney and Ronaldo has been injured for months now. At worst, it could be a Shevchenko situation. The James deal may pay off quickly

— Rik Sharma (@riksharma_) August 2, 2014
Ronaldo's quality is so reliant on his immense power, pace and strength, that should he push himself too hard he could cause long-term injury problems.
Will Real Madrid win the Champions League again next season?
Thus he needs to allow the quality players around him—the likes of Gareth Bale and Luka Modric also key—to do some of the work for him, and he certainly has some of the best teammates in the world.
If he preserves his fitness and takes advantage of Real's immense squad, he could inspire Los Blancos to another Champions League and earn even more individual acclaim for himself.