Between the Lines: The Vols' Tough Matchups in 2009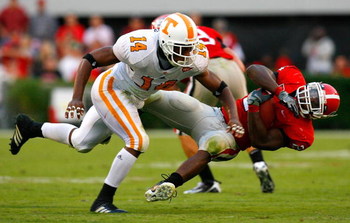 Going into every season, there are games that anyone can deem as "big" or "swing" games. Almost anyone can figure out who the best teams in the nation are and find the superstars on those teams.
A big factor in a team's ultimate success or failure, however, resides in matchups. Overall talent on a team is a factor in winning and losing, but some team's strengths ultimately expose another teams weaknesses and becomes one of the bigger factors in the outcome of the game.
The following is a look at some of the "tough" matchups the University of Tennessee Volunteers will face this upcoming season and will be critical to whether the season ends up a success or failure.
The order of the matchups is based on the order of the schedule, not on degree of difficulty. I will try and opine in the piece which ones I think are the more difficult ones.
The predictions on each matchup are not indicative of who I think will win the game, but merely who has the advantage in the key matchup being discussed.
UCLA: Logan Paulsen vs the UT Linebackers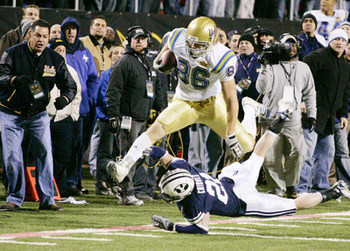 Logan Paulsen started 23 straight games at UCLA, including the 2008 UT game, before fracturing his foot in the first quarter of UCLA's home opener last season.
Paulsen left that game with one catch for 18 yards, and sat out the rest of the season after having surgery on his injured foot.
The Bruins shocked the Vols that day 27-24 in an overtime thriller, and a lot of the Bruins second half offensive success was brought on by other tight ends and wide receivers making big catches on underneath routes against UT linebackers.
Now, a year later, Paulsen will return to the starting lineup with the potential to be an All-Conference, maybe All-American performer. Tennessee returns a weaker linebacker corps, with much less experience than the previous group.
Norm Chow was able to out scheme UT at the Rose Bowl last season creating a mismatch between his tight ends and the Vols' linebackers.
I expect UCLA to find success in that same area again this season, especially with an incredibly talented kid like Paulsen leading the way for that unit.
Look for UCLA to move Paulsen around in several formations, matching him up against some of the Vols inexperienced backers.
Chow will most likely use the cover two that Monte Kiffin runs so well to his advantage in this area, since that defense is designed to allow for those underneath routes.
Florida: Jonathan Crompton vs Florida's Defense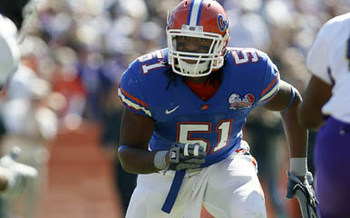 When someone says Florida, normally the first thing most people think about is offense. Why not? Florida has fielded some of the most impressive offensive teams of the last 20 years.
One of the biggest things that is overlooked about Florida in my opinion is that part of the reason their offenses are so successful is because their defense puts them in great positions to succeed.
With Crompton coming off possibly the worst year of QB play Tennessee has ever seen, this matchup will be the first, and ultimate test to see if in fact 2009 will tell a different story.
Florida was No. 1 in the SEC in pass defense efficiency and interceptions and No. 2 in sacks.
All three statistical categories play into the Gators' favor against a QB who has been notorious so far in his career for holding on to the ball for too long and turning the ball over with inaccurate passes.
Charlie Strong is one of the best defensive coordinators in the nation, and like last year, will most likely pack the box, daring Crompton to beat him.
Strong returns 10 of 11 starters on defense that will be going up against a new offensive system, so it's hard to see a much different result.
All in all, this is going to be Tennessee's toughest matchup of the season. Florida has seven or eight players on defense that could very well go in the first two rounds of the NFL draft in the future.
Urban Meyer is underrated as a defensive coach and Charlie Strong should be a head coach somewhere.
Auburn: Tigers' Defensive Backs vs Vols' Wide Receivers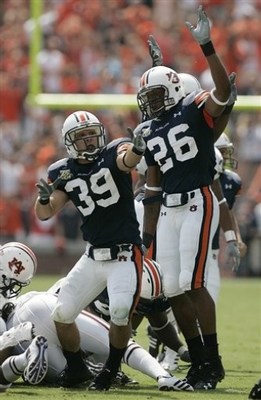 Two of the trademarks of new Auburn Head Coach Gene Chizik's defenses is their ability to keep their opponents out of the end zone and have playmaking defensive backs.
As the defensive coordinator in 2004 at Auburn, Chizik's defense led the nation in scoring defense. The next year, Chizik was the co-defensive coordinator for the National Champion Texas Longhorns.
In addition, Chizik has coached three straight Thorpe Award Winners in Carlos Rogers, Aaron Ross, and Michael Huff, respectively.
Going up against a Vols' offense that, as of now, has no established game breakers at the WR position is an advantage for Chizik's style and personnel.
Though he was left short on talent, one bright spot is returning safety Zac Etheridge. Currently Mike McNeil, another returning starter, is on the mend from a broken leg suffered at the end of spring drills.
Since the key to loosening up SEC defenses will be getting big plays on the outside for the Vols, those two players will provide a nice challenge in accomplishing that goal, assuming both are back and healthy for that game.
Considering the injuries Auburn has suffered in the spring and the unknowns UT has coming in as Freshmen, this may be a challenge the Vols could be up to meeting and turning to their advantage.
Georgia: Dawg WRs vs UT Secondary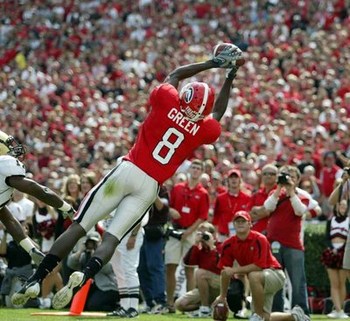 Breaking in a new quarterback and new running back is never easy, especially when the guys you are replacing were high NFL draft picks and All-SEC performers.
However, that's the task Georgia is given and the degree of difficulty of them being successful vs Tennessee will depend largely on the Vols' DBs.
Everyone knows about Eric Berry, but the Vols are likely going to have new starters at the corners with the graduation of DeAngelo Willingham and ever shaky status of Brent Vinson, who didn't start this game last season.
New Georgia QB Joe Cox has to hope his WRs have the same success against the Vols they had last season. They were literally almost wide open on every play, though Stafford didn't play his best game and missed several, along with a few drops.
Georgia returns all everything freshman A.J. Green, along with a talented crop of young WRs ready to step up.
The key to the matchup will be if the UT corners can hold their own at the line of scrimmage, forcing Joe Cox into holding the ball that extra second to look for another read.
If the Vol DBs consistently get beat off the line again, I expect Cox will be able to make simple, short, efficient throws that will eat up yardage and give UT fits.
However, having to make that extra read would result in UT's strength at defensive line to put pressure on Cox, possibly forcing turnovers and sacks.
As tough of a matchup as this could be, having Berry to shore up the deep ball could allow the Vols to disrupt the Georgia WRs consistently and cause Cox problems.
On the flip side, one or two missed assignments or whiffs at the line could easily lead to very long, painful A.J. Green touchdowns.
Alabama: Tide Front Seven vs Vols Offensive Line
One of the biggest question marks going into the season for Tennessee is the offensive line. For the last few years, the Vols have had a really hard time running the ball like UT fans got used to over the years.
Conversely, one of the things Bama always seems to be great in is the front seven. The Tide has a great tradition at linebacker and always seem to have at the very least serviceable defensive linemen and most of the time, just flat out good.
Outstanding NG Terrence Cody makes it hard on any team. The ultimate test in this matchup will be if UT can get Cody blocked and get to the second level and take care of a linebacker or two.
Traditionally, Bama's linebackers tackle very, very well, so getting them blocked will be absolutely critical to any success on the ground.
If the Vols can keep the Tide backers at bay with efficient short passes, outside runs and screens, they may can establish a decent running game up the middle.
However, Bama's backers tend to be able to do many things well. I think this will be the second toughest challenge of the season, because of Bama's talent coupled with Nick Saban's undeniable ability to coach up defense.
If Tennessee is to have success vs the Tide, I believe scheming around this matchup is necessary. Everything involved in this one is to Bama's advantage, and barring injuries (lots of them), that doesn't look like it's going to change.
South Carolina: Cocks OL vs Vols DL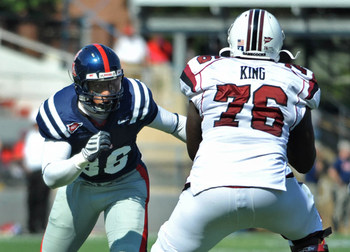 Coming out of South Carolina's spring drills, many around and covering the program felt the most improved unit from a year ago was the offensive line.
Coaching changes were made, positions changed, and the Gamecocks coaches feel they are on the right track.
Although Steve Spurrier's "Cock and Fire" offense still hasn't fulfilled it's pre-Spurrier hype, anyone who saw the Ole Ball Coach in his hayday at Florida knows he runs a dangerous scheme.
Spurrier's passing game has long thrived on the quick slant drawing in linebackers and causing bumping corners to open up the mid range passing game.
For that to be successful, the offensive line is going to have to be able to hold off the defensive line not only from pressuring the QB, but from filling all the gaps in the run game.
With an inexperienced defense in Columbus this season, South Carolina is going to need to control the clock even more than in the past. Against Tennessee, this will prove difficult since the Vols most improved unit quite possibly is the defensive line.
While this unit may very well be improved for South Carolina and could easily provide quite the challenge for the Vols, this is another matchup I think the Vols are up to handling and ultimately winning the battle.
Ole Miss: Jevan Snead vs Eric Berry
Several interesting story lines will surround this November 14th matchup. Among them will be possible SEC Championship Game implications, bowl eligibility and Ed Orgeron facing many of his old recruits.
Possibly the most interesting though will be the matchup of two of the highest rated NFL prospects in the nation, Eric Berry and Jevan Snead.
Both players should be contending for possibly post season awards when the game comes and play positions where each one's focal point is the other on almost any given play.
Just predicting on strengths and weaknesses, I would think Ole Miss will do a good deal of airing it out in this game. If that's the case, it will put Berry in a position where he can read and react, and try to make plays. Who has the advantage there?
Honestly, I don't think I have an answer. There is no finer player in the nation than Eric Berry, but Jevan Snead has performed well against great defenses already, and has shown no reason to think he can't again.
With the Vols defensive line's likely ability to neutralize most team's running game, I look for this matchup to decide the game. If Snead is able to keep the ball away from Berry without forcing it to someone else, Ole Miss will run away with this one.
However, if Berry can be the game changer he's shown to be on many occasions again, Tennessee will have a great chance at pulling what most would consider an upset on the road.
Closing Thoughts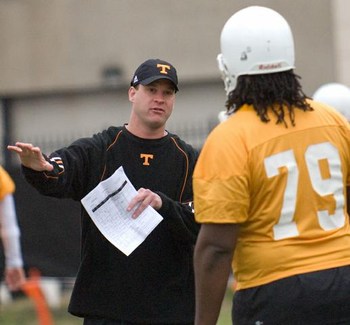 All tolled, the Vols will face some very tough challenges in the 2009 season. Some of them they'll be able to overcome and some they won't. There will certainly be others that arise that will cause potential problems.
Of course, the emergence of new talent in summer drills or injuries could change the dynamic of a lot of these matchups.
However, many of the strengths listed for these teams are things they seem to do well all the time, so I look for all of them to be key come time for the season.
This piece was entirely my opinion based off facts, viewing film and research. I urge feedback and conversation of your thoughts on the subjects discussed.
Look for a piece in the near future on matchups from key games I feel favor Tennessee and give the Vols a good chance to win. I try to be fair and objective both ways, and I hope you all enjoyed the read.
Keep Reading

Tennessee Volunteers Football: Like this team?