Usain Bolt led the way for Jamaica's 4x100-metres squad during Saturday's final at the 2014 Commonwealth Games, winning the gold medal in a new Games record time of 37.58.
MailOnline Sport shared the result:
BREAKING: Usain Bolt races through as Jamaica win gold in the men's 4x100m relay with a time of 37.59, with England taking silver

— MailOnline Sport (@MailSport) August 2, 2014
The 4x100-metres was the final athletics event of the 2014 Commonwealth Games, and with Jamaica's women's team easily winning the gold earlier on the night, the crowds were expecting fireworks from Bolt and company.
Bolt wasn't overly excited at the weather in Glasgow on Friday, and with the rain pouring down on Saturday, the Northern Echo's Scott Wilson wondered how the fastest man in the world would feel about these conditions:
If Usain Bolt thought Glasgow weather was "a bit sh*t" when it was sunny, God knows what he's going to think now..... pic.twitter.com/UDjGKGsFle

— Scott Wilson (@Scottwilsonecho) August 2, 2014
The Jamaican anchor didn't let it bother his spirits, however, as evidenced by this tweet:
Let's do this!!! #TeamJamaica #Glasgow2014 pic.twitter.com/RgBwpc4xSq

— Usain St. Leo Bolt (@usainbolt) August 2, 2014
Kimmari Roach injured himself during the semi-final race, meaning Jamaica's team would look a little different on Saturday. Jason Livermore started for the team, with Kemar Bailey-Cole handing off to Nickel Ashmeade and Bolt running the anchor.
The Jamaican team looked very relaxed just minutes before the start, with Bolt even caught on camera dancing to the clapping of the crowd. Running in lane five, the stage was set for a glorious finish to a great day for Jamaican athletics.
Livermore's start was strong, comfortably keeping pace with England and Trinidad and Tobago. Bailey-Cole seemed to lose a step or two and Ashmeade's race wasn't an impressive as Friday's, but the team was less than two feet by the time the baton went to Bolt.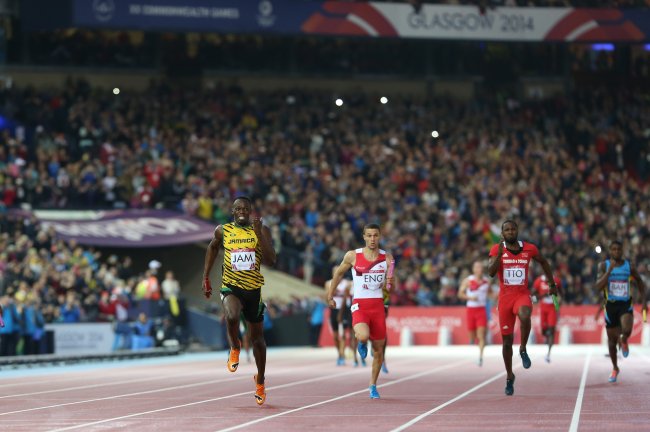 Scott Heppell/Associated Press
The world record holder quickly overtook the English team and didn't let up the pace, unlike during the semi-final heat. When it was all said and done, Jamaica had obliterated the field with a time of 37.58.
England's run was truly spectacular, and they were aided by mistakes from Nigeria and Canada to secure silver. Trinidad and Tobago won't complain about the bronze, either, but it was as clear as day no one was a match for the Jamaicans.
Bolt was all fun and games before the start, as shared by Ladbrokes, but he showed a level of focus in the final straight we hadn't seen before:
Dancing and joking around to the Proclaimers, then he goes and crushes the opposition! Usain Bolt brings Jamaica home for the 4x100m Gold!

— Ladbrokes (@Ladbrokes) August 2, 2014
He even took a long, hard look at the board with the times, knowing full well the team had run an excellent race in dreadful conditions. The Associated Press' Rob Harris shared this image showing the margin of victory:
Bolt anchors Jamaica to Commonwealth relay gold pic.twitter.com/ddD9rBa09F

— Rob Harris (@RobHarris) August 2, 2014
Paralympian Hannah Cockroft was impressed by her compatriots, but summed up Bolt's performance quite well:
Bolt is unbeatable, but man did our boys put up an amazing fight!

— Hannah Cockroft MBE (@HCDream2012) August 2, 2014
Bolt had never competed at the Commonwealth Games before, and he told BBC Sport's Tom Fordyce this gold medal "completed his set:"
"This completes my set - I'm happy. The people here are great, they've been so nice to me here and I want to thank them"
It took ages for reporters to get the man in front of a camera, as Bolt was held up during his lap of honour after seemingly every step. He blames selfies, according to Rob Harris:
Usain Bolt tells us: "This new thing about selfies are really making these laps of honours really long"

— Rob Harris (@RobHarris) August 2, 2014
He also dropped a bit of a bombshell when he finally spoke, announcing his plans to retire after the 2017 World Championships:
Usain Bolt confirms he plans to retire after 2017 world championships

— Rob Harris (@RobHarris) August 2, 2014
Despite not running a single race all season up until Friday, Bolt just looked that much faster than the rest of the pack. Next year's World Championships will be a big test in assessing whether he can continue his Olympic dominance in 2016, but if we learned anything in Glasgow, it's that he doesn't look like slowing down anytime soon.
Jamaica hardly fielded their strongest team at the 2014 Commonwealth Games, and it clearly showed with Bolt forced to make up ground on the race leaders in every single heat. The Caribbean nation has dominated the sprint events in recent times, and that trend looks set to continue heading into the 2015 season.