Barcelona and Nice battled to a 1-1 draw with both scores coming on penalty kicks.
It was a sloppy battle in France that featured each side looking to get the kinks out before the start of the season. However, the two clubs should each be satisfied with a strong effort to finish with a draw.
The visitors were able to create more opportunities early, but Nice were able to get onto the scoresheet first.
The opening goal came on a mistake from Gerard Pique when he allowed Dario Cvitanich to get in good position on him. He was forced to push his opponent in the back, which led to a penalty, as described by the Barcelona account:
Min 21: The penalty was for a push by Piqué, but it looked like a very harsh decisión. #FCBlive

— FC Barcelona (@FCBarcelona) August 2, 2014
Cvitanich was given a chance to finish what he started and he came through with a goal from the spot in the 21st minute. As AS points out, though, it was a good effort by Marc-Andre Ter Stegen to almost save it:
Ter Stegen guessed right, but Cvitanich's penalty was too good. 1-0 Nice.

— AS English (@English_AS) August 2, 2014
The two sides continued to battle back and forth, although Barca controlled possession for 61 percent of the first half and 62 percent of the match overall, according to FCBarcelona.com. Pedro had a few good chances while Rafinho also played well, but no one was able to get a shot into the net.
Meanwhile, Martin Montoya picked up a bit of an injury and was forced out in the first half.
After intermission was a very different roster for Barcelona with players like Xavi coming on, as well as the debut of Ivan Rakitic.
Although it took a long time for either side to do much in the final third, Barcelona forced the action and eventually drew a penalty in the 66th minute. Munir went for the ball in the box but was tripped by Romain Genevois of Nice.
Xavi stepped up for the shot and had no problem putting it in past new goalkeeper Yoan Cardinale:
GOAL! Equaliser for Barcelona as Xavi makes it 1-1 with Nice. Follow LIVE updates from the closing stages here: http://t.co/oQ0nT521AI

— Goal UK (@GoalUK) August 2, 2014
The rest of the match featured a lot of close attempts for Barca, including a shot by Sandro that went off the post. However, the competition finished in a 1-1 draw.
Nice should be satisfied with the result thanks to a great defensive effort against one of the top clubs in the world. Even without a full lineup, this is a team that could do damage but the French squad held strong.
On the other end, manager Luis Enrique was at least able to see some quality performances from young players who could end up making a difference going forward. Once the rest of the stars join the squad, this club will be difficult to beat.
Grades
Xavi, Barcelona: A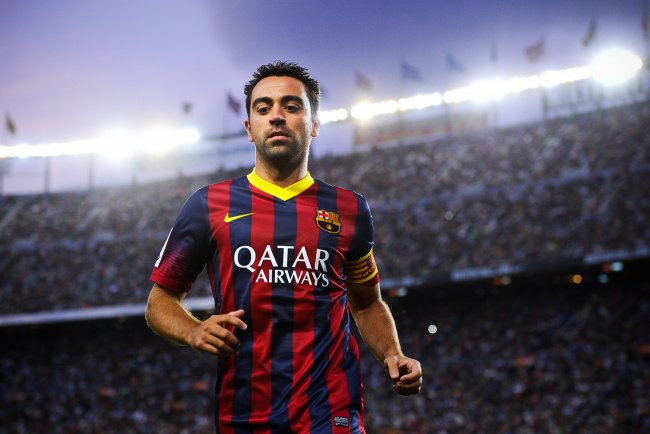 David Ramos/Getty Images
Coming on in the second half, Xavi looked fresh and completely in control of the match. He scored the club's first goal on a penalty shot, but he was also extremely impressive with his passing.
Lee Roden of TalkSport discussed the strong play of the veteran:
Xavi's been on the pitch just over five minutes and has already played the two best passes of the game. There's life in the old dog yet.

— Lee Roden (@LeeRoden89) August 2, 2014
At 34 years old, Xavi is continuing to show why he is such an important member of the squad. It might be smart to limit his appearances this year to avoid wearing him down, but it is clear the midfielder will be able to make an impact when he sees the pitch.
Gerard Pique, Barcelona: C
After an inconsistent 2013-14 season, Pique has lofty goals this time around. He told the media, "the challenge is to again be the best in the World," via FCBarcelona.com. He also added that Luis Enrique will play a big role in helping him reach this point.
Unfortunately, he was clearly not at this level in the match against Nice. He was often out of place and made a number of mistakes that allowed the opponents to get quality chances.
His place on the first team is not in question, but Pique will have to perform better going forward if he wants to help this squad.
Dario Cvitanich, Nice: A
Cvitanich scored the opening goal of the match, but he was impressive with his aggressive approach throughout. The forward kept the defence on its toes while getting himself good chances near the net.
His strong finish on the penalty shot gave Nice the initial lead and the veteran showed why he should be set for another solid year as a leader of this squad.
Nice Starting XI Grades

| | |
| --- | --- |
| Player | Grade |
| Mouez Hassen | A- |
| Gregoire Puel | B |
| Romain Genevois | C+ |
| Mathieu Bodmer | A- |
| Jordan Amavi | B |
| Valentin Eysseric | A- |
| Nampalys Mendy | B+ |
| Niklas Hult | B |
| Jeremy Pied | B- |
| Dario Cvitanich | A+ |
| Eric Bautheac | B+ |
Barcelona Starting XI Grades

| | |
| --- | --- |
| Player | Grade |
| Marc-Andre Ter Stegen | B+ |
| Martin Montoya | B |
| Gerard Pique | C |
| Jeremy Mathieu | A |
| Jordi Alba | A- |
| Sergi Roberto | B |
| Sergio Busquets | B+ |
| Andres Iniesta | B- |
| Adama Traore | B |
| Rafinha | B+ |
| Pedro | A- |
What's Next?
Barcelona will continue their preseason tour with a difficult match against Napoli on August 6. The competition will take place in Stade de Geneve in Switzerland as the Spanish club hopes to prove itself against a potential Champions League opponent.
On the other hand, this was the final preseason competition for Nice before the start of the Ligue 1 season. The French squad will take on Toulouse FC in the first match on August 9.
Follow Rob Goldberg on Twitter for the latest breaking news and analysis.