Is Teddy Bridgewater Ready to Start in the NFL in Week 1?
August 4, 2014

Hannah Foslien/Getty Images
The draft process wasn't kind to Minnesota Vikings rookie quarterback Teddy Bridgewater.
Entering his final season at Louisville, Bridgewater was the presumed challenger to Jadeveon Clowney for the first overall pick in the 2014 NFL draft. Clowney was eventually selected first. Bridgewater fell all the way to the 32nd overall pick as the third quarterback off the board.
Bridgewater didn't fall because of a poor final season at Louisville; his slide down the board started once the draft process had begun.
Therefore, it's not a huge surprise that the 21-year-old has only impressed the Vikings since he stepped onto the practice field. Predictably, offensive coordinator Norv Turner has been vocal with his support of Bridgewater after being a driving force behind his selection during the draft.
Most rookies are being praised by their franchises at this stage, but it's not just talk coming out of Minnesota.
Draftbreakdown.com
According to those watching on, including Pro Football Talk's Mike Florio, Bridgewater has been splitting first-team repetitions in training camp with Matt Cassel. Cassel is the incumbent starter and should be ahead of Bridgewater at this stage of the offseason, so the team splitting reps equally suggests Bridgewater is on track to open the season as the team's starter.
Being a Week 1 starter as a rookie quarterback is a big challenge.
There is no question that Bridgewater is a phenomenal talent who has the ability to be a top-tier NFL player. Talent isn't the important question, though. Succeeding as a rookie is more about a few key specific traits and the situation a quarterback finds himself in.
Poise, intelligence and accuracy are significantly more important in the NFL than they are in college.
Because pockets in the NFL are tighter and pass-rushers are much quicker, pressure is inevitable. If a quarterback can't throw while under pressure, he won't succeed in the NFL. In college, Bridgewater showed off exceptional discipline with his eyes and a comfort in the pocket that should ease his transition to the next level.
Managing the pocket isn't simply about avoiding sacks or how quick your feet are, it's also about throwing from different body positions and being willing to take a hit.
Because NFL teams have more complex playbooks both on defense and offense, most quarterbacks who enter the league need to take on more mentally than they ever have before. Bridgewater is coming from a traditional style of offense where he was forced to make reads from the pocket quickly.

Hannah Foslien/Getty Images
Those reads may not be more complex during his rookie season if the Vikings look to ease his transition schematically, but the speed at which he will need to make them will.
Because the athleticism and instinctual awareness of NFL players is significantly greater than that of college equivalents, defensive back play puts more pressure on the quarterback's accuracy. Just throwing the ball to the general area of your receiver is acceptable in college but much less so in the NFL.
Windows tighten, coverages quickly change and defensive backs are less likely to drop easy interceptions.
Bridgewater's skill set suggests he is the most pro-ready prospect of this year's draft class. In fact, a convincing argument can be constructed that suggests he is more pro-ready than any recent prospect who is not named Andrew Luck.
Luck was asked to run an expansive offense with a very poor supporting cast from the first snap of his rookie season. Bridgewater shouldn't be put in that situation.
The Vikings offense is dramatically better than the offense Luck inherited with the Indianapolis Colts. Not only does he get to play with Adrian Peterson, but he also has a very talented left tackle and a versatile cast of receiving options. With the experienced Turner installed as offensive coordinator, the Vikings should be able to accommodate a player who is still learning his craft at the quarterback position.
Each level of the offense is as important as the other when the Vikings are on the field, but Turner is the most important piece because he will work with Bridgewater off the field and gauge what he can and can't do on it.
Even though Turner's reputation has been tarnished by his unsuccessful stint as head coach of the San Diego Chargers, he is still a well-respected offensive mind with a good track record as a coordinator.

Elsa/Getty Images
He was the offensive coordinator for the Cleveland Browns last year, but inept quarterback play handcuffed his ability to craft a competent offense. Bridgewater isn't like Brandon Weeden, Jason Campbell or Brian Hoyer. He offers Turner specific abilities that the veteran coach should be able to build an offense around.
Early in his career, the two aspects of Bridgewater's play that he should rely on for success are his ability to throw on the move and his intermediate accuracy.
Throwing on the move is a very valuable trait for young quarterbacks. It's even more valuable when that quarterback plays with a strong running game. Like Joe Flacco, Bridgewater isn't an exceptional athlete, but he is athletic enough to scramble when space is afforded to him, and he can comfortably execute elongated bootlegs.
Bootlegs help rookie quarterbacks because they get out of the unfamiliarly tight NFL pocket and bring all their receivers into one area of the field to make coverage reads easier. Of course, it also asks the quarterback to make throws while moving and halves the field for the defense.
With Peterson's threat, the Vikings should be able to consistently disrupt the opposition's secondary and create opportunities for Bridgewater to take shots down the field.

Andy Lyons/Getty Images
Draftbreakdown.com
He definitely has the ability to make those throws.
Bridgewater's ability to throw on the move is impressive, and some respected draft evaluators, like Football Outsiders columnist Matt Waldman, believe he could be special in that area. Comparisons to Aaron Rodgers are dangerous, and Bridgewater won't need to be as effective as him to be productive in his first year.
A common concern that followed Bridgewater during the draft process centered around his inability to throw the ball down the field. While he wasn't an exceptional deep thrower in college, he was a fantastic intermediate thrower.
The intermediate area of the field is where NFL defenses are generally at their most vulnerable. Teams don't want to give up the big play 30-plus yards down the field, and underneath passes don't hurt the defense enough. When you can consistently attack the defense six to 20 yards down the field, you will be successful against most teams.
Turner has already touched on this, per Mark Craig of the Star Tribune:
Turner preaches trajectory, arc and accuracy far more than velocity. With the right trajectory and arc, the ball is easier to catch and isn't dying as it arrives. As a teaching tool, Turner will place a 10-foot net 14 yards downfield that quarterbacks must throw over on deep out passes.

"This is a throw that people talk about arm strength," said Turner as he moved on to the next play, a deep out. "You have to be able to throw the ball firm and on a line, but it has to have an arc or this linebacker underneath is going to hit it. Teddy's ball here carries 36 yards on a line with an arc. If you can make that throw right there, you can make any throw we need in this offense."
When Turner had Weeden and Campbell last year, he had two quarterbacks who not only struggled to make intermediate throws, but two guys who didn't actively look to attack the defense in that area. Weeden's eyes would drop whenever he felt pressure, and Campbell was always overly committed to checking the ball down.
Having the motivation to play to Bridgewater's strengths isn't the same as having the ability to.
If you want your quarterback to throw the ball down the field, you need receivers who can outrun the defense and create separation past 20 yards. If you want your signal-caller to throw the ball underneath, you need receivers who can turn short passes into positive gains with yards after the catch.
For an intermediate thrower, the ideal option is a crisp route-runner who is brave against potential contact. In Greg Jennings and Kyle Rudolph, Bridgewater has two players who can excel in this area.
Rudolph was given a five-year $36.5 million extension ahead of this season despite not producing more than 493 yards in a single season of his three-year career. The 24-year-old tight end was the 43rd overall pick of the 2011 draft. His numbers have been severely hampered by bad quarterback play in Minnesota, but he has the talent to be one of the best tight ends in the league.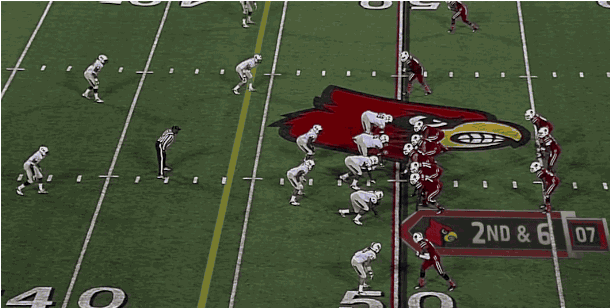 Draftbreakdown.com
Jennings is at the other side of his career. He is 30 years of age now and will turn 31 before the end of September. His eight-year career has produced 493 receptions, 7,341 yards and 57 touchdowns.
The former Green Bay Packers receiver is still a very quick, precise and consistent route-runner who comfortably catches the ball in different situations. He had six drops last season, but each of those came while playing with Christian Ponder.
Jennings should thrive with a quarterback like Bridgewater, who will throw to the intermediate area of the field accurately, with anticipation and on time. His numbers with Cassel from last season project to 99 receptions, 1,199 yards and 10 touchdowns over a 16-game season, per Football Guys (subscription required).
If Bridgewater's talent translates quickly, Jennings can expect even greater numbers than those.
Across from Jennings, the Vikings expect Cordarrelle Patterson to be a key starter at receiver. Patterson was one of three first-round draft picks in 2013. He was considered a raw prospect with huge upside coming out, and that is how his rookie season played out.
He finished with just 45 receptions for 469 yards and four touchdowns, but he didn't feature much in the offense during the first half of the season. He also added 158 yards and three touchdowns on rushing attempts and 1,393 yards with two touchdowns on kickoffs.
Patterson is going to be a major aid to Bridgewater because of his ability with the ball in his hands.

Hannah Foslien/Getty Images
Rarely do you find a player of Patterson's size (6'2", 220 pounds), with his athleticism and open-field vision. Although he is built like a wide receiver, Patterson's vision is his greatest asset. He's not a refined route-runner yet, but he is still very young (23), and Bridgewater doesn't need him to be flawless at this stage.
Much like the departed Percy Harvin, the Vikings can use Patterson in a variety of ways. Most importantly, each of those takes the pressure off Bridgewater.
Patterson can line up in the backfield and take a handoff for a big gain. He can catch simple screen passes underneath and turn those into big plays. He can simply outrun the defender in a straight line or on a post route, where Bridgewater just needs to put the ball out in front of him to run underneath it.
The benefit of having a superstar talent like Patterson in your offense is that you can still be effective while running a more cautious approach.
Any NFL quarterback can execute simple screen passes and hand the ball off. You don't need to be an exceptional talent or an experienced player to consistently do that during games. Creating offense around your quarterback is an important way of easing his transition from the college ranks to the NFL.
In Patterson, the Vikings have one great weapon to ease the pressure off their quarterback. In the backfield, they may have the greatest weapon.
Adrian Peterson single-handedly carried the Vikings offense to the playoffs in 2012. He was dominant in his return from a torn ACL. In 2013, he wasn't as good, but he was still arguably the best running back in the NFL.
Peterson is the rare running back who deserves 25-30 carries per game in a league that is dominated by pass-heavy offenses.
While Bridgewater would be a vital piece of the offense if he starts, the passing game would remain a complementary outfit while Peterson is on the field. With Patterson and Peterson, there should be no reason to overstretch a rookie starter.
On those occasions when Bridgewater will be put in tough situations, he will at least have a very talented left tackle watching his blind side.
NFL.com
Matt Kalil didn't have a great season last year, but he proved during his rookie season that he was worthy of his formidable reputation coming out of college. He can be an impactful run-blocker, but his value will be greater to Bridgewater in pass protection than to Peterson in the run game.
With the supporting cast and the specific talent traits, there is no reason to think that Bridgewater can't start for the Vikings in Week 1 of the regular season.
It's possible that the greatest obstacle to Bridgewater starting in Week 1 is actually the schedule. The Vikings start on the road against the St. Louis Rams. The Rams may not seem like the most intimidating opponents, but their defensive line figures to be the best in the NFL this year.
Facing Robert Quinn, Aaron Donald, Michael Brockers, Kendall Langford, Chris Long, Alex Carrington and William Hayes would definitely qualify as being dropped in the deep end.