Fireworks echoed through the streets in Latrobe following the Pittsburgh Steelers' Friday night practice, but it was fireworks on the field that had everyone talking.
Every year, Mike Tomlin runs the backs-on-backers drill as the premier event for the practice under the lights. It does not provide the same excitement that the goal-line drill did under Bill Cowher, but it does induce a competitive spirit.
To say that the session between the running backs and linebackers was competitive would be a vast understatement. The aggression between the two sides boiled over into the first fight of training camp that had the whole stadium buzzing.
My observations from Friday's practice will examine this fight and much more.
Practice Turns into Fight Club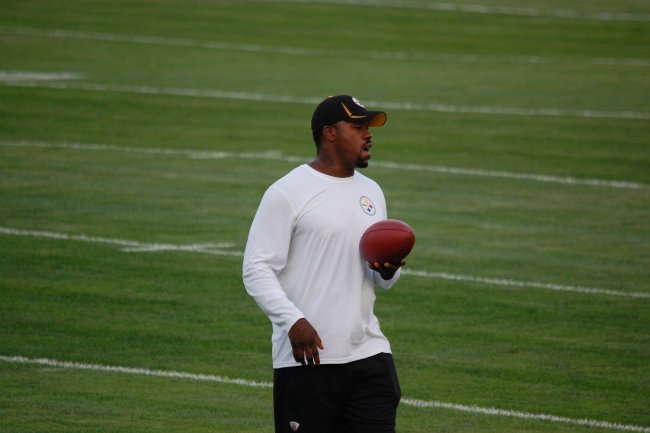 Credit: Chris Gazze
There was an unmistakable roar from the crowd. It was the type of reaction that you only get when there is a fight. Typically, you see those in the stands, but on this occasion, it was on the field.
In what seemed to be one of the most intense scrums in years, Vince Williams and Le'Veon Bell had an intense battle after Williams planted Bell during the backs-on-backers drill. LeGarrette Blount and Joey Porter joined the fray, and then all hell broke loose.
The entire offense and defense jumped in to help separate those involved. Several local reporters immediately shared their reactions on Twitter:
Holy fight! Le'Veon Bell and Vince Williams start fighting after falling to ground and teammates from offense and defense jump in.

— Scott Brown (@ScottBrown_ESPN) August 2, 2014
Huge fight. Bell and Vince Williams. It was ugly. Blount jumps in and porter has to pull him off

— Mark Kaboly (@MarkKaboly_Trib) August 2, 2014
Raucous and spectacular session of backs v backers; a fight, a brawl, shouting, shoving.

— James C Wexell (@jimwexell) August 2, 2014
As I often say, too much stock is put into the results in this drill, but no one can deny the competitive spirit. Players pride themselves in this drill, and Williams and Bell took it to the next level.
Even after the two sides were separated, Williams continued to jaw for the next five minutes or so with his helmet off. He was fired up.
When you watch the drill, it is easy to see how someone can boil over. Each time the defender makes a good play, Porter and Jerry Olsavsky are yelling and chest bumping with the defensive players. This is the type of intensity that you want to see from your defense.
All sides eventually settled down, and the rest of practice ran smoothly. Oh yeah, the linebackers dominated the drill and put several running backs on their rear ends.
Yellow Laundry All Over the Field
Credit: Chris Gazze
A set of NFL officials attended practice on Friday to assist the Steelers in implementing the rules of the game, and they were kept very buy.
In what was the sloppiest practice—in terms of penalties—that I have ever seen, flags were all over the field. The penalties weren't isolated to one player either, as both sides of the ball were repeatedly called for fouls all throughout the practice.
During a coverage drill, defensive backs drew at least two flags for pass interference, including one by Ike Taylor in coverage against Antonio Brown. It was a scene we have all seen before. Taylor gets beat and he interferes with the receiver to prevent a big play.
Shaquille Richardson was called as well as Antwon Blake on a deep pass that still went for a completion. There were numerous holding calls in the secondary as well.
Even worse was the offensive line. There was at least one holding call, and there were too many false starts to count. From the starters to the third string, the offensive line had too many mental mistakes.
In one sequence, one of the reserve lines was called for a false start in three of four plays. Two went to Wesley Johnson, who was playing left tackle, and the other was on left guard Bryant Browning.
Unless something changes soon, you can expect many flags when the Steelers open their preseason play next Saturday.
Deep Passing Game, Anyone?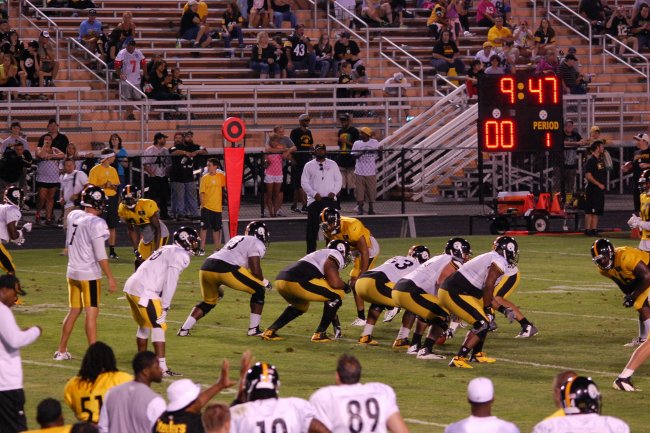 Credit: Chris Gazze
The deep passing game used to be a staple of the Steelers offense. That is not the case anymore and actually seems it is on the endangered list.
As I have watched team drills over the past week, rarely have any of the quarterbacks taken a shot downfield. When they have, few have been completed, as many of the throws have been off target. It seems as though they have taken the short passing attack to an extreme.
Friday night was no exception, as the quarterbacks were once again looking short during live drills. Bell caught two short passes during the final session, and the tight ends were targets in short crossing and out routes.
Brown continues to be the top target, but he has primarily been catching passes on intermediate routes to the sidelines. Lance Moore will not provide much of a deep threat from the slot, and Markus Wheaton remains unproven as a deep option.
By no means is this a poor approach. Ben Roethlisberger has been taking what the defense gives him with quick, high-percentage passes and the receivers have been able to pick up yards after the catch, but to see him dump the ball off to his backs so much is rather bizarre.
For years, people clamored for Roethlisberger to take the safe throw to avoid taking hits and throwing interceptions. It has finally sunk in and he has become a master of it, but it may be at the expense of the big play.
Camp Notes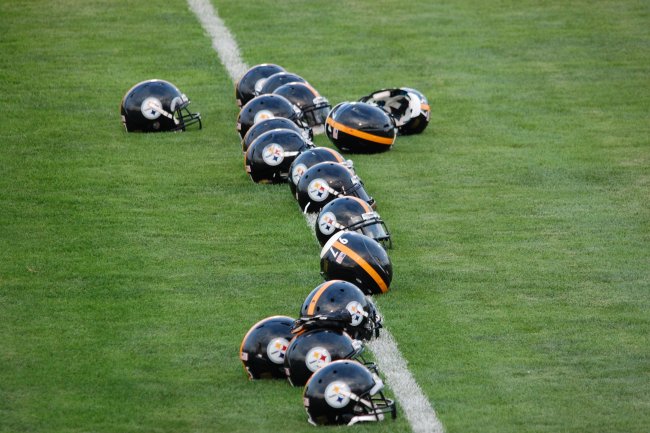 Credit: Chris Gazze
Blount, Mike Mitchell, Jarvis Jones, Jordan Zumwalt, Darrius Heyward-Bey, Eric Waters, Dri Archer, Rob Blanchflower and Justin Brown did not practice.
Blanchflower did not wear a boot as he had been, and Brown had his nose taped up. Zumwalt did some light sprints with the trainer.
Chris Carter stepped in for Jones at right outside linebacker.
As always, a highlight to the night practice is the players arriving on school buses.
There was a very rare sighting in the bleachers for practice—a fan in a Ray Lewis jersey.
New running back Jawan Jamison wore No. 44 and is shorter, but stockier than Archer. His upper body was much more built than his lower body.
John Mitchell was very intense during positional drills. He focused on hand placement and instructed the entire unit after he saw something he did not like from Roy Philon. Every player focused on every word Mitchell had to say.
There may be no nicer play than Roethlisberger to Heath Miller down the seam. Roethlisberger faked a screen pass to Wheaton and then hit Miller for a huge gain. Lawrence Timmons was beat on the play.
Roethlisberger scrambled up on the middle on one play in which no one was open. As the coaches like, he finished the play by taking it all the way to the end zone—about a 90-yard carry—much to the delight of the crowd.
Bell did not have a good performance in the backs-on-backers drill. Timmons knocked him to the ground with a power move.
Blake continues to be one of the best backup defensive backs on the roster. Even though he was called for pass interference on a deep ball to Martavis Bryant, he had tight coverage on the play.
Which camp sleeper are you looking forward to watching in the preseason?
Speaking of Bryant, he is maddeningly inconsistent. On one play, he will glide by a defensive back to make a beautiful reception, and on the next, he will let a simple pass slip right through his hands. One that went off his hands was nearly intercepted by Troy Polamalu.
Polamalu did make one interception on an overthrow by Roethlisberger. He had to go to his knees to get his hands under the ball a split second before it hit the ground.
Ryan Shazier had a solid practice and filled a hole nicely to stick Tauren Poole for no gain. Terence Garvin was another standout. He was called for one offsides penalty but was flying around the field making plays.
Brown made a reception on the sidelines and was tackled by an aggressive Williams. The two flew into special teams coach Danny Smith, who crashed into the bench. He appeared to be fine.
Josh Harris showed a nice burst to the outside on one run. It was one of the few nice carries by the backup running backs. I have yet to see one who is making a push to make the roster.
Daniel McCullers lined up in the wedge during kick return drills. It was truly a remarkable sight. He made his block on the first rep, but he tumbled to the ground on the second. Let's just say he doesn't have the best footwork on the team.
Nick Williams has had a quiet camp behind Stephon Tuitt, Brian Arnfelt and Josh Mauro, but he saved his best for under the lights. He made back-to-back stops on running plays and then pressured the quarterback on the next play.
Note: All photos used in this article were taken by me. Unless otherwise noted, all stats are courtesy of ESPN.com and all roster information is courtesy of Steelers.com.