Minnesota Timberwolves: Is Kevin Love Really Worth a Superstar Price?
August 2, 2014

Jordan Johnson/Getty Images
After six years with the Minnesota Timberwolves, it looks almost certain that Kevin Love will be traded. Love has superstar talent, but he is not worth the superstar price.  
It has been rumored that the Timberwolves are looking to acquire Andrew Wiggins or Klay Thompson in exchange for Love, per Marc Stein and Brian Windhorst of ESPN.com, but both the Garden State Warriors and the Cleveland Cavaliers have been hesitant to offer their young potential All-Stars.  
Statistically, Love is a top-five player in the NBA.  According to ESPN, Love ranked third in the league in Player Efficiency Rating last season behind Kevin Durant and LeBron James.
Love also ranked fourth in points per game (26.1), and third in rebounds per game (12.5).  Not to mention, he is a three-time All-Star and has made the All-NBA second team twice.
He has also shown to be an excellent perimeter shooter (as seen in the GIF below), per Basketball-Reference.com.  He has a career 36.2 three-point-shooting percentage and his best season came in 2010 when he shot 41.7 percent from beyond the arc.
Love can score from anywhere on the court, but his defense needs a lot of work.  Even Tyson Chandler criticized Love this past spring:
Tyson Chandler's harsh (but true) analysis of Kevin Love: 'He can't play D' http://t.co/ezEeUKacBx

— Sports Illustrated (@SInow) March 6, 2014
Love's biggest weakness is his lack of playoff experience.  After six years in the NBA, he has yet to make a single postseason appearance. 
The Timberwolves have finished every season below .500 since Love was drafted in 2008.  Last season was their best, finishing with 40 wins.
Trading away a handful of talented players for a superstar with no playoff history could be dangerous. Look at the San Antonio Spurs; experience is a necessity in order to win a championship.  
In Love's defense, he has been on a very bad team in a very tough conference.  If the Timberwolves were in the East and finished with the same record, they would have clinched the eighth seed.
Arguably Love's best teammate last year was Ricky Rubio, a player who averaged under 10 points per game.  
Unfortunately, Love has also been known for having a bad attitude.  Many might recall the time he was suspended for stomping on Luis Scola's head (as seen in the Gif below).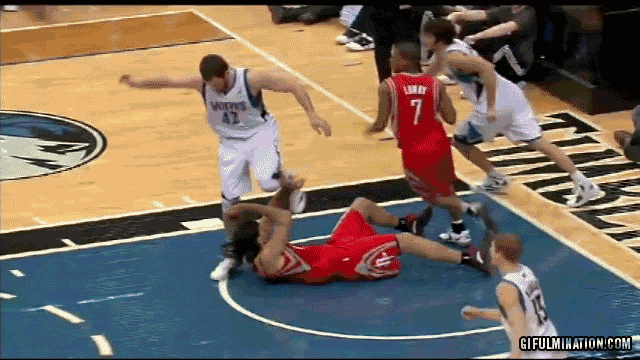 Even fellow teammate Rubio made negative comments about Love:
Ricky Rubio told a Spanish publication that Kevin Love isn't really a vocal leader. http://t.co/hhhsbdeiM8

— SB Nation NBA (@SBNationNBA) May 19, 2014
It's fair to say that Love's inability to lead might be a big reason why the Timberwolves never made the playoffs.  Obviously, Love is a fantastic player, but his attitude and lack of postseason experience is concerning.
Love's situation is very similar to when the Denver Nuggets traded Carmelo Anthony to the New York Knicks.  
Anthony had only escaped the first round of the playoffs once at that point in his career, but he still had significantly more postseason history than Love.  Even with Anthony's experience, the only young promising player the Knicks gave up was Danilo Gallinari. 
Love is a great player, and he may be the best power forward in the NBA, but his bad reputation and lack of playoff experience really hurt his value.  
All stats are courtesy of ESPN, unless noted otherwise. 
Follow me on Twitter: @SupermanJZ