Updates from Wednesday, Aug. 6
James Anderson can finally focus purely on his cricket ahead of the 4th Test between England and India, after the ICC confirmed there will be no further action over his recent spat with Ravindra Jadeja.
BREAKING: ICC will not appeal Anderson verdict. Story to follow

— Telegraph Sport (@TelegraphSport) August 6, 2014
Anderson was found not guilty on Friday following his clash with Jadeja, and ICC chief executive Dave Richardson stood by the decision on Wednesday, per Cricinfo:
This outcome is the result of two exhaustive and thorough disciplinary processes and, after considering the written decision, the ICC is satisfied with the manner in which the decisions have been reached.
Updates from Tuesday, Aug. 5
The ongoing row caused by James Anderson's spat with Ravindra Jadeja shows no sign of ending, after the BCCI demanded an appeal against the recent not-guilty verdict handed to the England bowler.
India remain furious at Anderson's actions during the recent Trent Bridge Test, when he was said to have called Jadeja a "f****** c***," according to the Daily Mirror's Dean Wilson.
The ICC handed down a not-guilty verdict on Friday, but Cricinfo has the latest:
Breaking: BCCI has requested ICC chief Dave Richardson to appeal Jimmy Anderson's not-guilty verdict.

— ESPNcricinfo (@ESPNcricinfo) August 5, 2014
Original Text
England bowler James Anderson has escaped a ban following his clash with India's Ravindra Jadeja at Trent Bridge last month. The Daily Mail reported the verdict:
BREAKING: The Judicial Commissioner finds Anderson and Jadeja NOT GUILTY of breaching the ICC Code of Conduct

— MailOnline Sport (@MailSport) August 1, 2014
The verdict was passed down following an ICC hearing on Friday, which saw evidence given by members of both sides to Australian judge Gordon Lewis via a video-conference call.
The level three misconduct charge related to claims by India that Anderson was the sole aggressor in an altercation with Jadeja at lunch on Day 2 of the Trent Bridge Test. The 32-year-old was accused of using abusive language before pushing the opposition player.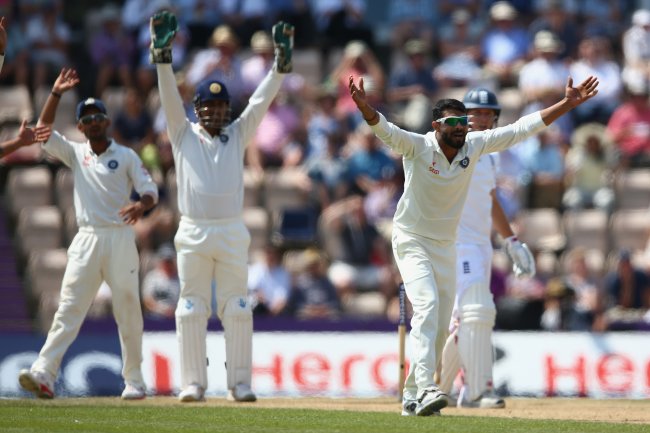 Michael Steele/Getty Images
Anderson—who took seven wickets as England levelled the Test series at 1-1 with a 266-run victory at the Ageas Bowl on Thursday—consistently denied any wrongdoing prior to the hearing, per BBC Sport.
Jadeja was also successful at the hearing in appealing his sanction—50 per cent of his match fee—for his role in the incident.
The result of the hearing could have a huge bearing on the outcome of the series, which has two Test matches left—the first beginning on Thursday at Anderson's home ground of Old Trafford.
Indeed, former England captain Michael Vaughan believes Anderson holds the key to an England series victory after his man-of-the-match performance in their first win in almost a year at Southampton:
IMO if @jimmy9 plays the last 2 Tests England will win ... If he gets a Ban India have a chance.....

— Michael Vaughan (@MichaelVaughan) July 31, 2014
The outcome of the hearing was never going to satisfy both teams with England convinced that India were simply trying to get their best bowler banned, while the tourists seemed to have a genuine issue with Anderson's behaviour and not just at Trent Bridge.
Perhaps unwisely, Anderson involved himself in an altercation with India's Ajinkya Rahane at the end of Day 4's play at the Ageas Bowl and has a history of confrontational incidents on the cricket pitch.
Anderson is just 12 wickets away from equalling Sir Ian Botham's record as England's all-time highest wicket-taker and now has the opportunity to reach said milestone in the final two Test matches having avoided any punishment.
His inclusion for the end of the series is a huge fillip for England and may well lead to them claiming a first series victory since last year's Ashes triumph.