Updates from Sunday, August 3
Renaud Lavoie of TVA Sports reported on P.K. Subban's signing bonus:
PK Subban will get $25.5M of his $72M contract in signing bonus. #canadiens #tvasports

— Renaud Lavoie (@renlavoietva) August 3, 2014
Original Text
P.K. Subban and the Montreal Canadiens finally found common ground on a long-term extension.
Subban and the Canadiens agreed on an eight-year contract, which should keep the star in Montreal for what should be the rest of his prime, the team announced. Canadiens general manager Marc Bergevin commented on the deal, courtesy of the team's official website:
We are very pleased to have reached a long term agreement with P.K. Subban. This agreement helps consolidate the future of our team. A key element of our group of young veterans, P.K. plays with a high level of intensity every time he steps onto the ice. Despite his young age, he carries a great deal of experience and brings contagious energy to the team. Defensemen of his level are a rare commodity in the NHL.
Subban spoke about his contract on Saturday, via All Habs Hockey Magazine:
Subban:"They gave me the opportunity to be one of the best players to ever come into the organization." #Habs #GoHabsGo

— All Habs (Canadiens) (@All_Habs) August 2, 2014
Subban: "This is a great step for our hockey club." #Habs #GoHabsGo

— All Habs (Canadiens) (@All_Habs) August 2, 2014
David Pagnotta of The Fourth Period reported details of Subban's new contract:
Subban's deal is an 8-year, $72 million contract.

— David Pagnotta (@TheFourthPeriod) August 2, 2014
Subban's new deal also includes a full no-movement clause for the entire 8-year term.

— David Pagnotta (@TheFourthPeriod) August 2, 2014
While the negotiations process was long and drawn out, all signs pointed to a deal getting done in recent days. Chris Johnston of Sportsnet reported Thursday evening that the Canadiens had a "significant" offer on the table, which was believed to be for eight years.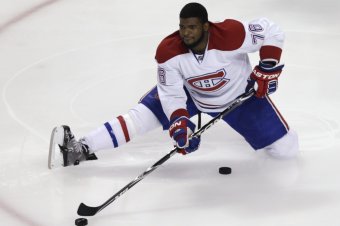 Uncredited/Associated Press
Reports surfaced in January saying Subban, 25, would be looking for a long-term contract with an average salary in the $8-9 million range. That number would have put him ahead of Shea Weber and Ryan Suter among defensemen from a cap-hold standpoint. Subban asked for $8.5 million in his submission to an arbitrator countering a $5.25 million offer from Montreal.
"In respect to this negotiation, it's been completely respectful on both sides," Subban told TSN Radio 690 on Thursday. "There's mutual respect from both sides in this. It's been great—I'm happy with the communication...both sides are working hard to get things done and when it gets done, we're looking for it to be best for the Canadiens and myself."
I think P.K. Subban is worth more than $8.5M a year in today's NHL, and I hate that arbitration is still a thing in today's NHL.

— Bruce Arthur (@bruce_arthur) July 30, 2014
The Canadiens' second-round pick in 2007, Subban has developed into one of the NHL's best all-around defensemen. He had a career-high 53 points (43 assists, 10 goals) last season, continuing his breakout from the lockout-shortented 2012-13 campaign. Subban won the Norris Trophy and was named to the NHL First All-Star team in 2013.
Subban was much-improved last season in terms of staying under control with the puck and being a consistent force on both ends of the ice. He had 14 points in Montreal's run to the Eastern Conference Final, while also providing his trademark aggression defensively.
Only four full seasons into his NHL career, there is little reason to think Subban has reached his peak. Although he wasn't as productive on a per-minute basis last season as the year before, he was still markedly better than his first two years and has plenty of time to add to the awards mantle.
Canadiens coach Michel Therrien also needs to do a better job of deploying his best defensive asset. Too often it looked as if Andrei Markov was Therrien's top defensive choice. Markov remains a fine player and deserves ice time, but he's also 35 years old and either at or near the end of his prime. Subban excelled in the postseason when the coaching staff finally took the reins off its star and allowed him to produce.
With the new deal signed, Subban and Therrien will have plenty of time to work together and sort out their expectations. The negotiations were contentious and came down to the last minute, but all that matters in the end for both sides is that they were able to come to terms.
Follow Tyler Conway (@tylerconway22) on Twitter.