Talk about a blockbuster non-waiver trade deadline.
On Thursday, a bevy of MLB's most talented players suddenly found themselves in new homes for the remainder of the season. A three-team megatrade for pitcher David Price headlined the day's action, as per CBS Sports' Jon Heyman (via Mike Axisa of CBSSports.com).
Although the deadline has passed, there's no guarantee the trades have stopped. Now comes the month-long process in which most of the league's players will be put on waivers, and teams will get a chance to wheel and deal once more.
So, are there any big names we should expect to move in August?
Based on recent rumors circulating around the Web and current team situations, a few players are likely to be dealt.
Marlon Byrd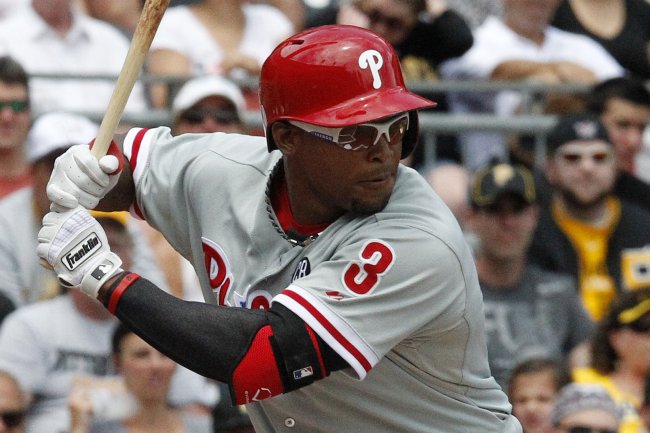 Gene J. Puskar/Associated Press
Well, the Philadelphia Phillies were quiet at the trade deadline once more. The team's already been plagued by its decision to keep Cliff Lee around, as the pitcher could be headed back to the DL after leaving Thursday night's game with an apparent elbow injury, according to Bill Evans of the South Jersey Times.
The team may now want to rethink its asking price on Marlon Byrd to avoid maintaining his steep salary as well. After all, according to Heyman, "the Yankees have checked in, as have the Royals and some others."
Heyman also wrote that Philadelphia was asking a bit much for the outfielder, however: "The asking price for Marlon Byrd is said to be extremely high, with interested teams saying the Phillies would have to lower it to move him. Byrd should be among the Phils' most movable pieces, but there's no certainty he goes at this point."
This could be tricky. Byrd is due $8 million in 2015, and Ken Rosenthal of Fox Sports tweeted that he's looking to have his 2016 option exercised as well:
Sources: #Phillies' Byrd not option for #Royals. Talks remain stalled with #Mariners; Byrd will waive no-trade only if '16 option exercised.

— Ken Rosenthal (@Ken_Rosenthal) July 28, 2014
Perhaps there aren't many suitors on the market for Byrd at the moment; however, depending on how this next month goes for contending teams such as the Seattle Mariners, the New York Yankees, the Pittsburgh Pirates or the San Francisco Giants, talks could heat up once more.
Ian Kennedy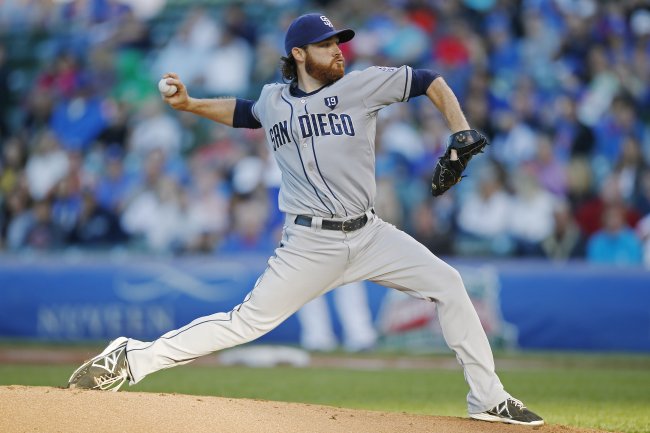 Andrew Nelles/Associated Press
Leading up to the trade deadline, San Diego Padres pitcher Ian Kennedy was garnering plenty of interest. However, despite that fact, the team did not move him Thursday.
Rosenthal reported three teams looking at the right-hander on Wednesday:
Sources: Teams on #Padres' Kennedy include #Royals, #Pirates, #Marlins - and others. Not certain to be moved.

— Ken Rosenthal (@Ken_Rosenthal) July 30, 2014
Jon Morosi of Fox Sports had previously reported the Yankees were also scouting Kennedy:
Yankees are trying to trade for a starting pitcher. They scouted Ian Kennedy in Chicago last night, source says.

— Jon Morosi (@jonmorosi) July 24, 2014
This makes things interesting. The Marlins may be out of the picture at this point after acquiring Jarred Cosart from the Houston Astros, but other interested teams are still in need of starting pitchers.
Kennedy is having a fine year despite a lack of run support in San Diego. He's currently boasting a 3.66 ERA, allowing 123 hits and 56 runs while striking out 143 batters in 135.1 innings this season.
He did recently miss a start due to a strained oblique, but he's only considered day to day, and that shouldn't hinder the interest of any aforementioned teams.
Alex Rios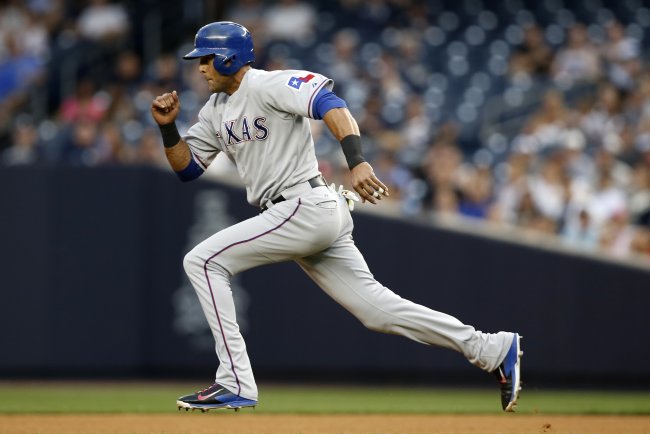 Kathy Willens/Associated Press
For many teams looking to acquire a hitter, veteran outfielder Alex Rios appeared to be a home run leading up to the trade deadline. However, 4 p.m. ET came and went Thursday, and Rios remained with the Texas Rangers.
That came as a big surprise, as Rios had the attention of multiple teams, according to a report from Heyman.
He wrote, "The Royals, Giants, Mariners and to a lesser degree the Reds and Indians are in on Rangers outfielder Alex Rios, one of the better hitters on the market."
Calling Rios "one of the better hitters on the market" was right on. The righty is batting .304 this season while accumulating 120 hits, 22 doubles, eight triples, four home runs and 43 RBI. While his power may not be there in the home run department, he still has a .430 slugging percentage.
Just before Thursday's deadline, Morosi tweeted about ongoing trade talks involving Rios with the Giants:
Source: Giants, Rangers in midst of ongoing trade conversations involving Alex Rios.

— Jon Morosi (@jonmorosi) July 31, 2014
San Francisco general manager Brian Sabean decided to remain quiet and allowed the deadline to pass. However, the team could still use a hitter going forward, and perhaps it will rekindle these discussions in August.