Now that was a trade deadline.
When Jon Lester and Yoenis Cespedes both get traded for each other, with Jonny Gomes and a sack of cash making the trip out west as well—and that deal isn't even the biggest blockbuster of the day—it's safe to say the 2014 MLB trade deadline was one to remember.
It seemed evident for some time that Lester was going to be dealt, and it was clear Billy Beane was going to try to make the team with the best record in baseball even better, but shipping out Cespedes made the deal for the former Boston ace that much bigger news.
Chris O'Meara/Associated Press
And still, not only was the Lester-Cespedes deal not the biggest trade of the day, it wasn't even the biggest trade of the day that featured a lefty starter. It wasn't even the biggest trade of the day that featured a lefty starter from the American League East.
Hell, it wasn't even the biggest trade of the day that featured a lefty starter from the American League East who was traded for an outfielder who was a starter for a first-place team in another American League division.
Yes, this sure was a trade deadline to remember.
Well I'd say this trade deadline has lived up to the hype so far.

— Dan Shulman (@DShulman_ESPN) July 31, 2014
David Price was rumored to be leaving Tampa Bay for what felt like two years, and with less than 15 minutes to go before the four o'clock deadline on Thursday, the Rays ace was dealt to, of all teams, the Detroit Tigers, making Price the third pitcher on that staff—joining Justin Verlander and Max Scherzer—to win an AL Cy Young award…in the last three seasons.
The Detroit rotation now boasts the back-to-back-to-back American League Cy Young winners, and it's three different pitchers. Who is going to want to face that team in the playoffs now? Who is going to even have a chance against them? (Other than perhaps the A's and their own rebuilt staff.)
"Lester? Samardzija? Sure. That's nice. Just give me a minute, I'll get back to you on Thursday." -Dave Dombrowski.

— Matthew Leach (@MatthewHLeach) July 31, 2014
The trade for the Tigers did not come without a hefty price, if you pardon the pun, trading center fielder Austin Jackson and left-handed pitcher Drew Smyly in the deal. Jackson was not only part of the biggest trade of the day, but also part of the most awkward baseball moment, as he was playing in the Tigers game at the time of the deal, yanked from the outfield as soon as the move was official and sent packing to Seattle as part of the three-team blockbuster.
Just think about how weird that must be for a player.
In most cases, a key player being talked about on trade deadline day would be pulled from the lineup before the game starts—especially for a day game—but not only did Jackson play in the game, the Tigers couldn't even wait until the half inning ended to pull him. That's how crazy the final minutes leading up to the deadline were on Thursday.
Wow ! What a day of trades

— Denard Span (@thisisdspan) July 31, 2014
The mood on the set of MLB Network when the deadline hit was pure elation. Host Matt Vasgersian was reveling in the news of the day—we've only touched on two big trades so far, but there were other big-time moves as well, for sure—while analyst and reporter Tom Verducci could do nothing but giggle (perhaps it was a cackle or a guffaw) when talking about the fact that Detroit now has three Cy Young winners in the rotation.
Harold Reynolds seemed ecstatic at all the action, no matter who was going where. Hyperbole be damned at four o'clock on deadline day, after all. Here's a taste of what Reynolds had to say, via MLB Network):
Put your big boy pants on, this is old school baseball. Names that you know. I traded my baseball card for your baseball card, not some picture of a minor leaguer that I think might be able to do something.

This was great for the game of baseball. For fans to be able to follow a guy and say I'm watching him tomorrow night, will his flight get there on time for the game. Impact players right now, impacting the game immediately. This was Big League trading today. I loved it. Everything about it.
There are a few reasons for all the love, too.
First, as much as my baseball traditionalistic brain hates to admit it, the damn second Wild Card position has turned more teams into contenders—read: buyers—than ever, and with some high-ticket starters with contracts up in the next 15 months on traditional contenders suddenly dwelling in the divisional cellar this season, action was to be had.
Mystery Team hasn't been in many rumors this trade deadline. It's like they don't even care.

— Matt Sebek (@MattSebek) July 31, 2014
Currently there are six teams in the American League within six games of the second Wild Card spot, currently held by the Toronto Blue Jays. In the National League, both the Braves and Giants are tied in the Wild Card race. If the season ended today they would both make the playoffs—with five more teams within six games of catching them.
Hell, even the Mets, who made no moves before the deadline but could look for something before the August waiver deadline, are just two series away from contending.
It's July 31, and there are 21 teams still within that six-game threshold of potentially being a late-season contender, with 15 teams still realistically fighting for the 10—yes, 10—playoff spots. And unlike in previous years where teams were willing to take prospects to rebuild a roster over time, some of the sellers are looking to get out of the cellar fast, hence the need for Major League talent in return.
Can anyone remember the last time deadline day was this juicy? Things have been bonkers around baseball all day. Love it.

— Anthony DiComo (@AnthonyDiComo) July 31, 2014
Even the contenders are looking at the future.
Boston may not re-sign Lester, so why keep him in a dead season and get nothing for him? For the A's, there's a sense of excitement this season, but Beane has to be feeling a pang of desperation to finally win a championship. How many years will a team that can't just overspend to cover up mistakes make a run like this year? The A's had to give to get, and it only added to the fun of the day.
Detroit is concerned about losing Scherzer, so they had to let a lot go to get Price, giving them the best chance to win this year, with leverage to sign one of the two to a long-term deal after the season.
These deals were about this year, but also about the future. Just not the distant future.
That leads to the last reason for all the deadline love. As Reynolds pointed out on the MLB Network telecast, these are MLB-level trades, which gets fans far more excited because we've all heard of these guys.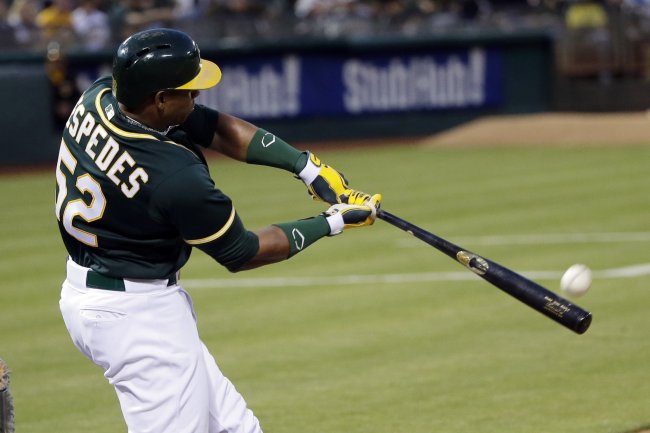 Uncredited/Associated Press
Lester wasn't just dealt from the Red Sox to the A's for a handful of prospects that fans may see for a cup of coffee in Fenway at some point in the next three years, he was dealt for the two-time reigning Home Run Derby champion and a bona fide Major League star in his short time in the game.
Price wasn't just dealt for a few top farm hands—though the young infielder the Rays got in the deal is highly regarded—but some big names went in the deal as well, including Jackson and Smyly from Detroit and Nick Franklin from Seattle.
By my count, it's 12 trades, 37 players exchanged and two draft picks dealt on the single wildest deadline day anyone can remember. Awesome.

— Jeff Passan (@JeffPassan) July 31, 2014
This is a day when John Lackey was dealt from the Red Sox to the St. Louis Cardinals for a Major League starting pitcher and useful hitter in Joe Kelly and Allen Craig, respectively.
In some years, that would have been the big deal of the day. Today it wasn't even the biggest deal involving the Red Sox's starting rotation.
Oh, and I've totally buried the lede. This day was so memorable that the Yankees and Red Sox made a trade…with each other. And the Red Sox also made a trade with the Baltimore Orioles!
Two trades within the division. Boston had quite a day. We all did, really.
That was fun. Big loser of the day is Jim Bowden. Big winner is you. Congratulations!

— Jesse Spector (@jessespector) July 31, 2014
This was fun to see all around.
Clubs had needs, had players to deal and swapped accordingly. It will take a few months (not years) to figure out which teams won in these trades, which makes the deadline day even more exciting. We will see in October if Lester or Price proved to be the move that pays off more. For today, it was surely the fans who can celebrate the most.