Whew. Everybody take a deep breath.
Thursday's MLB trade deadline was absolutely bonkers. Aces were exchanged. Sluggers shockingly changed teams. The trades just kept coming. It was breathless, exhilarating, exhausting and, in some cases, inconceivable.
If you missed any of the wild and crazy trade action from deadline day, you can catch up with all of the day's transactions here, courtesy of CBSSports.com. Suffice to say, it was a busy afternoon.
Jon Morosi of Fox Sports summed up the day's constant stream of trades:
On Trade Deadline Day, young-ish, controllable major leaguers were the currency of choice, rather than prospects.

— Jon Morosi (@jonmorosi) July 31, 2014
Most riveting trade deadline in my time covering baseball; close competition from Manny '08 and Nomar '04.

— Jon Morosi (@jonmorosi) July 31, 2014
The day started with a bang, as the Boston Red Sox traded Jon Lester and Jonny Gomes to the Oakland Athletics for Yoenis Cespedes, a move that most folks wouldn't have anticipated.
Lester himself responded to the news on Twitter:
Thanks y'all cant tell you how much your support means to me and my family! Excited to contribute to a very talented @Athletics team! #NVRQT

— Jon Lester (@JLester31) July 31, 2014
At first glance, the deal seems like a win-win for both teams, per Buster Olney of ESPN:
Lester/Cespedes a good deal for both teams. Oakland gets a dominant rental who can be a David Cone-like hired gun, BOS gets needed power.

— Buster Olney (@Buster_ESPN) July 31, 2014
But each side takes something out of the move. For the Athletics, the deal is a huge win in the present, as Jeff Passan of Yahoo Sports noted:
Oakland's playoff rotation: Lester, Gray, Kazmir, Samardzija. If they weren't the favorite to win the World Series before, they are now.

— Jeff Passan (@JeffPassan) July 31, 2014
Lester has been excellent this year, going 10-7 with a 2.52 ERA, 1.12 WHIP and 149 strikeouts. He gives the Athletics another ace and one who has plenty of postseason experience.
For the Red Sox, they gained a huge bat in exchange for a player they may have lost this winter anyway, per Fran Charles of the MLB Network:
Have to give the #RedSox credit...they would have lost Jon Lester to free agency at the end of the year...to get Cespedes back is shrewd

— Fran Charles (@fran_charles) July 31, 2014
The plan for the Sox was simple—they added a power bat they control for another season and could feasibly sign Lester this winter, basically allowing them to re-tool for a playoff push next season. Besides, they really, really needed a power bat, as Eric Karabell of ESPN tweeted:
"@jamie924: @karabellespn Does Cespedes get a boost with a move to Fenway?" / Yes. Helps him. He has more HR than all Sox outfielders!

— Eric Karabell (@karabellespn) July 31, 2014
With 17 home runs and 67 RBI this season, Cespedes will bring some pop to Boston in a more hitter-friendly park.
The Sox weren't done, however, trading John Lackey and Corey Littrell to the St. Louis Cardinals for Allen Craig and Joe Kelly. The Sox may be winning their fair share of 8-7 games this season, but they look to have really reloaded their lineup for next year while giving themselves the opportunity to improve the rotation through free agency over the winter.
It was another deal that benefited one club in the short term (the Cardinals, who get Lackey for their playoff push) and one club in the long term, per Passan:
For one pennant drive and another $500K year of Lackey, Boston got Craig at 3/26.5 (plus $13M option), four years of Joe Kelly. Huge return.

— Jeff Passan (@JeffPassan) July 31, 2014
But the biggest deal on the day, of course, was the three-team trade between the Detroit Tigers, Tampa Bay Rays and Seattle Mariners that sent David Price to the Tigers, Austin Jackson to the Mariners and Drew Smyly, Nick Franklin and Willy Adames to the Rays.
While the Rays got three intriguing players back in return for Price, Jason Catania of Bleacher Report thinks they could have done better:
IMO: #Rays hedged on their 2014 chances but came up well short on what could have been bigger return for Price elsewhere or in offseason.

— Jason Catania (@JayCat11) July 31, 2014
Bob Nightengale of USA Today offers a different perspective on the deal:
The #Rays getting ridiculed for their return for Price but they are very high on SS Wily Adames from #Tigers.

— Bob Nightengale (@BNightengale) July 31, 2014
Meanwhile, the Tigers are absolutely stacked, as SportsCenter on Twitter noted:
Tigers now have last 3 AL MVPs (Verlander, Cabrera x2) and last 3 AL Cy Young winners (Price, Verlander, Scherzer) on the SAME roster.

— SportsCenter (@SportsCenter) July 31, 2014
Oh, and they have Ian Kinsler, Victor Martinez, Torii Hunter and Anibal Sanchez, too. It's sure looking like the American League is now a two-team race between the Athletics and Tigers.
Several other AL contenders were active as well on Thursday. The New York Yankees added Stephen Drew and Martin Prado from the rival Red Sox and Arizona Diamondbacks, respectively, while the Baltimore Orioles solidified the bullpen by acquiring Andrew Miller from Boston.
Clearly, the Yankees made upgrading the lineup a priority this trade deadline, as they also previously added Chase Headley to the fold. Joel Sherman of the New York Post broke down the moves:
Drew hasn't played anywhere but SS, but #Yankees believe him, Prado, Headley give bunch of on-field flexibility

— Joel Sherman (@Joelsherman1) July 31, 2014
Meanwhile, there was a mixed reaction to the Miller deal for the Orioles. Sherman was a fan:
Miller has dominated in general, esp holding LHs to .420 OPS. Showalter is stellar match-up mgr. Great weapon down stretch for #Orioles

— Joel Sherman (@Joelsherman1) July 31, 2014
Mark Bowman of MLB.com, on the other hand, thought Baltimore overpaid:
The Orioles used their third-best prospect (Eduardo Rodriguez) to get Miller. That's a high price for a lefty reliever.

— Mark Bowman (@mlbbowman) July 31, 2014
One thing is for certain—Ben Cherington, the Red Sox's general manager, had himself a day.
While things were a bit quieter in the National League for much of the day, three trades could shake up the NL East, as the Washington Nationals acquired shortstop Asdrubal Cabrera from the Cleveland Indians, the Atlanta Braves landed Emilio Bonifacio and James Russell from the Chicago Cubs and the Miami Marlins nabbed young pitcher Jarred Cosart in a multi-player deal with the Houston Astros that saw last year's No. 6 pick, Colin Moran, go to Houston.
Very quietly, the Marlins could have one of the better rotations in the National League next season.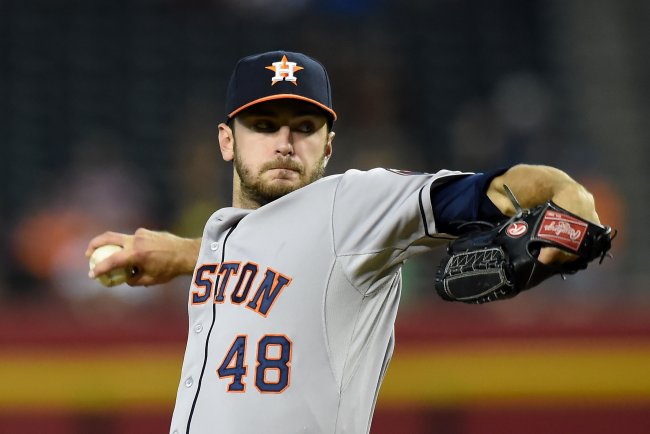 Norm Hall/Getty Images
Less quietly, several teams were noticeably absent from the trade deadline. From the buyer's perspective, this includes the Los Angeles Dodgers, Toronto Blue Jays and Pittsburgh Pirates. Bill Shaikin of the Los Angeles Times provides some perspective on why the Dodgers avoided paying a premium for a top-of-the-line starting pitcher:
In winter, and again now, #Dodgers passed on chance to trade top prospects for David Price. There is a plan besides Plan $$$.

— Bill Shaikin (@BillShaikin) July 31, 2014
Kevin Iole of Yahoo Sports, meanwhile, was just disappointed in the Pirates:
Disappointed @Pirates couldn't come up with an elite SP at the deadline. Typical.

— Kevin Iole (@KevinI) July 31, 2014
And then there were the Philadelphia Phillies. With a shoddy record and a number of high-priced veterans that surely attracted attention from around the league, the Phillies instead didn't make any moves and further delayed the rebuilding process. Rob Neyer of Grantland feels bad for Philly fans:
Biggest losers today: #Phillies phans

— robneyer (@robneyer) July 31, 2014
Jim Salisbury of CSN Philly provides insight into general manager Ruben Amaro's plan:
Papelbon said Ruben assured him team will strive to put contender on field next year. Byrd's phone blew up at fake trade reports.

— Jim Salisbury (@JSalisburyCSN) July 31, 2014
Matt Gelb of The Philadelphia Inquirer has more:

Amaro said Phillies did not ask for "top prospects." Criticized other GMs for not being aggressive enough.

— Matt Gelb (@MattGelb) July 31, 2014
Does anybody have any idea what is happening in Philadelphia? What type of Kool-Aid is being served there? Will Phillies fans be subjected to another offseason where Amaro throws insane money at overrated veterans rather than actually rebuilding the Phillies for the future?
It sure seems that way. And in a crazy day of trades, the Phillies standing pat might just be the craziest thing of all.
Still, with so many notable moves from playoff contenders, there's no doubt the race for the postseason and the run to the World Series is going to be fantastic.