The San Francisco Giants have been slowly crumbling over the last two months, going from a powerhouse team with the best record in baseball to a wild-card contender. Adjustments in August and September will determine whether the team will sneak into the playoffs or spend October watching their rivals compete on TV.
Trading top prospects Heath Hembree and Edwin Escobar to the Boston Red Sox for starting pitcher Jake Peavy proved the Giants are serious about making a run at the postseason this year.
With an above-average starting rotation and hitters like Hunter Pence, Buster Posey and Michael Morse denting outfield walls, San Francisco has the talent to erase the Los Angeles Dodgers' three-game lead in the National League West.
Getting into the playoffs won't be easy, though, and the Giants' sub-.500 record in June and July is a sign things must change. A lack of depth, long-term injuries and a refusal to promote the right prospects will keep them spiraling down if changes are not made.
Add Some Bench Offense
Tyler Colvin, he of the .223/.268/.381 batting line, has been the Giants' best option off the bench this year. After Colvin was optioned to Triple-A Fresno, the Giants' top pinch hitter might very well be starting pitcher Madison Bumgarner, who has more home runs than any healthy substitute position player.
Finding a cheap veteran bat in August would be huge for the Giants and shouldn't be too difficult (think Cody Ross in 2010). The Pittsburgh Pirates' pickup of Justin Morneau propelled them into the playoffs last year, and general manager Brian Sabean would be wise to make a similar move.
USA TODAY Sports
Proven hitters with expiring contracts on struggling teams will be shopped around the waiver wire after the trade deadline, and players like Josh Willingham, Casey McGehee and Adam Dunn could hit the market. Lesser options such as free agent Vernon Wells could still be an upgrade over the collection of Quadruple-A players on San Francisco's bench.
Stay Healthy
The Giants have caught the injury bug this year, losing key contributors like center fielder Angel Pagan, first baseman Brandon Belt and second baseman Marco Scutaro for extended periods of time.
Second base has been particularly disastrous, as Ehire Adrianza, Joe Panik and recently released Brandon Hicks have all posted OPS numbers below .600. The Dan Uggla experiment is already looking like a failure, with the San Francisco Chronicle's Henry Schulman reporting the Giants will likely release him after an 0-11 start at the dish and three errors in the field:
I was given a strong indication earlier that Uggla would not be with #sfgiants in NY, but no move so far.

— Henry Schulman (@hankschulman) July 31, 2014
Scutaro was activated from the 60-day disabled list a couple weeks ago but went back on the 15-day DL on July 25. During the short window when Scutaro was active, manager Bruce Bochy told Schulman the 38-year-old was still hampered by lingering back pain.
"With a day game, we're better off with a younger guy who doesn't have any issues," Bochy said.
Pagan was hitting .307/.356/.411 before a bulging disc in his back sent him to the DL on June 25. His return in the next couple weeks will send Gregor Blanco to the bench and allow Hunter Pence to move back to the middle of the lineup.
Call up Gary Brown
Seriously, how have the Giants not promoted the kid already? Brown, the team's first-round pick in the 2010 draft, rocketed through the minors before hitting a wall in Triple-A last year. Now that 25-year-old has proven his ability to hit Triple-A pitching, there is no reason he should stay down in Fresno.
Brown's .267 batting average and .323 on-base percentage are middling numbers, but his real value to the Giants is in his legs. The center fielder has swiped 22 bases this year, twice as many as Pagan's team-leading total.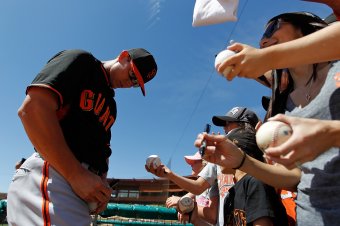 Sarah Glenn/Getty Images
Even if the Giants don't call up Brown before Pagan returns from the DL, his wheels will be helpful off the bench. Brown is also a solid defensive center fielder and would allow the Giants to hide Blanco's weak arm in left as Morse's backup.
Bochy told MLB.com's Chris Haft a lack of consistency was the only thing keeping Brown from the majors a month ago. His stats kept pace throughout July. It's time for San Francisco to pull him up.
Conclusion
The Giants are as top-heavy as they come right now. Players like Bumgarner, Posey and Tim Hudson make the team a real contender, but gaping holes exist under the surface layer.
Best-case scenario: Sabean acquires an extra bat or two, Uggla starts hitting again and the Giants overtake the Dodgers to win the division.
Worst-case scenario: San Francisco fails to fill its holes, Scutaro never quite gets healthy and the Giants miss out on the playoffs. Peavy leaves the team in free agency, and Hembree and Escobar remind everyone of the Carlos Beltran/Zach Wheeler deal.
Realistic outcome: Giants pick up a veteran bat, but Scutaro never quite makes it all the way back, and Sabean can't find a solid second baseman in a thin market. Giants win the second wild-card spot but lose in the first round.