There may come a time when cutting ties with David Price would make the most sense for the Tampa Bay Rays. Heck, that time very likely will be this offseason, with Price primed to earn the big bucks.
But the moment to say goodbye to their ace is not before the MLB trade deadline.
There are a number of reasons for this, but the main one is that the Rays are still very much in the postseason hunt. Yes, at 53-55, they are still eight games back in the AL East, but they are just 5.5 games back in the wild-card chase.
More importantly, they're red hot. They've now won 11 of their last 13 games, and we've all witnessed September magic from this team before.
Just ask the 2011 Boston Red Sox.
Plus, Price can't become a free agent until after the 2015 season, though it seems unlikely arbitration would go well for the Rays this winter. And Price will probably want more than the one-year, $14-million deal he signed this past season.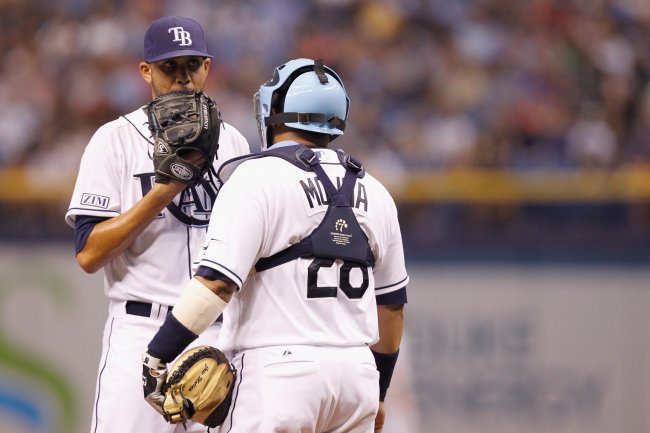 Scott Iskowitz/Getty Images
But the fact that they can deal Price in the offseason—and yes, MLB teams would still be quite interested in dealing for him—means the Rays can afford to make a run at the postseason with Price this year and deal him in the winter.
Losing Price would likely kill their postseason hopes. Price is once again one of the best pitchers in the American League, with a 11-8 record, 3.11 ERA, 1.05 WHIP and 189 strikeouts in 170.2 innings pitched. Throwing in the towel right now simply doesn't make sense.
But just because the Rays shouldn't trade Price doesn't mean they won't. Joel Sherman of the New York Post is hearing the ace, indeed, will be dealt:
Been told #Rays are definitely moving Price

— Joel Sherman (@Joelsherman1) July 31, 2014
So #Rays decide getting enough back to think big picture rather than go for it with Price this year

— Joel Sherman (@Joelsherman1) July 31, 2014
Jon Morosi of Fox Sports 1 adds another team to the mix:
David Price's name has surfaced in talks between Rays and Tigers, sources say. Not clear if there's been progress toward deal.

— Jon Morosi (@jonmorosi) July 31, 2014
And Ken Rosenthal of Fox Sports has more:
Sources: #Dodgers have been in talks with #Rays on Price, with Pederson in play. #Pirates also had been discussing him as of this AM.

— Ken Rosenthal (@Ken_Rosenthal) July 31, 2014
Meanwhile, coming into the day, Jayson Stark of ESPN heard from several executives about how the Rays would approach the Price situation:
Not that the asking price had come down. That part hasn't appeared to change appreciably since Wednesday, when another exec said the return would have to be a package so loaded that 'they couldn't say no.'

An American League executive described the Rays' approach this way: 'They know what they want to do,' he said at one point. 'If they get what they want, they'll do it in a heartbeat," he said at another point. "They want to do a deal, but they're not going to do it under value,' he said at a third juncture.
Give Price this—he's had a good sense of humor about the whole thing.
This is my last start for the Rays....IN JULY!!! 😂😂😂 been up and been ready!!!

— David Price (@DAVIDprice14) July 30, 2014
By the end of the trade deadline, we'll certainly know how the Rays view the rest of this season. If he's dealt, the team is throwing in the towel and building toward next year. If he isn't moved, however, the team has decided to make a push for the postseason.
It's a big decision, and even if the Rays want to keep him, they may receive an offer they simply can't refuse. More than likely he'll be dealt, but the Rays would be wise to keep him barring an absolutely huge return.