Just when you thought the UFC was growing a bit stale, Nick Diaz and Anderson Silva come along to make everything better.
Dana White confirmed on Tuesday evening's SportsCenter that Silva has recovered from his ugly leg injury and will fight Diaz on Jan. 31, via SportsCenter's official Twitter account:
BREAKING: Dana White says #LIVEonSC Anderson Silva is healthy and will return to @UFC to fight Nick Diaz on Jan. 31. pic.twitter.com/DiLGfqOEVB

— SportsCenter (@SportsCenter) July 29, 2014
White also posted an Instagram photo of he and Silva with the caption, "Lunch with the GOAT @spiderandersonsilva and just got the Diaz fight done!!!! #ufc #superfight."
According to ESPN.com's Brett Okamoto, the fight will be at 185 pounds:
Silva vs. Diaz will be fought at 185 pounds as you would expect. Event is UFC 183 PPV.

— Brett Okamoto (@bokamotoESPN) July 29, 2014
This only confirms what many UFC fans expected to happen when Diaz came back to the company after a brief semi-retirement/hiatus. The 30-year-old spoke about a potential bout with Silva in the press release announcing his return, via UFC.com's Matt Parrino:
I'd like to fight for the title. I think that would be a big deal and worth fighting for. I want fights that will lead to a title fight. Whoever is in line and whoever has the title, that's who I'm going to be fighting.

I'd be interested in fighting [Anderson Silva] and anything that's going to do well. As far as Anderson Silva, I think that would be a great fight for people to see because he has my type of style.
Bleacher Report's Jonathan Snowden didn't make any attempt to understate what this fight means:
Nick Diaz wants to come forward. Anderson Silva wants Nick Diaz to come forward. Both will get what they want! It's a win/win!

— Jonathan Snowden (@mmaencyclopedia) July 29, 2014
Does everyone agree that this Nick Diaz vs. Anderson Silva fight is the greatest thing to ever happen? In the UFC and also in human history?

— Jonathan Snowden (@mmaencyclopedia) July 29, 2014
Fox Sports' Mike Chiappetta joked that every precaution necessary must be taken so as to ensure the health of both fighters. If bubble wrap has to be involved, then so be it:
Anderson Silva vs. Nick Diaz in January. Cool. I hope both are being shrink wrapped in bubble wrap as we speak.

— Mike Chiappetta MMA (@MikeChiappetta) July 29, 2014
One of the bigger problems in UFC is the dearth of bankable stars who can guarantee huge pay-per-view buys. It's a bit like boxing in that fans are either stuck with recycled main events or fights where one guy is light years ahead of his opponent, which leads to an underwhelming spectacle.
That isn't the case at all here. UFC could almost do nothing to promote this fight, and it'd still cash in on a huge PPV buyrate. This basically gives the company a license to print money. UFC 183 wouldn't even need an undercard. Fast-forward right to the main event, and it'll easily be one of the biggest shows of the year.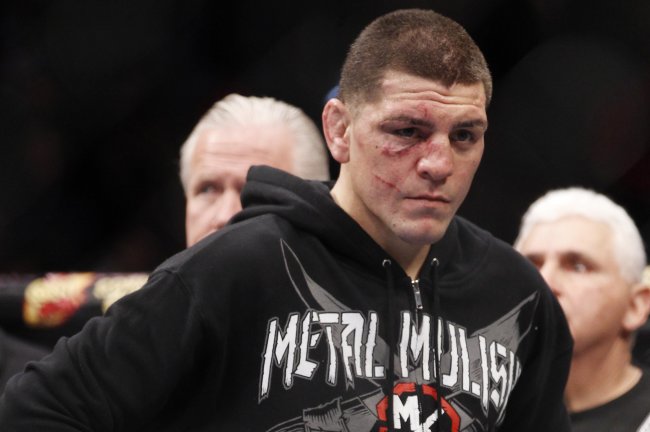 Eric Jamison/Associated Press
Consider that no belt is on the line and the two fighters are riding two-match losing streaks. Yet it still has both the name recognition and a relative freshness since they have never fought each other before. This is the kind of high-profile duel that helped get UFC on the map a decade ago.
When was the last time a non-title bout had this much hype?
On one side, you've got somebody considered one of the best pound-for-pound fighters in the history of the sport. In addition, the complacency that seemed to seep into Silva's last few fights should also be gone. As talented as he is, he became almost a caricature of himself.
Opposing him will be Diaz, who's not afraid to go on the offensive. Few fighters have been more fun to watch in the Octagon than him. He can put on an enjoyable show with just about anybody, so throwing him in against Silva is pretty much a dream fight.
Diaz is also a fantastic foil for Silva for the pre-match buildup. He'll match the Brazilian taunt for taunt and throw plenty of shade during interviews and the weigh-in. At this stage in their careers, they couldn't have signed on for a more perfect matchup.
As a fan, what more could you ask for?