The Five Toughest Matchups on the Minnesota Gophers' Schedule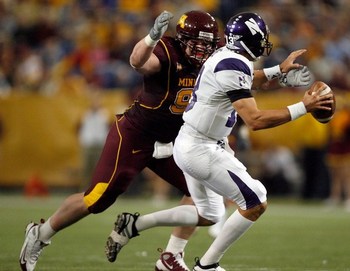 Going into the 2009 season, I am going to go through the five toughest teams the Gophers are going up against and what they need to do against their opponents to succeed and take away victories.
The teams will be judged how they're ranked today, what they did last year, which players left, who are the new players on their team, etc. I will not say if the Gophers will win or not but what they have to do to win.
Other than that. Enjoy!
5. Michigan State
Led by coach Mark Dantonio, Michigan State is going to suffer this year losing key players running back Javon Ringer and its quarterback Brian Hoyer.
MSU is going into the season with many options at running back and two options at quarterback. Its receiving crew, however, is the same as last year and will definitely improve.
The best thing they have going on offense are its receivers, so you won't see them run as much as they did with Ringer. You will see a more pass oriented offense. Also, with Ringer gone, they will certainly have a hard time figuring the offense out.
Now, looking at the other side of the ball, it's a much different story. Their D in top-notch in college football. nine out of the 12 top tacklers are returning this year. Its front five are solid and their linebackers are all stars. So, its defense will certainly help the team stay in every game.
From looking at the Spartans, the Gophers are a much better offense. They didn't lose anyone key on the offensive side of the ball.
Minnesota has an All American player in Eric Decker, a very good quarterback in Adam Weber who's gotten two years of starting experience, and young running backs that have improved over the off season.
It will be a good match up when the UM offense goes up against the Spartans' defense.
Minnesota's defense is very similar to the Spartans. The Gophers are top in the Big Ten and their only key loss was William VanDeSeeg. So, I don't think they will have any problems against the Spartans offense. The only thing that Minnesota will have to stop is MSU's receiving crew.
Also keep in mind that Michigan State's young offense will have to come into a sold out TCF Bank stadium and will have a lot of troubles dealing with the crowd.
4. California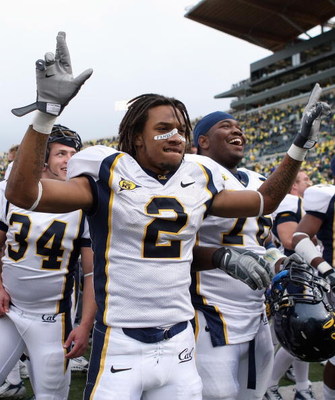 Going into the season, California's offense is led by junior quarterback Kevin Riley. Riley has only had seven career starts and is finally the starter now that Nate Longshore is gone.
The Bears are also led by one of the nations best running backs in Jahvid Best. Best is a junior that had 1,580 yards last season and averaged 8.1 per carry. Cal doesn't have any playmakers at wide receiver and there is a hole at tight end that they need to fill.
Cal also lost big center Alex Mack, who was taken in the first round.
On the other side of the ball the Bears are retuning nine starters that ranked high in defense last year with different numbers. Cal finished 23rd in the nation with only allowing 19.9 points per game and 26th in the nation with only allowing 315.2 yards per game. They are capable of being the best defense in the Pac-10.
Looking at the Gophers on offense, they will have to work hard off against the California defense. Looking at its tools, they can do it. With quarterback Adam Webber throwing to Decker, Green, and newly added junior college star Hayo Carpenter, Minnesota is capable of blowing Cal's defense away.
They could also mix it up with the running game and confuse the defense. So it's going to be a tough battle and I don't see why the Gophers couldn't could go crazy with passing yardage.
The Gopher defense is going up against one of the nations best running backs. You will see no passing attack against the defense. They will try to beat them through the running game. If they can't do that, they will have nothing going for them.
But on the other hand, if the Gopher defense can't stop the run, they'll be in for a long night. But you will see an excess of running for most of the game.
With California's new starting quarterback trying to hear through the crowd with tons of pressure, you will see a lot of turnovers. So it looks like it's going to be a tough game for the Gophers, but they have a huge chance of taking the victory at home.
Another thing to remember, California is not as used to the cold as the Gophers, so that will cause problems.
3. Iowa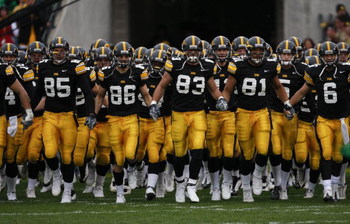 I'm sure all Gopher fans remember that blunder against Iowa last year at the dome. The Gophers are huge rivals with Iowa. Losing to them by a lot is hell.
The Gophers will be familiar with the spot. Minnestoa will play them in for the last game of the season, but this time it's at Iowa.
Iowa's offense will not be the same without running back Shonn Greene. It's going to hurt a lot without him.
They're going to have a hard time replacing him, but they'll hope Jewel Hampton, who rushed for 500 yards as a backup to Greene last season, will get the job done.
They have a solid offense line and receiving crew. At quarterback, they have Ricky Stanzi taking the snaps who is returning as a junior.
On the defense, two defensive tackles are leaving and their spots will be taken by Karl Klug and Mike Daniels. Their line backer crew has the capability to be one of the best this year. Last they are returning three out of four DB's next year. So you will see a very good D, but not the same one you saw last year.
For the Gophers offense, they are going to do their best, to do what Iowa did to them in the dome. They retain the same offense, with an addition of Hayo Carpenter to boost their strength at the WR position.
They will be mixing it up with the run and passing game. It's going to be tough, but they'll do whatever it takes. If they get the passing game going, you'll be seeing Decker in the end-zone.
On the defensive side, the hitting is going to be hard on both sides. The last team standing will determine the winner. Just be ready for the injuries, when the defense lights it up and when the offenses get nicked up.
Just remember this is a huge rivalry, It's going to be vicious, and everyone's up for a hell of football game.
2. Penn State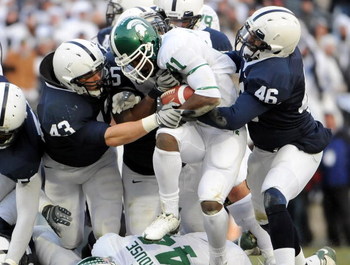 Everyone knows Penn State. They have a long time coach in Joe Paterno (44th season). They have a great team that gets high in the rankings every year. Starting with the offense.
Last year, they finished the season at 11-2 and lost to USC in the Rose Bowl. They are going to have a tough time going into the season as they lost six starters on offense.
However, they still have quarterback Daryll Clark, who was great in the spread offense throwing for 2,592 yards and 19 touchdowns. Not to mention rushing for 10.
They also have running back Evan Royster, who rushed for 1,236 yards. They have two solid players at tight end and a good sized but inexperienced receiving crew. They only have two returning offense lineman. Once Clark gets going, the offense gets going.
You could say last season that the defense was basically the thing that kept this team going. This year, they only have a very low four returning starters. It's going to be difficult to be the same as last year.
Its secondary is its biggest concern. They lost defensive lineman Aaron Maybin, who was a huge pass rusher and they also lose Jared Odrick who showed good promise at his position. At linebacker, they always find a way to develop All-American players. So they're looking good next year and will lead the team.
For the Gophers offense, I don't think they'll have any problems. Most of Penn States players graduated from last year, so the Gophers are going to find it much easier than it would be last year.
If the Gophers could avoid the linebackers then they won't be struggling to score.
Expect to see most teams underestimate the Gophers like they did when the Gophers upset Illinois last season. So it's going to be hard to deal with the crowd, but all the gophers are really going to do is attack the secondary and show them their passing attack.
For the Gopher defense, again, Penn State is not the same and will be isolating Clark most of the time. All they really have to focus on is stopping the run whether it's the quarterback or running back. If they could do that, they'll be causing plenty of turnovers and could make this a huge upset.
Just remember that the Gophers could surprise everyone and come up with a huge upset. Also remember they have to play at Penn State, so Weber will have to handle the pressure and be a leader.
1. Ohio State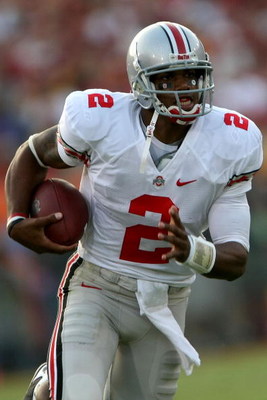 I suspect that you know about the offense and defense just because they're top five. They're on TV most of the time, and you all saw them and what they could do.
I'll just say that the most important biggest loss in the offense was Chris Wells, Brian Robiskie, Alex Boone, and on the defense was James Laurinaitis, Marcus Freeman, Malcolm Jenkins, and Donald Washington. I'll just skip to what the Gophers have to do to stop this contending team.
On offense, they need to come up clutch every time. If you don't, they could jump ahead of you 21-0 by halftime. They need to make no mistakes. If they're tied up towards the end of the game, one interception and it could be game over. The Gophers are going to have to come up with huge plays at clutch moments.
The Gophers defense needs to focus on one thing. Stop Terrelle Pryor, stop Pryor, stop Pryor. He is going to pull them apart if they don't pay attention to him. They also cannot make any mistakes.
The Gophers just need to get in Pryor's head and pressure him every time he wants to throw it. If they force turnovers then the young Pryor will become a deer in the headlights.
Just remember that if the Gophers beat Ohio State, they can beat anyone. It's not impossible and it won't be easy. They'll just have to come up with another David and Goliath victory. Just have faith in them. They can do it.
Keep Reading

Minnesota Golden Gophers Football: Like this team?