Tom Cable's Forte: Oakland's New Offensive Line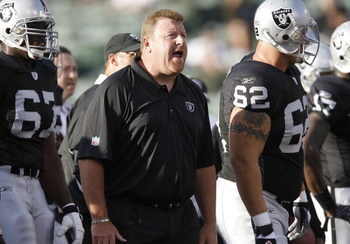 Tom Cable might not be the offensive line coach this year, but if you think his hands are not in the middle of the situation, you are dead wrong. The O-Line in Oaktown will be his key to whether his team thrives or flops in a weak division.
Let's travel back in time for a moment if I may. In 2004, Oakland's rushing attack was abysmal. They ranked dead last in the league in yards gained (1295) and tied for 19th with only 10 rushing TDs.
The 2005 season, they finished 29th in the league in total rushing yards with 1,369. They managed one more TD, but the average yards per attempt went down from 4.0 to 3.8. They also fumbled 20 times, which is two more than the previous year.
Come 2006, things were looking very bleak. Seemingly all the guys from the Gruden days were gone, and the team in the middle of a major overhaul. It was the year of Art Shell's second coming.
The season was a complete flop. In the first game, they were shut out at home by San Diego, 27-0. Justin Fargas led the team in rushing with 5 carries for 35 yards.
Week 2, they managed two field goals at Baltimore. LaMont Jordan ran 19 times for 35 yards. Andrew Walter was 10-27 for 162 yards 0 TDs and 3 picks.
Enough with the flashbacks, I know it's painful. They started the season 0-5, and only won back to back games against...are you prepared...Arizona and Pittsburgh. How weird is that?
Once again, they were 29th in rushing with 1,519 yards. They scored a league low 5 rushing TD's and managed to fumble the rock 30 times, losing 21 of them.
In 2007, upon the entrance of Lane Kiffin, came new offensive line coach Tom Cable. The rushing game went from 29th to 6th in one season. They put up over 2,000 yards for the first time in seven years. Fargas had 1,009 yards, and Jordan added 500+ more to their tally. They improved the rushing TDs back up to 11.

In the 2000 season, seven years before Tom Cable and Lane Kiffin, they led the league in rushing, scoring the third most points, and ranked fifth in 1st down percentage.
So why not the same success in Cable's first year as O-Line coach? In 2000, they fumbled 8 times. In 2007, they fumbled 31 times.
If I've heard it once, I've heard it 1,000 times. When you have good success rushing the football, it opens up other things for your offense. Things like one on one coverage, and cheating safeties.
There is also an adage that states you cannot win when you turn the ball over. This has proven to be astoundingly true at all levels of football.
So who should we credit with the drastic improvement (aside from the fumbles) of the rushing attack from 2006 to 2007. Should it be Lane Kiffin or Tom Cable. Well, to each their own on this one, but to go from giving up 72 sacks in '06 to giving up 41 in '07, something has to be said for the O-line coach in my opinion.
Last year, the yards per carry increased from 4.1 to 4.3. The fumbling problem seemed to improve as we were down to 11 for the year. TDs decreased mildly from 11 to 9.
The problem with the 2008 season was that the head coach and owner were at war, and Kiffin ended up getting fired four games into the year. Not to mention that JaMarcus Russell played his first full season as a starter and the team only managed slightly over 148 yards per game through the air.
The reason why we as Raider Nation are holding out hope for this year is the running game. It all hinges on Shake, Rattle, and Roll, Tom Cable, new O-line coach Jim Michalczik, and the revamped offensive line that is, in my honest opinion, under the radar all-star quality.
That being said, let's take a look at some of the things we should expect from this year's offensive line, and new line coach Jim Michalczik
Coach Michalczik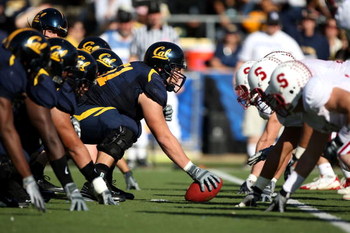 Largely responsible for some of the success of the Cal Bears over the last seven season, Jim Michalczik is a proven winner. Everywhere he has coached has found success during his tenure.
Prior to his coaching days, Michalczik was a three letter winner offensive guard for Washington State. He earned honorable mention All Pac-10 and honorable mention All-America from The Sporting News as a senior.
Although never at the professional level coach until this year, his resume speaks for itself. In 2008, at Cal, he was assistant head coach, co-offensive coordinator and offensive line coach...busy guy.
Under his tutelage, Bears center Alex Mack won two consecutive Morris Trophies, given to the top offensive and defensive linemen in the Pac-10.
While at Cal, he mentored seven first-team all-conference selection lineman and posted seven 1,000 yard halfbacks, including one 2,000 yard back.
Jahvid Best, a Cal sophomore sensation HB, led the Pac-10 in 2008 with 1,580 rushing yards and average 8.1 yards per carry with 15 TDs.
In the Emerald Bowl against Miami U, Best put up 20 carries for 186 yards and two TDs. He also rushed for 200 yards or more in three contests last year, and had one game with 19 carries for 311 yards and four TDs.
Michalczik spent three seasons as offensive line, tight ends, and special teams coach at Oregon State where he helped lead the Beavers to their first winning season in 29 years.
The following year, 2001, OSU went 11-1, tied for the Pac-10 Conference championship and finished with the No. 4 spot in the final AP ranking. They beat Notre Dame 41-9 in the Fiesta Bowl.
Michalczik was the offensive line coach at Montana State from 1992-98 and helped the Bobcats to four winning seasons in six years. Montana State!!!
For two years prior to that, Michalczik was the Defensive line coach on Dennis Erickson's coaching staff at Miami (Fla.) that won a share of the National Championship in his final season with the Hurricanes.
Michalczik should be a great coach to combine with Tom Cable. Lord only knows what will happen when these two put their heads together with the fresh, young, and motivated talent in the works in the Oakland offense.
Samson Satele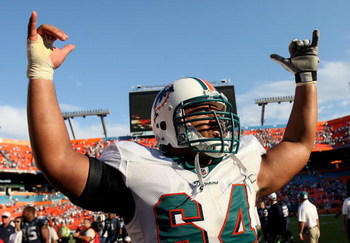 Trading Places was the story of the center's for Oakland and Miami this year. Former Raiders center Jake Grove to the teal and orange. Former Fins center Samson Satele to the silver and black.
To be quite honest with you, I'm happy about the swap. I think Grove is a great center when he's playing. That's the issue here really is Grove's injury prone past.
You just really can't have a guy playing that particular position on the line here one game, gone the next. The center position is probably the second most important next to the QB. The QB calls all the cadences for skill positions on the field based on what he reads at the line. The center makes all the reads and calls for the line.
I'll be honest about it, when I heard the Raiders were trading for Satele, I asked myself, "who?"
And then I learned that Satele, 24, was the starter as a rookie for the Dolphins and had not missed a start in his first two years in the league.
After that, I read that head coach Tom Cable thought that Satele was the best O-lineman in his draft class in 2007, and Cable had targeted Satele after the Fins signed Grove.
In high school he was a first-team all-state offensive lineman as a senior. He was also a three-time letter winner in basketball and track; a multi-sport athlete, something that is big to Tom Cable when you analyze his first draft class. Satele was named his high school's athlete of the year as a junior.
Perhaps the biggest knock on Satele is that he doesn't preform well against bigger 3-4 style nose tackles. Granted the Jets' Kris Jenkins and the Patriots' Vince Wilfork are no pushovers, especially for a rookie and 2nd year center.
The Dolphins said they targeted Grove because he had a mean streak. I'd say the Raiders may have targeted Satele because he doesn't have an injury streak. Like i said, Grove is a good lineman...when he's actually playing.
Grove has missed 26 games since he was a second-round draft pick in 2004. Early in his second season he suffered a right knee injury. He underwent surgery, but the knee kept troubling him. He opted for microfracture surgery after starting two games in 2007. In 2008, he only played 12 out of the 16 games for Oakland.
In spite of this, the Dolphins gave Grove a five-year, $29 million contract. This move has to be based soley on his aggressiveness, and not on his reliability, which could turn out to ba a liability.
The cost is fairly meager for Oakland as it picks up its starting center. A sixth round pick, and a swap of fourth rounders. I'm not sure what his rookie contract gives him as far as salery, but I bet it's nowhere near the $5.5 million a year that Grove will get in Miami.
My final prognosis is that this is a signifigant upgrade. Even though Satele has had trouble vs. 3-4 defenses, I think it's better than having a center who has trouble getting out of bed in the morning.
Plus, with Tom cable as his new head coach, and having seen the potential in this guy two years ago in rookie workouts, you know he is anxious to get his hands on Satele and teach this tremendous athlete how to be on top of his game. This is an A+ move for Oakland.
Khalif Barnes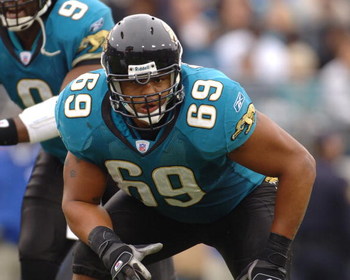 Just a massive man, standing 6'5" and listed at 325 lbs, Khalif Barnes, 27, successfully protected the blindside for Jacksonville QBs David Garrard and Byron Leftwich.
In 2007, the Jags O-line only gave up 31 sacks, and David Garrard set a new franchise records with a rating of 102.2 and highest completion percentage with 64% while only throwing 8 interceptions.
Barnes has appeared in 60 games, and started 57 in four seasons with the Jaguars, including the last 12 of his rookie year. He was drafted 52nd overall in the 2005 draft.
He was part of an offensive line that helped Jaguars rush for the two highest single-season totals in franchise history.
From 2006-2007, they led the NFL in rushing averaging 154.1 yards per game and scoring 46 rushing TD's on the legs of Fred Taylor and Mo-Jo Drew.
Barnes was a part of an offensive line that set a single-season Jaguars franchise record for rushing yards in 2006 with 2,541 (158.8 ypg) including a single-game record of 375 rushing yards vs. Indianapolis.
In 2007, the Jaguars led the league with six 50-plus yard runs, and ranked second in runs of 10-plus yards with 68. Khalif helped pave the way for a 4.7 average per rush, first in the AFC and third in the NFL.
In 2006, the Jags O-line helped their running backs average 5.0 yards per carry for the season, with 23 rushing TDs. In 2007, they scored 28 TDs passing with only 8 INTs and 18 rushing TDs.
Khalif attended Mount Miguel High in Spring Valley, California. A home grown product who is expected to start one side or the other at tackle for Oakland this year. My hope is that the big fella can bring some of that Jaguars moxie that their line had going to the playoffs three out of his four years with the franchise.
He's another in a growing list of multi-talented athletes brought in by Tom Cable and his staff. Khalif lettered in basketball at San Diego State University. He also recorded 120 tackles and nine sacks as a defensive lineman as a senior in high school.
Robert Gallery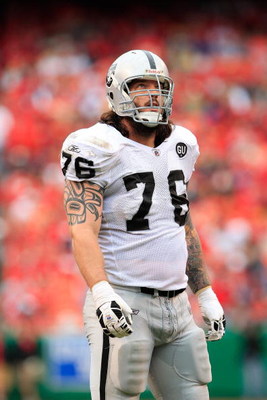 Just when you thought it couldn't get any better, here comes 28 year old Robert Gallery. Another massive man, standing 6'7" and listed as 325 lbs.
The Raiders 2004 first rounder had a trouble first part of his career with Oakland. Brought in to be a franchise left tackle, he was thought of by many as the sure bet in that years draft with a perfect 9.0 Draft Prospect Rating.
In 2004, he started 15 games at right tackle and gave up three Sacks. In 2005, he started all 16 games at right tackle and gave up 3.5 Sacks.
The Raiders moved him to left tackle at the beginning of the 2006 preseason. In the Raiders' first game of the 2006 regular season, Gallery was part of an offensive line that gave up nine sacks (at least 3 charged to him) to the San Diego Chargers in a 27-0 loss in the home opener.
He played 10 games on the season, and gave up 10.5 sacks on the season. He ended up placing 4th in most sacks given up in the NFL, despite missing six games.
The times have gotten better for the big man who has found a home in coach Cable's offense as a left guard. He is consider by most fans to be a solid guard, and is starting to shed the bust enigma that had started to follow him up until last season.
Let me tell you something you may not know about Gallery. In high school in Winthrop, Iowa, Gallery was a three-year starter at TE with 33 catches for 604 yards and three touchdowns. Big guy can catch too!
He added totals of 86 solo tackles and 90 assists, with three recovered fumbles and two interceptions as an OLB. He also handled punting and kickoff duties.
He fits into that Tom Cable mold also, as he lettered in basketball and track, and he even placed second in the high jump (6-foot-5) at the Class 1A state meet as a junior.
He's smart too, he was named to the academic all-state football team and was a member of the National Honor Society and senior class president. He was an all-conference honorable mention selection as a sophomore before being named first team all-conference as a junior and senior.
In college, he helped Iowa lead the Big Ten Conference in scoring in 2001. Iowa qualified for their first bowl game in four years. As a junior in 2002, Gallery started all 13 games at left tackle and was a first team All-Big Ten selection. He helped lead Iowa to their first Big Ten title in 12 years and their first undefeated conference season in eighty years. He also won the team's Hustle Award.
In 2003, Robert led Iowa to another ten win season and was voted as Iowa's co-captain and co-MVP for the season. He was a first team All-Big Ten selection for the second straight year and named the Big Ten Conference Offensive Lineman of the Year.
Gallery was a consensus first team All-American in 2003. He was also awarded the 2003 Outland Trophy for best NCAA D1 offensive lineman.
Let's hope that he can continue his success in Tom Cable's offense, even if he isn't our franchise left tackle we once thought he was. Gallery is a good spirit in the locker room, and a great person for the Oakland community, continuously holding charity drives to raise money for the area.
Cooper Carlisle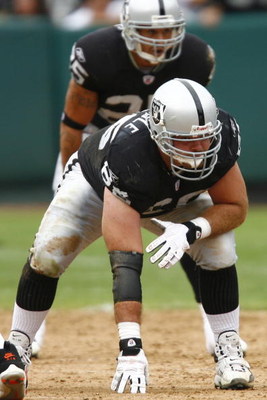 Carlisle is the oldest of my projected starting line-up for the raiders O-line. He may have a fight on his hands with an up and coming Paul McQuistan, and former Minnesota standout from the Mike Tice era Marcus Johnson pulling up behind the aging veteran.
He is a 31-year-old, ten year pro, who spent seven those seasons in Denver. He has started 54 out of 111 games that he has played in.
For Oakland this year, I expect him to start right guard. It is going to be his third year in Oakland, he came in Tom Cable's first year as O-line coach. He is a veteran blocker who started all 16 regular season games on the offensive line for the last three seasons.
Carlisle was a Blue Chip Illustrated All-America selection, a USA Today honorable mention selection and a first-team all-state choice during his three years starting at McComb High School in McComb, Mississippi.
He was rated one of the nation's top 15 offensive linemen by Blue Chip Illustrated, and he was chosen to play in the Mississippi-Alabama all-star game.
Carlisle played his college football at Florida University. He was very versatile, and saw action at guard with 12 career starts, and tackle with 19 career starts. Word on the street is he could even play center if necessary. Coming out of college, he was considered a pass blocker first, and was a fourth round pick of the Bronco's.
Carlisle has proven he is a persistent worker over his long career. He didn't start a game until his fourth year with Denver in which he started two games. The next year, he started 4, and he didn't become a full time starter until his fifth year in the league.
He is well tooled in the ZBS that Cable and his staff have implemented, being coached by one of the foremost experts Mike Shanahan. Mike must have seen something he liked from the 6'5" 295 lbs guard, as he hung on to him almost until nearly the end of his Denver run.
For his entire Denver tenure, Carlisle played in the zone-blocking scheme, which calls for smaller, quicker offensive linemen. His familiarity with the blocking system system should give Carlisle an edge in competing for a starting job and should help younger guys, like Mario Henderson and Samson Satele, pick it up quicker.
He was one of the most well traveled free agents prior to the 2007 season visiting with officials from Seattle, Houston, Baltimore (where he nearly signed), and Tampa Bay.
Carlisle is a solid veteran option on a very young offensive line. He should provide veteran leadership to the youngster's and be a strong voice in the huddle and in the locker room.
Mario Henderson
Does anybody else think they need to get some better pictures of this guy posted on this website? These two they offer look like mug shots.
Here is a guy that the fans, coaches, and players alike are holding out high hopes for in 2009. He finished the season with a bang and was a big factor in the last two games of the year, two wins for the Raiders.
The Oakland Raiders selected Florida State OT Mario Henderson in the third round of the 2007 NFL Draft. The Raiders acquired the pick from the New England Patriots. The 6'7", 310-pound Henderson played in 28 of a possible 51 games during his career at Florida State. In 2006, he played in all 13 games on the offensive line.
Henderson originally attended Bishop Verot High School in Fort Myers, FL. Henderson was a 375 pound freshman who'd never played football. His first year of football was his sophomore year.
After his sophomore year, Henderson transferred to Lehigh Senior High School. Due to transfer rules, he was not able to play during his junior year. He used that time to change his physique and, in his senior year, earned a scholarship to Florida State University as a 6'7", 310 lb. offensive tackle.
Graduated from Lehigh in 2002 and he was rated a three-star player by Rivals.com and one of the top 40 rated offensive guards in the country. He was one of Florida's Top 100 according to the Orlando Sentinel and earned all-district, all-region, and all-county honors as a senior in leading his team to an 8-3 record.
Henderson is another of those versatile young athletes for the Oakland squad and he averaged a double-double of 14 points and 11 rebounds as a member of the Lehigh boy's basketball team.
I expect Henderson to secure his spot as the franchise left tackle the team was looking for when they drafted Gallery in 2004 with the second overall pick. Henderson has made a good name for himself with fans and coaches alike, after getting off to a rough start with former head coach Lane Kiffin.
There You Have It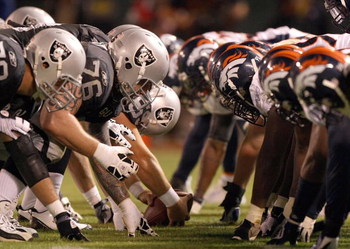 This is a squad with a ton of potential. It's the first time i can honestly say that in a really long time for this franchise. This is, mostly, a group of young men with impressive resume's who could send 2-3 players to the Pro Bowl if they can get on the right track this year.
I'm telling you right now, this message is to everyone who reads this article; This team right here is like a bomb in the universe of the NFL that is prepared to make a big bang.
When it blows, it could have residual effects for a very long time. This is a young team loaded with weapons in almost every position on offense and on defense, with the only exception being perhaps defensive tackle, but still there is potential there.
They need leadership, which should be provided by the veterans like Garcia, Neal, and Ellis that the staff brought in early this offseason. Also, from very knowledgeable coaches who have been around this game for a very long time, and also have tremendous resume's.
My optimistic outlook for this team tells me they will go 10-6 with losses to Philly, Baltimore, San Diego, N.Y. Giants, Pittsburgh, and either the Texans, Jets, or Cowboys.
My realistic view that tells me not to get my hopes up tells me they will lose all of the above games and finish 8-8. A lot of people say that it hinges on JaMarcus Russell's shoulders, I disagree.
In the dictionary, a team is defined: a number of persons forming one of the sides in a game or contest. Nowhere near the word "team" does it say individual or specific person. This whole team has to play well, don't get it twisted.
It all starts up front. Have a nice day.
Keep Reading

Oakland Raiders: Like this team?