The St. Louis Cardinals have bolstered their starting pitching depth ahead of the MLB trade deadline, acquiring veteran right-hander John Lackey from the Boston Red Sox. CBSSports.com's Jon Heyman was the first to report the deal, with the Cards announcing the full details later:
OFFICIAL: #stlcards have acquired RHP John Lackey, LHP Corey Littrell & cash considerations from Red Sox for RHP Joe Kelly & OF Allen Craig

— St. Louis Cardinals (@Cardinals) July 31, 2014
Craig Calcaterra of Hardball Talk noted that the Cardinals' risk in the deal was probably the safer bet:
I will say, though, I'd rather gamble on John Lackey in the NL than Joe Kelly in the AL East.

— Craig Calcaterra (@craigcalcaterra) July 31, 2014
Jenifer Langosch of MLB.com describes the locker room:
Really subdued clubhouse here. Most stunned by news, and Craig/Kelly both very well-liked by #stlcards teammates. Goodbyes hard.

— Jenifer Langosch (@LangoschMLB) July 31, 2014
FOX 2 Sports Director Martin Kilcoyne reports how Craig and Kelly found out about the deal:
Cards GM John Mozekiak told me he sprinted from hotel to clubhouse to alert Kelly and Craig they had been traded. TV already reported it.

— Martin Kilcoyne (@martinkilcoyne2) July 31, 2014
After missing the entire 2012 season after undergoing Tommy John surgery, Lackey has revived his career the past two years. He became one of Boston's most reliable starters during that span, providing quality depth for a rotation that lacked consistency at times.
Lackey will be paid just $500,000 in 2015, as the Tommy John surgery triggered a clause in his contract that will pay him that sum. Of course, that is a huge discount, considering his salary for 2014 is $15.25 million.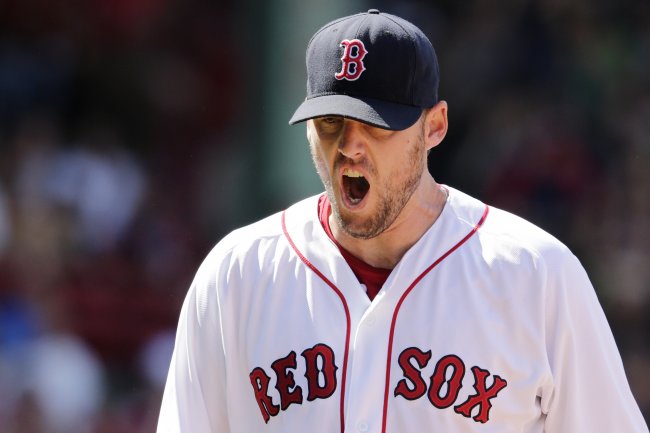 Charles Krupa/Associated Press
Thirty-year-old Allen Craig will join Yoenis Cespedes, whom the Red Sox also acquired Thursday in exchange for Jon Lester, in a much-improved outfield in Boston. While he's batting .237 this season, Craig is an experienced veteran presence who can contribute immediately.
Joe Kelly, 26, is far from a direct Lackey replacement, though Boston will be hoping he can remain healthy and maximize his potential. Kelly has battled a hamstring injury and spent time on the disabled list this season.
As Jon Heyman of CBSSports.com indicates, the need for more pitching isn't entirely fulfilled by Kelly's addition:
#redsox made a great a trade getting craig and kelly for lackey. still need more pitching, tho.

— Jon Heyman (@JonHeymanCBS) July 31, 2014
Prior to dealing Lackey, Red Sox president Larry Lucchino had considered approaching the righty with an extension, via Conor Ryan of WEEI 93.7 FM:
I think that there will be some contract negotiations with him probably at the end of the year as well and we'll see what his frame of mind is with respect to longer-term contracts. … We will explore how we can keep John Lackey as a member of the Boston Red Sox.
That makes the trade a bit of a surprising move.
Good move by the Red Sox?
Of course, nothing should be too shocking considering the futility of the Sox this season. Boston has not seen the same success it did last season, when it won the World Series, and the team currently sits well outside the playoff picture. Given that, selling off assets is a good strategy for general manager Ben Cherington and the rest of the front office.
St. Louis has improved immensely as a result of the deal. With much more depth in the rotation, the Cardinals are geared up for a strong run in the NL Central against the Brewers and Pirates, who sit ahead of them in the standings. Furthermore, they get the veteran Lackey at a major discount in 2015.
Follow Kenny DeJohn on Twitter: @KennyDeJohn_BR