Updates from Wednesday, July 30
Peter Gammons is reporting that the Cleveland Indians have moved Justin Masterson:
The Indians are trading Justin Masterson to the Cardinals

— Peter Gammons (@pgammo) July 30, 2014
Joel Sherman of the New York Post passed along the details of the deal:
Masterson to #stlcards hearing that James Ramsey is going back to the #Indians

— Joel Sherman (@Joelsherman1) July 30, 2014
Original Text
The Cleveland Indians are in the hunt for the American League Central, but that doesn't mean they aren't preparing to move a starter they had high hopes for in 2014.
Yahoo Sports' Jeff Passan reports that the front office is willing to move seven-year starter Justin Masterson:
Sources: Indians very willing to move Justin Masterson. FA to be due back Friday from DL. Looking for young, controllable starting pitching.

— Jeff Passan (@JeffPassan) July 28, 2014
The right-hander has been on the disabled list since July 8 with a sore knee, but he is scheduled to make his first start since then on Friday.
In his most recent rehab start, Masterson went 6 2/3 innings and allowed five runs, four hits and six walks. The length was good. The results were not.
Manager Terry Francona had this to say about the line, via Zack Meisel of Cleveland.com:
He said he feels much better about attacking the strike zone. He said there were times he probably threw some pitches he probably wouldn't in a major league game, which is understandable. We just want to make sure he's ready to go, because when he comes back, he's back.
Masterson has certainly experienced his share of struggles when healthy this year. He's 4-6 with a 5.51 ERA (4.08 FIP), 1.653 WHIP and 93 strikeouts in 98 innings.
The sidewinder has seen success in recent years, making his struggles in 2014 a bit puzzling. He was 14-10 in 2013 with a 3.45 ERA and 195 strikeouts in 193 innings.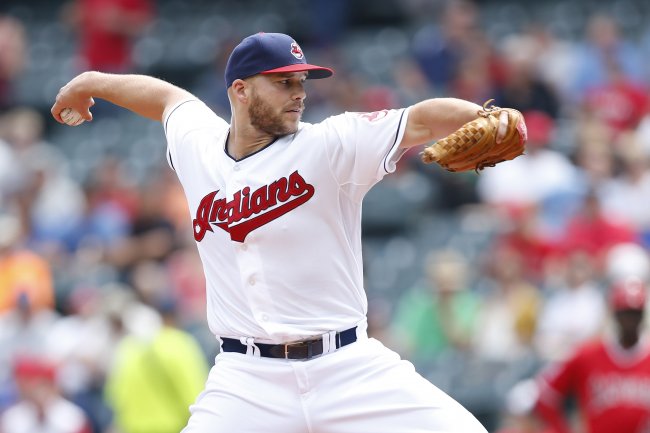 Joe Robbins/Getty Images
While it might be difficult to get young, controllable starting pitching for Masterson (after all, isn't that what every team wants for every asset?), the Indians should be able to get a useful prospect or two in return.
A healthy, successful Masterson is enough to help the Indians catch the Detroit Tigers and outlast the Kansas City Royals in the AL Central.
For other teams, Masterson represents an upgrade to the back-end of a rotation with the potential for more.
Follow Kenny DeJohn on Twitter: @KennyDeJohn_BR