Updates from Wednesday, July 30
Adam Jahns of the Chicago Sun-Times reported on Alshon Jeffery from Bears practice:
Alshon Jeffery's sore foot looks just fine, just made a 30-35 yard catch from Jay Cutler down the sideline against Kyle Fuller. #Beara

— Adam Jahns (@adamjahns) July 30, 2014
Rich Campbell of the Chicago Tribune passed along video of Jeffery at practice:

Bears WR Alshon Jeffery in quick-feet drills: https://t.co/kP6T6zIrP2

— Rich Campbell (@Rich_Campbell) July 30, 2014
Original Text
Chicago Bears wide receiver Alshon Jeffery did not participate in Monday's training camp due to what is being described by the team as a sore foot.
Rich Campbell of the Chicago Tribune sent out the news:
Bears WR Alshon Jeffery did not finish practice because of a sore foot, team says.

— Rich Campbell (@Rich_Campbell) July 28, 2014
The injury is not viewed as anything serious at this time. Campbell noted that Jeffery stayed on the field throughout the practice session and was catching passes on the sideline. The third-year receiver was initially expected to be a full participant—he was fully dressed—but was later held out as a precaution.
Following practice, Jeffery eased fears about his condition (via Campbell):
Bears WR Alshon Jeffery, who did not finish practice because of a sore foot: "I'm all right."

— Rich Campbell (@Rich_Campbell) July 28, 2014
Jeffery, 24, is coming off a breakout sophomore campaign in which he became one of the league's most dynamic receivers. He caught 89 passes for 1,421 yards and seven touchdowns, earning a Pro Bowl berth among many other accolades.
Pro Football Focus (subscription required) measured Jeffery as the third-best deep-ball receiver in football. He also had one of the league's lowest drop rates and became the perfect complement to Brandon Marshall's intermediate work. The Bears arguably have the NFL's best one-two punch at receiver.
Eric Edholm of Yahoo Sports shared his thoughts on the young playmaker:
Alshon Jeffery just looks so confident catching the ball now. Little shoulder dip off the line, crisp route and catch of ball at his knees.

— Eric Edholm (@Eric_Edholm) July 25, 2014
"I'm not the type of person that brags a lot about anything, but I feel that last year, what we did, we were at the top of the list as the two best receivers," Jeffery told Rana L. Cash of Sporting News. "But that was last year. This year we have to set our goal and try our best to do the same thing we did last year, if not better."
If Jeffery's injury proves more serious than expected, the Bears might be in a bit of trouble. Josh Morgan, who fell out of favor in Washington's mediocre corps last season, is the only other receiver of note on the roster. Behind Marshall and Jeffery is largely a group of young, unproven talents looking to latch on and become Jay Cutler's third receiver.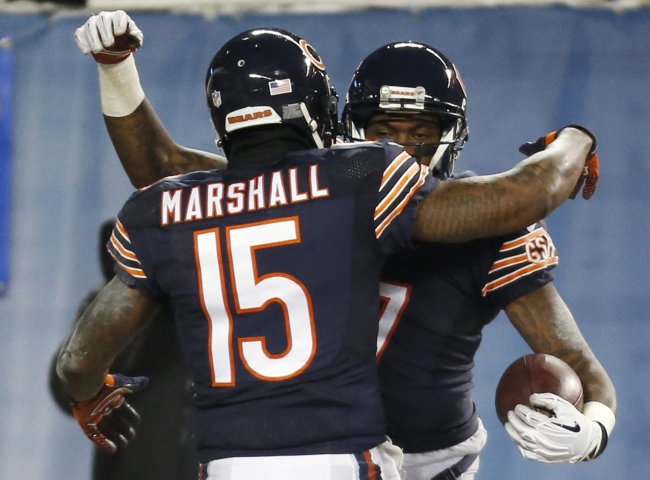 Charles Rex Arbogast/Associated Press
Should Jeffery miss any time, Marshall's responsibility will rise exponentially. It'll also put the onus on Cutler, who will be under the microscope after signing a fat extension this offseason.
More likely, this is just a minor training camp injury that will come and go within a matter of days. There is no reason for the Bears coaching staff to push a proven player onto the field if there's even remote discomfort. Their top-heavy receiver depth chart means keeping Marshall and Jeffery healthy should be an organization-wide priority.
Plus, getting some of the younger players more reps with the first team might lead to one of them standing out. The Bears have more than a week until their first preseason game, so there is plenty of time for a more concrete diagnosis.
Follow Tyler Conway (@tylerconway22) on Twitter.