The Minnesota Vikings have struck an agreement on a new five-year contract with Pro Bowl tight end Kyle Rudolph.
Jay Glazer of Fox Sports reported the news Sunday, outlining the details of Rudolph's deal:
Kyle Rudolph agrees to new 5 year, 36.5 million dollar extension w Vikings

— Jay Glazer (@JayGlazer) July 28, 2014
The Vikings then confirmed the extension:
The #Vikings and Kyle Rudolph have agreed to a contract extension. pic.twitter.com/99d3BpYDRB

— Minnesota Vikings (@Vikings) July 28, 2014
NFL Network's Ian Rapoport provided further specifics on its financial implications:
Kyle Rudolph's deal is worth $36.5M over 5 years. Practical guarantee of $19.4M. New money avg is $7.3M. Can earn $40M. 5th-highest paid TE

— Ian Rapoport (@RapSheet) July 28, 2014
"I'm extremely excited to get this extension completed and continue my career with the Minnesota Vikings," said Rudolph, per NFL.com's Mike Coppinger. "I've said all along I wanted to stay in Minnesota. I love the fans, the community and, most importantly, [I'm] excited about where this team is going."
Bleacher Report expert Matt Miller offered his analysis:
Paying him for who he can become. RT @JayGlazer: Kyle Rudolph agrees to new 5 year, 36.5 million dollar extension w Vikings

— Matt Miller (@nfldraftscout) July 28, 2014
Pats Pulpit's Rich Hill implied that Rudolph is a great schematic fit in Minnesota:
Vikings new deal with Rudolph is smart. He's about to tear it up in a Norv offense. Lock him in cheap.

— Rich Hill (@PP_Rich_Hill) July 28, 2014
Former San Diego Chargers head coach Norv Turner presided over an offense that saw Antonio Gates continue a productive career as a dynamic, pass-catching tight end. That bodes well for Rudolph's future, given his immense size and catch radius.
Last season, Turner was the offensive coordinator for the Cleveland Browns. Despite horrendous quarterback play for much of the 2013 season, a star was born in tight end Jordan Cameron, who had 80 of his 106 career receptions last year alone.
Both Cameron and Rudolph arrived in the same 2011 draft class. Although Rudolph, 24, played just eight games last season and didn't even hit 500 yards receiving when he went to the Pro Bowl in 2012, he has all of the tools to be great. With a more creative offensive mind in place like Turner, Rudolph could be in line for a Cameron-esque breakout year.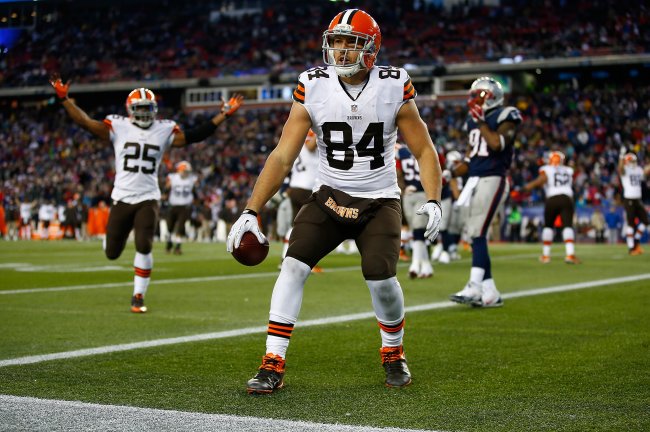 Jared Wickerham/Getty Images
The hiring of Turner, a more promising quarterback situation on the horizon with the first-round selection of rookie Teddy Bridgewater and an expected upgrade on defense highlight an offseason of savvy moves. It makes sense that Minnesota wanted to lock Rudolph up for the long haul, given his potential and the seemingly improving circumstances to succeed.
The 2014 campaign would have been the last year of Rudolph's rookie contract. If the Vikings didn't pay up, he would have almost certainly tested the open market and played elsewhere in 2015.
How do you feel about Kyle Rudolph's contract extension?
As if Rudolph didn't already have enough to prove entering his fourth year in the league, this contract affirms Minnesota's faith that he'll develop into a premier player at his position. It will be interesting to see how well the Vikings can capitalize on his talents—and if a QB competent enough steps up to deliver Rudolph the ball on a consistent basis.
The NFC North is a tough division, featuring three other offenses in Chicago, Detroit and Green Bay that boast superior firepower in the passing attack and more balance.
But if Minnesota can establish the ground game with Adrian Peterson to open up play-action fakes, Rudolph could be in for some big plays on deep crossing routes and seams down the middle of the field. Turner will likely split Rudolph out wide more often, too, creating matchup problems with smaller cornerbacks.
General manager Rick Spielman is taking a bit of a risk in paying Rudolph so much considering how modest his overall production has been. However, that endorsement and an ideal offensive system may be just what Rudolph needs to take a big next step in a promising career.