The 75th National Baseball Hall of Fame induction ceremony was set to be a historic one, and the class helped it live up to the billing on Sunday in Cooperstown.
With six new members set to take the podium during the induction ceremony, three historically great players joined an equally impressive trio of managers.
It was a field day for the Atlanta Braves as Greg Maddux and Tom Glavine joined former manager Bobby Cox in Cooperstown. The crowd was littered with Braves fans as all three graced the stage to accept their plaques.
Chipper Jones, another legendary former Braves player who has a Hall of Fame speech in his future, remarked on the historic day:
What a great day! Beautiful Sunday morning for 3 of the greatest Braves of all time to go into the Hall of Fame. I am so proud of you guys!

— Chipper Jones (@RealCJ10) July 27, 2014
As for the rest of the class, Frank Thomas was the lone offensive player to take the podium. The Big Hurt was joined by both Joe Torre and Tony La Russa, who along with Cox combined for eight World Series titles.
Here's a look at the full reaction from the induction ceremony for all six new members to Cooperstown.
Players Reaction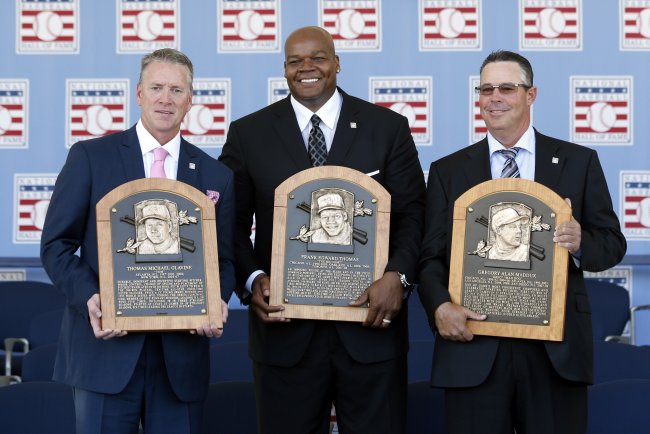 Mike Groll/Associated Press
Greg Maddux was the first player to take the stage to a rousing applause from the fans in attendance. After receiving 97.2 percent of the vote, the "Mad Dog" remained humble throughout his speech.
The Braves official Twitter account passed along their congratulations to the outstanding pitcher:
Congratulations Mad Dog! Thank you... #HOFBRAVES

— Atlanta Braves (@Braves) July 27, 2014
What good would a Hall of Fame pitcher be without great catchers on the other end? While many of those former catchers never earned the same fame as Maddux, each one contributed to his success over his illustrious career.
Maddux gave a special shoutout to each of his former battery mates, as Tom Hart of ESPN notes:
Greg Maddux thanked everyone of his MLB catchers in his acceptance speech.

— Tom Hart (@tom_hart) July 27, 2014
Maddux finished his career with an astounding 355 wins with four different clubs, but won his lone World Series with the Braves in 1995.
Unlike the other former Braves members in the class, Maddux didn't don an Atlanta cap on his plaque. The Baseball Hall of Fame account provides a look at the hardware for Maddux:
#FirstLook: Greg Maddux's Hall of Fame plaque pic.twitter.com/zPAFuJeIyA

— Baseball Hall (@BaseballHall) July 27, 2014
Of course, Maddux couldn't remain serious throughout the entire speech, per Zach Harper of CBS Sports:
Greg Maddux referenced lighting farts on fire in his Hall of Fame speech because Greg Maddux.

— Zach Harper (@talkhoops) July 27, 2014
Following up Maddux on the players side was Glavine—a fitting one-two punch for the class.
The two-time Cy Young Award winner was one of the best starting pitchers in Braves history, but he chose to speak about another sport near the start of his speech. Glavine referenced the fact that he was taken by the Los Angeles Kings in the 1984 NHL draft, per USA Today:
Tom Glavine slips in that he was drafted before two hockey HOFers - Luc Robitaille and Brett Hull. #athlete

— USATODAYmlb (@USATODAYmlb) July 27, 2014
After Maddux made the decision to wear a blank hat on his plaque, Glavine had the hat prominently on his hardware. The 10-time All-Star spoke about his time in Atlanta, via Kevin McAlpin of 680 The Fan:
Glavine: "it was such a thrill and so much fun to be part of putting Atlanta back on the map in the game of baseball" #Braves

— Kevin McAlpin (@KevinMcAlpin) July 27, 2014
Maddux and Glavine were the latest Braves pitchers to join the Hall of Fame, but likely won't be the last.
Along with the two prominent starters, another member of the rotation could be joining them next year in John Smoltz. Glavine referenced his longtime teammate during his speech:
Glavine: "Our good friend Smoltz better be here next year" #Braves

— Kevin McAlpin (@KevinMcAlpin) July 27, 2014
After the two pitchers, one of the best sluggers in the 1990s got his time to speak.
Prior to the Big Hurt taking the stage, one current great made his feelings known about the former Chicago White Sox star:
Congrats to @TheBigHurt_35 on the HOF induction. He was my fav player growing up and is the reason I wear # 35.

— Justin Verlander (@JustinVerlander) July 27, 2014
On the diamond, Thomas was a feared hitter who could take nearly any pitcher deep. On Sunday, he showed a completely different side of him as a man.
The two-time American League MVP winner couldn't contain his emotions when speaking about his deceased father, as MLB passes along:
A gentle giant: Thanking his late father, @TheBigHurt_35 tears up during his #HOF speech. #HOFWKND pic.twitter.com/X6kNksL0Yr

— MLB (@MLB) July 27, 2014
"My father meant so much to me and he wasn't here today ... My dad was my everything." - @TheBigHurt_35. #HOFWKND pic.twitter.com/DZEDe35KTw

— MLB (@MLB) July 27, 2014
Thomas obviously played during a time where the rise of steroids made most fans of the sport question nearly every player's power. While some players were eventually caught for taking performance-enhancing drugs, Thomas was a clean player who made a difference with his bat.
During his speech, Thomas made it pretty clear exactly how he got to this point, per SportsCenter:
"There are no shortcuts to success. Hard work, dedication, commitment. Stay true to who you are." - Frank Thomas pic.twitter.com/FFMZooxpuY

— SportsCenter (@SportsCenter) July 27, 2014
The former Auburn player also made a bit of history with his selection into Cooperstown, as Jon Heyman of CBS Sports notes:
surprising, as @TylerKepner pointed out, @TheBigHurt_35 is the first SEC player (auburn) ever to make hall of fame

— Jon Heyman (@JonHeymanCBS) July 27, 2014
The three-player class was one of the best in recent memory and each put his stamp on Sunday.
Whether it was Maddux making casual jokes or Thomas unleashing his emotional side, this year's class let it all out during the ceremony.
Managers Reaction
Bobby Cox was the first manager to step to the podium as part of three straight Braves members. The former manager hit on just about everything during his career in that role.
Cox remained grounded during his speech and spoke about how surprised he was to make the Hall, via MLB:
"In my wildest dreams, did I ever think this would happen? But I'm sure glad it did. Thank you." – Bobby Cox. #HOFWKND

— MLB (@MLB) July 27, 2014
Known as a player's manager, Cox had an impact on several top athletes during his illustrious career. Two of those stood next to him on the stage in Glavine and Maddux, but others that he managed are sure to make the Hall in the coming years.
The longtime Braves general referenced one of those future Hall of Famers during his speech:
Bobby Cox: "Chipper you'll be standing here soon and thank you for all you have done for the #Braves organization."

— Mark Bowman (@mlbbowman) July 27, 2014
One of the current young leaders in the organization in Freddie Freeman also noted his time spent with Cox:
Freeman: "It was something special and something I'll always remember being able to play for a Hall Of Fame manager" #Braves

— Kevin McAlpin (@KevinMcAlpin) July 27, 2014
Following Cox on the list of managers was La Russa, a coach similar to Cox in some respects but completely different in others.
La Russa spent his managerial career with three different franchises, most notably the Oakland Athletics (10 years) and St. Louis Cardinals (16 years). Much like Maddux, his plaque reflects the fact that his loyalties were split throughout his career:
#FirstLook: Tony La Russa's Hall of Fame plaque. #HOFWKND pic.twitter.com/KSVXsUvU7E

— Baseball Hall (@BaseballHall) July 27, 2014
During his time at the podium, La Russa referenced quite a few former players that had an impact on his career. Of those, two prominent players were not mentioned, as Paul Sullivan of the Chicago Tribune points out:
La Russa credits players from Harold Baines to Albert Pujols. No mention of McGwire or Canseco yet, though the word "bash" was used.

— Paul Sullivan (@PWSullivan) July 27, 2014
La Russa, Cox and Torre were all outstanding throughout their careers and lived up to the Hall of Fame billing. For Torre, he shares a similar story as Cox in that he rose to fame with one team, the New York Yankees.
While he is a legend to the Yankees organization, Torre didn't stop the Atlanta party when he stepped onto the stage. A former player with the Braves, he spoke about his time with fellow Hall of Famer and MLB icon Hank Aaron:
"What an experience playing with Hank Aaron for a year. Still gives me goosebumps," Joe Torre in his @BaseballHall speech.

— Atlanta Braves (@Braves) July 27, 2014
As the final member of the class to take the podium, Torre made sure the entire ceremony closed on a high note.
The third member of the illustrious manager group, Torre made sure to reference the other two as he took the podium. He spoke about how fitting it was that all three went into the Hall together:
Torre on Cox and La Russa: "Our careers mirrored each other's. It would have been an injustice if we couldn't have enjoyed this together."

— Mark Bowman (@mlbbowman) July 27, 2014
Thomas was the emotional close for the players, but Torre summed up what baseball meant to him perfectly:
The closing to @JoeTorre's induction speech was tremendous. #HOFWKND pic.twitter.com/UmT6rQch4E

— MLB (@MLB) July 27, 2014
At the close of the day, every member got his time to shine on the stage. While it clearly had a Braves theme, Thomas, La Russa and Torre were all prominent throughout the event.
Next year, a similar theme could arise as Smoltz has his first chance to make the Hall of Fame after an amazing career. Several other players such as Craig Biggio also have another chance to join Cooperstown, making next year's class potentially as memorable.
Follow @RCorySmith on Twitter.