Do you like putting up huge numbers? How about video game-like statistics while playing sports games? When this year's Madden NFL 15 is officially released, there will be multiple teams that gamers can utilize to put up absurd numbers.
With EA Sports revealing all of the top offensive players over the last week, players can begin to see how the best offenses will shape up this year. Though the top players are scattered over several teams, a few franchises have multiple high-ranking players in Madden.
Whether it's having the top quarterback, running back or wide receiver, a handful of teams look like offensive beasts.
Before the official release in less than a month, here's a look at some of the top offenses in this year's release.
Dallas Cowboys
How 'bout them Cowboys? The defense is a different story, but the offense in Madden 15 will be great for the Dallas Cowboys.
Tony Romo wasn't listed as one of the top five quarterbacks, but he has some outstanding targets surrounding him. According to the Madden ratings, Jason Witten and Dez Bryant are two of the best in the game at their positions.
Bryant's rating was released by Electronic Arts on Twitter:
Here's @DezBryant in #Madden15! More ratings here: http://t.co/lzLBzmAdJt @dallascowboys pic.twitter.com/VURseT3XIv

— Electronic Arts (@EA) July 24, 2014
While his rating of 94 was good enough to get him in the top five, he doesn't believe it's quite correct. The Cowboys wideout shared his thoughts on the numbers, per Brandon George of The Dallas Morning News:
Dallas Cowboys WR Dez Bryant on if seen his rating for EA Sports' Madden NFL 15: " Yeah, but it's all good. 94. It'll go up during season."

— Brandon George (@DMN_George) July 25, 2014
Along with Bryant and Witten, DeMarco Murray should be a stout running back on the heels of a great season. Murray ran for over 1,000 yards in 2013 and should see his rating grow on Madden throughout the year as well.
If gamers can get over the fact that the defense will likely be porous, they'll have an offense that should be able to score against any team.
Chicago Bears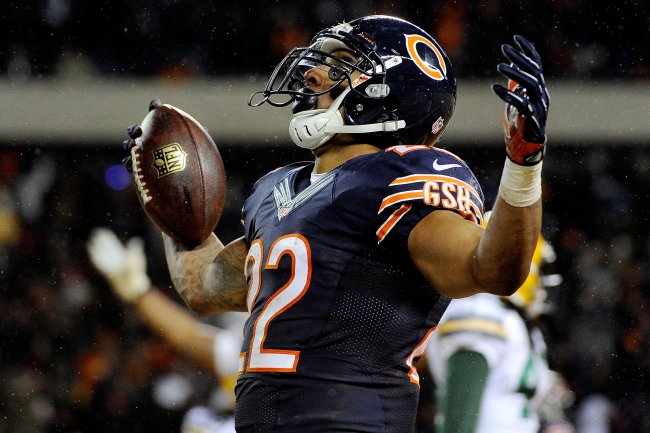 David Banks/Getty Images
Much like the Cowboys, the Bears have outstanding options surrounding a quarterback left off the top-five lists.
Behind the line, Matt Forte got the respect he deserves as one of the best running backs in the 2014 rankings. The utility player in both the running and passing game, he can make a difference for any player using the Chicago Bears.
In the receiving corps, Brandon Marshall will be the impact player. EA gives a look at the receiver's rating in this year's game:
Brandon Marshall in #Madden15! Read up on ratings here: http://t.co/lzLBzmAdJt @ChicagoBears pic.twitter.com/vAZapptm4k

— Electronic Arts (@EA) July 25, 2014
While he was listed as the No. 2 wideout, Josh Eberley of Dime Magazine believes he should have been lower:
Brandon Marshall overrated in Madden 15. Just saying.

— Josh Eberley (@JoshEberley) July 25, 2014
Regardless of where he ranks, Marshall will be one part of a deadly duo in the game. Along with Alshon Jeffery and Forte, Jay Cutler has immensely talented teammates in Madden.
Though the defense might be a different topic entirely, as with Dallas, the offense is one of the best.
Denver Broncos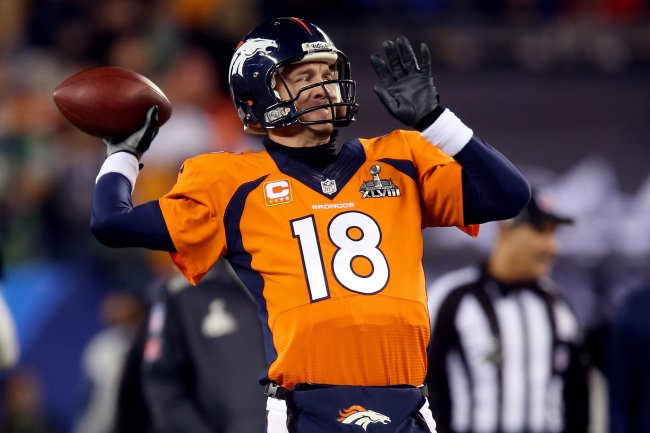 Jeff Gross/Getty Images
Which offense will be the best in Madden 15?
Sure, the Denver Broncos had only one player listed in the top five of any offensive position. But when taking into consideration that the lone member was Peyton Manning, this offense will still be ridiculous.
Manning was a record-setter last year in both passing yards (5,477) and touchdowns (55), so it's insane to think of what he might be able to do in a video game.
The fact that Demaryius Thomas was left off the top-five rankings for receivers seems a bit egregious, but he's likely just outside of that list. Tack on the fact that Julius Thomas wasn't on the tight end list, and the Broncos have two players who were deserving of being on both top fives.
With Manning behind center and the elite targets around him, this will still be a great offense when the game is released.
Follow @RCorySmith on Twitter.