Updates from Tuesday, Aug. 5
Rex Ryan updated Calvin Pryor's status with the first preseason game approaching (via Manish Mehta of the New York Daily News):
Rex Ryan on Calvin Pryor: "I don't anticipate playing him in this preseason game." #nyj

— Manish Mehta (@MMehtaNYDN) August 5, 2014
Updates from Monday, Aug. 4
Brian Costello of the New York Post reports Calvin Pryor's status for today's practice:
Pryor no longer wearing red jersey. In team drills with third team #nyj

— Brian Costello (@BrianCoz) August 4, 2014
Updates from Thursday, July 31
Darryl Slater of the Star-Ledger provides an update on Calvin Pryor's status:
He's a little ways behind, but he has time to catch up," said defensive coordinator Dennis Thurman. "He was doing well prior, too, before we got the pads on. We expect him to come back. He's been paying attention in meetings, but it has to transfer to the field. We expect him to be a pretty integral part of the defense."

[...]

Pryor's action Thursday was limited to position drills. He broke up a pass in a drill pitting wide receivers against defensive backs.

Jets coach Rex Ryan said after practice that Pryor has been cleared for physical activity, but not yet for contact.
Slater previously revealed more on Pryor:
Calvin Pryor is taking part in a defensive turnover drill. He's not wearing a red (non-contact) jersey.

— Darryl Slater (@DarrylSlater) July 31, 2014
Pryor has put red jersey on over his regular jersey. He's in position drills but no contact for him today. First day back from concussion.

— Darryl Slater (@DarrylSlater) July 31, 2014
Original Text
Rookie safety Calvin Pryor will be out indefinitely from New York Jets training camp after suffering a concussion.
Seth Walder of the New York Daily News reported the news Sunday:
Calvin Pryor does have a concussion, Rex says.

— Seth Walder (@SethWalderNYDN) July 27, 2014
Darryl Slater of The Star-Ledger reported Saturday that the first-round draft pick was carted off the field with a head injury. Jets head coach Rex Ryan said Pryor went down during a kick return:
Pryor was actually hurt on a kick return, Rex said. #nyj

— Seth Walder (@SethWalderNYDN) July 27, 2014
Ryan didn't give a timetable for Pryor's return, simply saying that he's leaving Pryor in the medical staff's hands and letting them make the decision, per Kimberly Jones of NFL.com:
Rex: S Calvin Pryor has concussion, will go thru NFL protocol. "As a coach, it's out of your hands. ...You lean on the experts."

— Kimberly Jones (@KimJonesSports) July 27, 2014
He added that the team is taking the situation very seriously, via Dennis Waszak Jr. of The Associated Press:
Rex on hit Pryor took that caused concussion: "It never looked like that big a deal, but it certainly is now" #Jets

— Dennis Waszak Jr. (@DWAZ73) July 27, 2014
The tricky part with concussions is that every athlete responds differently. Still, there's no denying the seriousness of head injuries, so there's no doubt the team will be extremely cautious moving forward.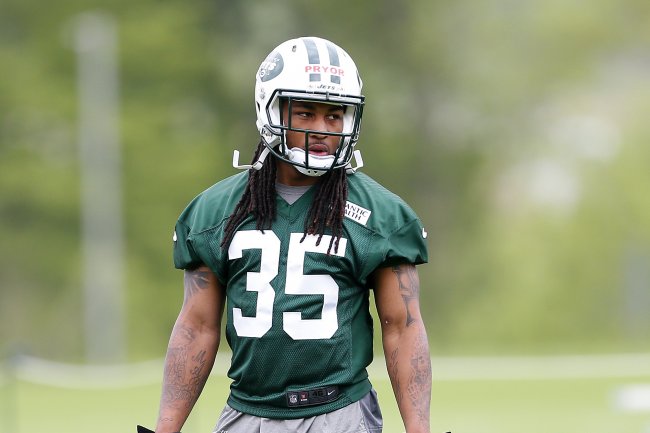 Rich Schultz/Getty Images
The good news for both Pryor and the Jets is that he'll have plenty of time to recover before needing to get back on the field again. Missing out on some training camp will hinder his development a bit but shouldn't radically alter his place on the depth chart. Waszak says Pryor is "a likely starter for the Jets opposite either Dawan Landry or Antonio Allen."
The only doubt at this point is whether this concussion scare will rein in Pryor's big-hitting style.