Arsenal have continued their summer spending spree with the addition of 19-year-old defender Calum Chambers from Southampton, officially confirmed by the club in a press release and on Twitter on Monday:
It's another new signing! Calum Chambers has joined @Arsenal! http://t.co/I9P6zlAAdX #WelcomeChambers pic.twitter.com/NAM7A8AM8D

— Arsenal FC (@Arsenal) July 28, 2014
Southampton also confirmed the move:
We can confirm that @CalumChambers95 has joined @Arsenal for an undisclosed fee. #saintsfc

— Southampton FC (@SouthamptonFC) July 28, 2014
BBC Sport reported on Sunday that Chambers would be headed to the Emirates Stadium in a £16 million deal:
.@Arsenal set to confirm signing of @SouthamptonFC defender Calum Chambers for £16m on Monday http://t.co/2d53KFvYtK pic.twitter.com/LKhkYHxvBB

— BBC Sport (@BBCSport) July 27, 2014
Chambers is the second right-back the Gunners have bought this season. Mathieu Debuchy was purchased earlier in July as a replacement for Bacary Sagna, who left for Manchester City on a free transfer.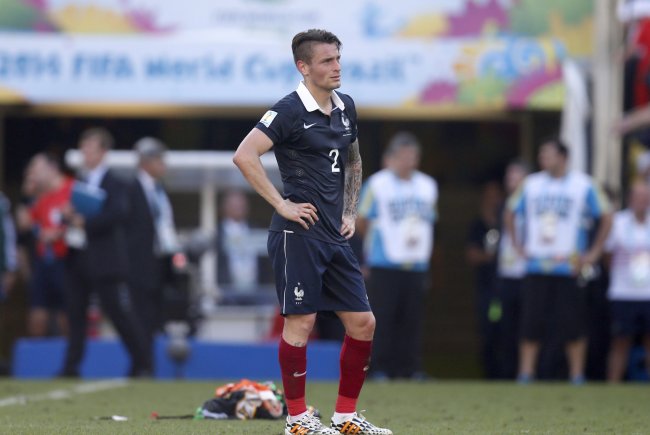 Frank Augstein/Associated Press
Some might question the sense in buying two players who play the same position during the same summer. Debuchy is the short-term option, while Chambers can gain some experience over the next year or two before stepping into the position on a more full-time basis.
Plus, between all the continental and the domestic competitions, Arsenal will need plenty of depth—something that's been an issue in the past. Carl Jenkinson is a good player, but the Gunners could arguably have used an upgrade over the 22-year-old, and that's exactly what they've added.
Chambers made 22 appearances, including 18 starts, for Southampton last season, according to WhoScored.com. He averaged 2.0 tackles and 1.6 interceptions on the defensive side, while adding 0.5 key passes and 0.8 crosses per game.
WhoScored.com also tweeted out its scouting report on the young star to give Gooners an idea of what to expect when he arrives at the Emirates:
Calum Chambers: Characteristics - strengths, weaknesses and style of play pic.twitter.com/hWFdGjqD7G

— WhoScored.com (@WhoScored) July 27, 2014
Chambers isn't the kind of full-back who almost spends as much time attacking as he does defending. He can get forward when necessary, but Mauricio Pochettino usually had him stay closer to goal to provide a safety net for the club's many attackers so as not to get caught on the counter.
He should fit seamlessly into Arsenal's line-up. There will be a slight transition, but Chambers won't need long to understand Arsene Wenger's system.
Some might be taken aback at the transfer figure, but that's what it takes in today's game to add a promising young English defender. And Gooners should be happy that the club is overspending rather than not spending at all. How many transfers has Wenger turned down in the past because he was too rigid to go £3 or £4 million above his valuation?
StatsBomb's Ted Knutson compared Chambers with former teammate Luke Shaw, who moved to Manchester United for £27 million:
Here's Shaw on the left and Chambers on the right. Shaw definitely more offensive. That's about it. pic.twitter.com/DHKM0jp5MF

— Ted Knutson (@mixedknuts) July 26, 2014
As Knutson points out, Shaw certainly has the advantage in the attack, but Chambers wasn't tasked with making as many forward runs. Considering how much the Red Devils spent on Shaw, Arsenal's deal looks much more reasonable.
On the whole, the Gunners have done very good business between bringing in Debuchy, Alexis Sanchez and David Ospina, whose transfer was confirmed Sunday, as per BBC Sport. Throw in Joel Campbell's return from loan and the club is addressing some of its biggest holes.
The future doesn't look near as bright for Southampton, who have seen a mass exodus of top talent from St. Mary's. Saints have already lost Shaw and Chambers. Dejan Lovren confirmed his move to Liverpool on Twitter as well:
I just signed a contract with one of the biggest club in football history, the great #LiverpoolFC !! pic.twitter.com/zZpZPvawj6

— Dejan Lovren (@DejanLovren05) July 27, 2014
Then, there's Adam Lallana and Rickie Lambert, who both left for Liverpool, not to mention Morgan Schneiderlin and Jay Rodriguez, who may be on the way out, too. It's hard to imagine a worse summer for Southampton:
It looks like Southampton are gonna lose Shaw, Lallana, Schneiderlin, Lovren, Chambers, Lambert & Rodriguez in the same window. That's nuts.

— Tom (@FourFourTom) July 25, 2014
Saints were one of the more enjoyable teams to watch over the past two seasons, but they could be headed for a relegation battle if the players they lost aren't replaced properly.