Real Madrid central midfielder Sami Khedira's summer transfer to Arsenal is in the balance, so should Arsene Wenger consider signing Hamburg's Tolgay Arslan?
Arsenal want to sign Khedira, per Gary Jacob and Matt Hughes at The Times (subscription required), but what about Arslan?

Khedira move back on after midfielder drops wage demands? All today's Arsenal news here http://t.co/bF6cL3dB2M pic.twitter.com/yi0mN1mrjl

— Mirror Football (@MirrorFootball) July 27, 2014
Arsenal no longer pursuing Khedira but still in market for DMF, will sign GK & probably DF depending on Jenkinson/Vermaelen situations #AFC

— David Ornstein (@bbcsport_david) July 21, 2014
To cover the hypothetical scenario of Arsenal targeting Arslan, here is a scouting report on the 23-year-old 5'11", 170-pound German-Turk.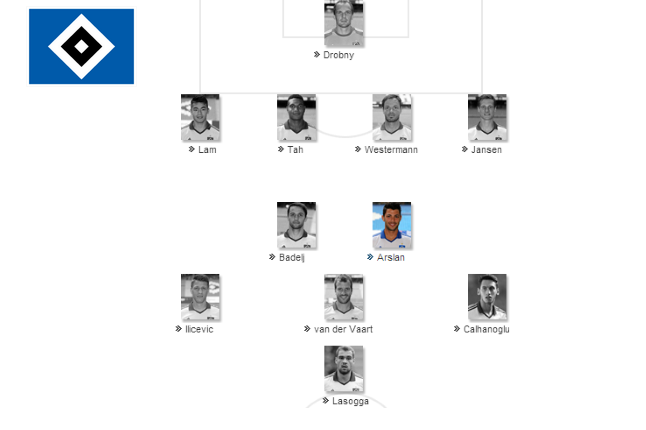 Credit: Kicker.de
Arslan Positives
Able to instantly cushion the ball, Arslan scrutinises the field and makes prompt decisions.
He is a more precise passer compared to a then-23-year-old Khedira at Stuttgart.
| | | | |
| --- | --- | --- | --- |
| League Only | Tolgay Arslan 2013-14 | Sami Khedira 2009-10 | Sami Khedira 2013-14 |
| Passes Per Game | 42.7 | 40.8 | 43.3 |
| Pass Completion % | 85.6 | 79.8 | 86.5 |
| Long-Pass Completion % | 76.4 | 69.4 | 84.6 |
| Assists | 4 | 5 | 1 |
| Key Passes Per Game | 0.9 | 1.4 | 0.9 |
In four years' time, Arslan could eclipse Khedira from a passing perspective.
Upon controlling the ball against Eintracht Frankfurt, Arslan instantly identified the situation and executed a shrewd play.
Eintracht Frankfurt centre-back

Carlos Zambrano and then-Eintracht Frankfurt (now Wolfsburg) right-back Sebastian Jung both attempted to cut off

Arslan's pass.

Zambrano reverted back into position, but

Arslan exposed Jung with a diagonal pass to a wide-open Hamburg left-back Marcell Jansen.
Advantage

Hamburg.
There is an Ilkay Gundogan-esque demeanour to Arslan when he is passing the ball, as exhibited with an elegant defence-splitting ball against Borussia Dortmund to Hamburg centre-forward Pierre-Michel Lasogga.
Luring Stuttgart goalkeeper Thorsten Kirschbaum out and setting up Lasogga with an instep-pass was classy and stylish.
Moreover, Arslan can tighten up his passing discipline.
He completed 52/55 passes against Hoffenheim in his side's 5-1 defeat last season, per FourFourTwo.
He has the capacity to sit in midfield and distribute with Mikel Arteta-like efficiency.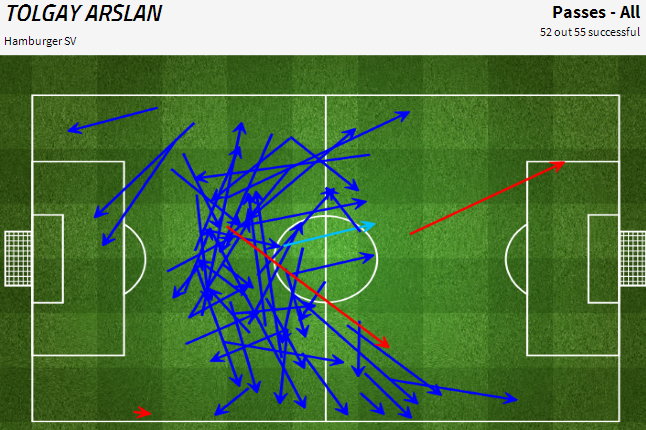 Credit: FourFourTwo.com
Arslan consistently uses his lively first step to make inroads.
This was evident when he completed eight take-ons against Wolfsburg in November 2013, per FourFourTwo.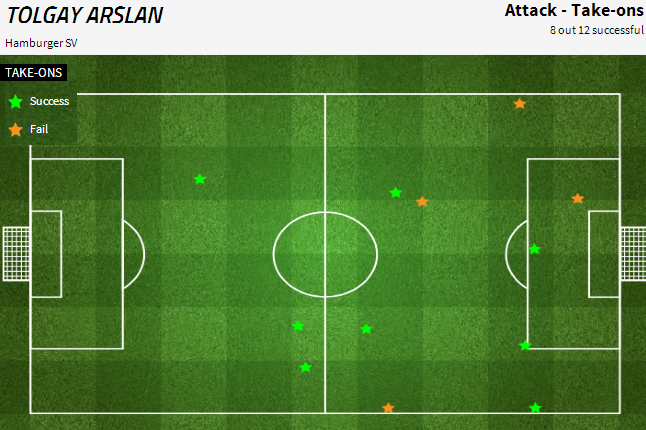 Credit: FourFourTwo.com
Like Arsenal utility player Jack Wilshere, Arslan loves to dribble in confined spaces, whereas Khedira times his box-to-box runs to coincide with defensive breakdowns.
No Arsenal player pulled off more dribbles than Arslan (89), who also drew 80 fouls.

Arslan completed more successful take-ons per 90 minutes (3.24) than Wilshere (2.36) and Khedira (0.65) combined (3.01), per Squawka.com.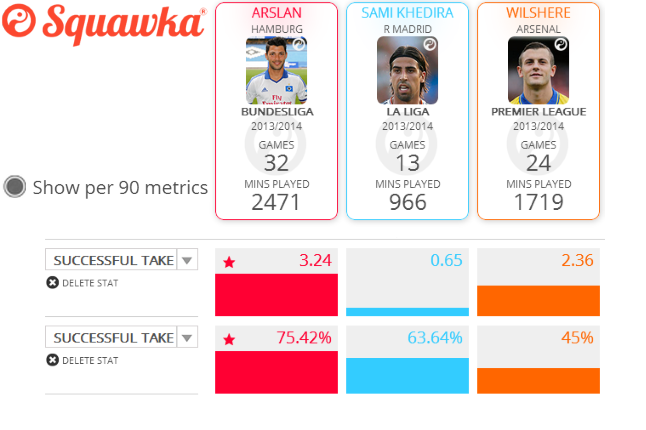 Credit: Squawka.com
Being a creative passer and a lethal dribbler is why Arslan has filled in as a central attacking midfielder.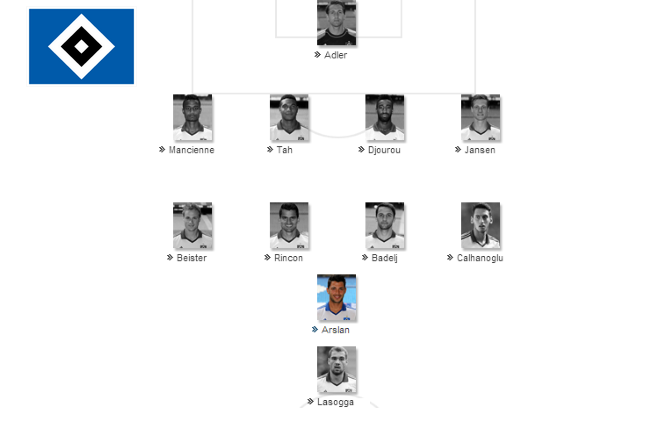 Credit: Bundesliga.com
Defensively, Arslan is noticeably a more prolific ball-winner than Khedira, who has not averaged 2.3 tackles per league game or more in his last five seasons.
| | | | |
| --- | --- | --- | --- |
| League Only | Tolgay Arslan 2013-14 | Sami Khedira 2009-10 | Sami Khedira 2013-14 |
| Tackles Per Game | 2.3 | 1.4 | 1.1 |
| Fouls Per Game | 1.7 | 0.7 | 1.2 |
| Tackles Per Foul | 1.4 | 2.1 | 0.9 |
| Interceptions Per Game | 1.4 | 1.8 | 1.0 |
| Possessions Won Back Per Game | 3.7 | 3.2 | 2.1 |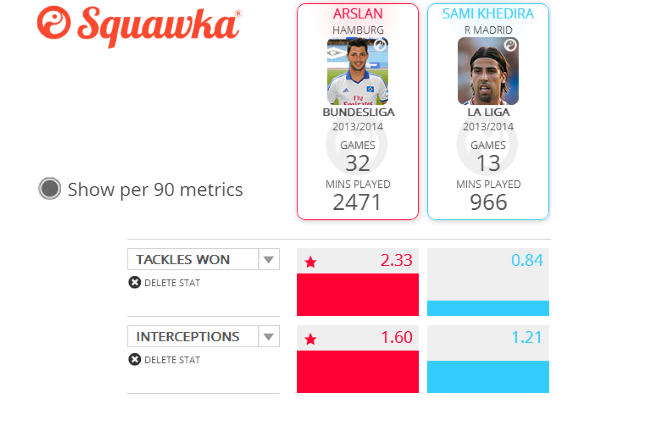 Credit: Squawka.com
Arslan Negatives
Statistically speaking, Arslan was solid in the 2013-14 season, so estimates his Kicker's Bundesliga player ranking out of 215 players.
Somewhere between 50-100, right?
Well, that is about 109-159 spots off. Even Johan Djourou (208) ranked above Arslan (209).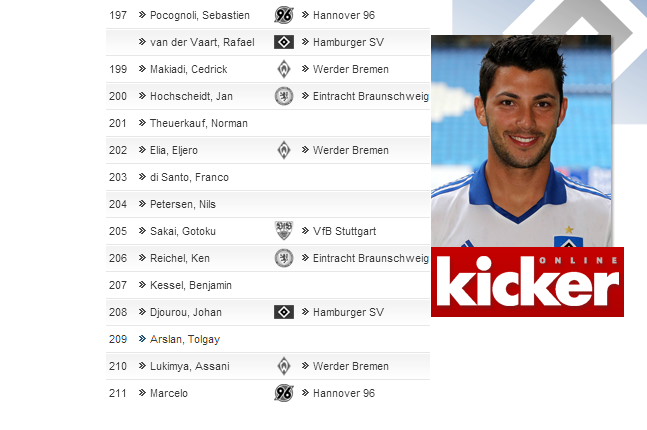 Credit: Kicker.de
Bild were harsher, ranking Arslan 229/233 Bundesliga players.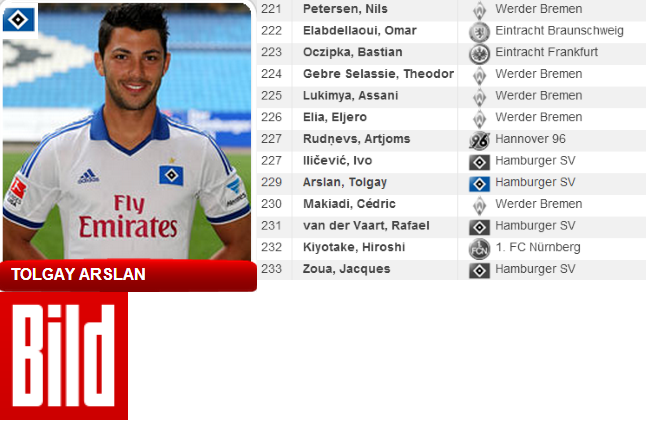 Credit: Bild.de
Despite Arslan's talent on the ball, he only averaged 0.9 key passes per game last season.
In terms of controlling the tempo of play, there were 60 players who averaged more passes per game (42.8 plus) in the Bundesliga than Arslan (42.7).
When Arslan played as a pivot or a central midfielder, he struggled defensively.
He was at fault when Hoffenheim central attacking midfielder Roberto Firmino scored.
Arslan gave up on a play enabling Hannover 96 utility player Lars Stindl to race towards Hamburg's penalty box unmarked.
Bayer Leverkusen's Eintracht Braunschweig loanee Karim Bellarabi deftly dribbled around Arslan.
Arslan's tackles lost, aerial duels won and fouls committed per 90 minutes were all worse than Khedira's, per Squawka.com.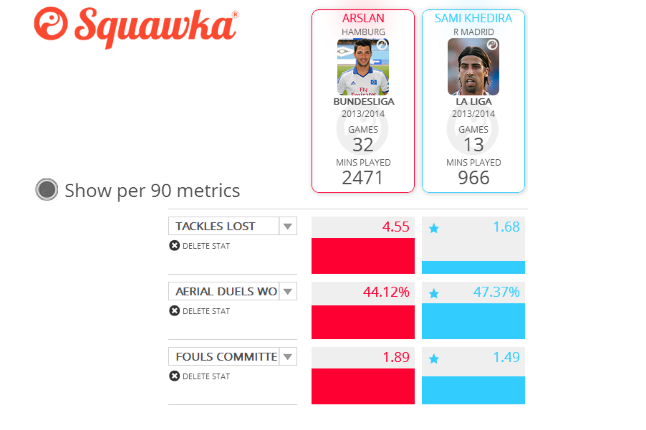 Credit: Squawka.com
Tolgay #Arslan shown his ninth yellow card of the season for @HSV #Bundesliga pic.twitter.com/xpZqF2c9Gu

— Bundesliga (@Bundesliga_EN) February 15, 2014
Bottom Line
You might be disturbed by Bild and Kicker slating Arslan, but keep in mind that Khedira was ranked the 175th-best player during the 2007-08 Bundesliga season, per Kicker.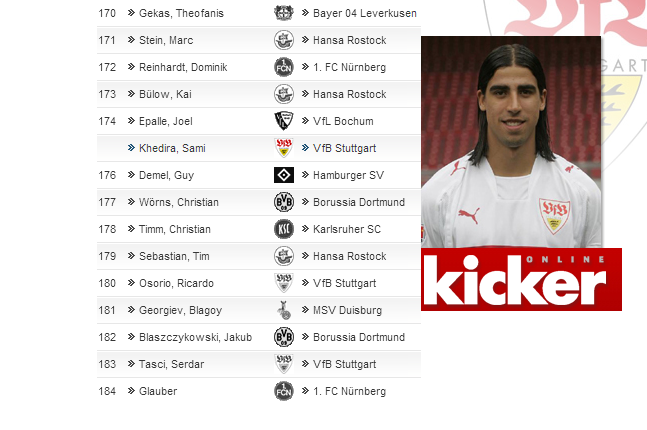 Credit: Kicker.de
Now Khedira, 27, is a FIFA World Cup winner for Germany and has played for Real Madrid since 2010.
Toon: #Arsenal & #Chelsea in #Khedira tug-of-war #KhediraToArsenal #AFC #CFC #podolski #Ozil #Mourinho #Mertesacker pic.twitter.com/W5UWmBGNLo

— Omar Momani (@omomani) July 25, 2014
Khedira, a world-class footballer, should be one of Wenger's primary transfer targets, though Arslan has a higher upside being four years younger.
A polished passer and a lethal dribbler, Arslan might end up being a better long-term signing than Khedira.
Tolgay #Arslan grüßt die Follower der #u21 und des #dfb vor dem Spiel #isrger @HSV. pic.twitter.com/JyOLjAPHr9

— DFB-Junioren (@DFB_Junioren) March 21, 2013
Statistics via WhoScored.com