With just six days remaining until the July 31 trade deadline, it's finally become clear that the Boston Red Sox should focus more on 2015 and beyond than the immediate future.
It was tough to make such a definitive statement just a few days ago, when the Sox went to Toronto with a chance to make up real ground in the division and save their season. Unfortunately, the Sox dropped three of four to the Blue Jays and are now 9.5 games out of first place in the AL East.
Boston has shown resilience in recent weeks, and it has more talent on its roster than its 47-55 record indicates. But this still isn't a playoff-bound team, and it's best that the front office, media and fans alike recognize that moving forward.
With the Red Sox's fate all but sealed, their mission at the trade deadline becomes simpler: bolster a squad that could compete next year and open up playing time for their bevy of young, talented players. That makes the Sox have some wheeling and dealing to do in the coming days, as they look to reshape their roster for August and beyond.
Trading Drew and Peavy, Too
If you're looking for the players perhaps most likely to be traded in the coming days, Stephen Drew and Jake Peavy should be on your short list. Both veterans are free agents after the season, both are blocking young players from seeing playing time, and both should still be attractive to contenders, despite their poor performances this year.
We've been hearing Peavy rumors for weeks now, with the St. Louis Cardinals cited as his most likely destination and the San Francisco Giants in the running as well. Recently, we learned from Peter Gammons of MLB Network that the Red Sox are scouting Cardinals prospects in case a deal can be reached.
Red Sox were in watching State College OF Rowan Wick in case Cards make deadline push for Jake Peavy

— Peter Gammons (@pgammo) July 22, 2014
Meanwhile, Andrew Baggarly of CSNBayArea.com reports that the Giants have interest in Peavy thanks in part to the most recent injury to Matt Cain. According to the report, Peavy is "a favorite" of Giants manager Bruce Bochy.
Regardless of who makes a move for Peavy, he's the current member of the Sox most likely to change uniforms in the coming days. His performance can easily be replicated or surpassed by Brandon Workman, Allen Webster or Anthony Ranaudo, and Boston would be best served giving starts to one of its younger arms.
We haven't seen as many rumors when it comes to Drew, but he figures to be an attractive option for contenders who need help at shortstop or who want a middle infielder to platoon. The Detroit Tigers would seem to be a good fit, as would the Milwaukee Brewers, Cincinnati Reds, Pittsburgh Pirates and even the Giants.
Moving Drew would allow the Red Sox to play Xander Bogaerts at shortstop everyday, opening up time at third base for Will Middlebrooks and Brock Holt. That makes dealing Drew worth it for Boston regardless of the return it receives.
Jettisoning Extra Parts
Peavy and Drew are the two players we're most likely to see moved in exchange for modest returns, but they're hardly the only players we can expect to see dealt. Indeed, the Red Sox would be wise to sell off more part-timers and veterans in the interest of giving younger players a chance to play.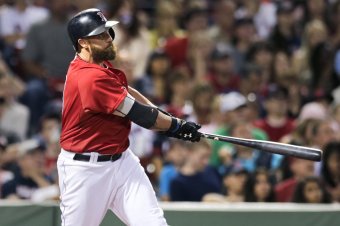 Charles Krupa/Associated Press
Jonny Gomes tops the list of part-time players most likely to be sent off on or before July 31. The enigmatic left fielder mashes lefties and comes up with timely hits, and his hijinks were a big part of what made 2013 so much fun. When it comes to on-field production, though, Gomes is eminently replaceable, and his presence blocks other young outfielders from seeing the time they need.
If Gomes is dealt, Mookie Betts can receive more playing time once the Triple-A season is over, and the resurgent Daniel Nava and amazing Holt will likely see more time, too. It's important for the Sox to assess what they have in those three players when they make decisions about their outfield for 2015.
According to ESPN.com's Jerry Crasnick, the Kansas City Royals have shown interest in trading for Gomes.
The #royals, in the market for a RH bat, have Jonny Gomes on their list of potential trade targets. #redsox

— Jerry Crasnick (@jcrasnick) July 14, 2014
In addition to the burly outfielder, the Red Sox could also look to move Mike Carp and Jonathan Herrera, neither of whom are likely to bring much back in a deal but neither of whom have much of a future in Boston.
Carp had a tremendous year at the plate in 2013 and could be of interest for a team who wants a left-handed pinch-hitter, but such players don't attract much on the trade market. The Sox don't need to give Carp away, as he's under contract through the 2016 season, but it's tough to see how he fits in with the team moving forward.
Herrera has become redundant with the emergence of Holt and Deven Marrero but can serve well as a utility infielder elsewhere.
Big Decisions in the Bullpen
For all the bad that's befallen the 2014 Red Sox, their bullpen has absolutely been a strength. Clunkers from the likes of Edward Mujica and Craig Breslow may stick out in your mind, but according to FanGraphs, Boston has the second-best bullpen WAR in the majors, trailing only the New York Yankees.
A huge part of that success, of course, can be attributed to Koji Uehara and Andrew Miller, who together form one of the most dominating setup-closer combos in the game today. Together, the two have combined for 2.7 fWAR, and they rank as the 12th-best and 14th-best relievers in the game, respectively.
Unfortunately for the Red Sox, both Uehara and Miller are slated to hit free agency after the year is over. Re-signing both is certainly feasible, and it might be a good idea with the current payroll flexibility Boston has. That being said, long-term deals for relievers rarely end well, and the Sox may be hesitant to shell out big bucks for two relievers.
If that's the case, it would make sense to commit to one reliever and trade the other. Uehara is slightly better and has more of a track record of success, but he's 39 years old, has a history of arm issues and already can't pitch back-to-back games.
Miller is just 29, but he is fairly new to being classified as a dominating reliever, and his command still escapes him on occasion.
Assuming the return for the two relievers would be fairly equal, it probably makes more sense to deal Uehara, given his age. Plus, trading him away doesn't disqualify the Sox from trying to reacquire his services during the offseason.
But according to Nick Cafardo of The Boston Globe, the Sox seem intent on holding on to Uehara for now:
Koji Uehara in great demand but Red Sox would like to hold on to him

— Nick Cafardo (@nickcafardo) July 20, 2014
Meanwhile, Gammons recently reported that the Red Sox are getting a ton of calls on Miller. Given the league-wide need for left-handed relievers, this should come as no surprise.
Botox source: by far the most trade inquiry calls have been on Andrew Miller

— Peter Gammons (@pgammo) July 19, 2014
The guess here is that we'll see one of Uehara or Miller dealt but not both. It's also possible we could see the likes of Burke Badenhop or Felix Doubront traded too, though any transaction involving those two would be minor.
A Post-Deadline Lineup
If Drew, Peavy, Gomes, Carp, Herrera and one of Miller or Uehara is dealt in the coming days, where does that leave the Red Sox moving forward?
Here's a look at what the 25-man roster could look like in the coming days (before rosters are expanded later in the season):
C: Christian Vazquez
1B: Mike Napoli
2B: Dustin Pedroia
SS: Xander Bogaerts
3B: Brock Holt/Will Middlebrooks
LF: Daniel Nava/Holt
CF: Jackie Bradley Jr.
RF: Shane Victorino/Mookie Betts
DH: David Ortiz/Middlebrooks
BN: David Ross, Middlebrooks, Jonathan Herrera, Betts/Nava
SP: Jon Lester, John Lackey, Clay Buchholz, Rubby De La Rosa, Brandon Workman
RP: Koji Uehara or Andrew Miller, Junichi Tazawa, Felix Doubront, Craig Breslow, Edward Mujica, two of Tommy Layne/Alex Wilson/Ryan Verdugo/Drake Britton/Dalier Hinojosa
Jim Rogash/Getty Images
This roster presents a nice balance in terms of letting the Red Sox play competitive baseball for the rest of 2014 while also letting the organization determine what it has for 2015 and beyond. Bogaerts, Betts and Bradley should be playing every day, and Holt, Vazquez and Middlebrooks should be playing at least five days a week.
Ortiz, Napoli and Victorino can be afforded extra time off as they recover from their various ailments, and Pedroia can be left near the top of the order as he attempts to right the ship.
In the rotation, both De La Rosa and Workman can prove themselves as the Sox consider stacking up their top five for next year. And in the bullpen...well, that's a less impressive group, no doubt about it. But sub-.500 teams don't need elite bullpens.
The Sox will miss the personalities of Gomes and Peavy, the steady defense of Drew and the effectiveness of Miller or Uehara. But they'll still put a reasonable product on the field while gearing for the future.
And while it might not feel this way right now, that future is indeed still quite bright.