If Manchester United abandon the chase to sign Juventus central midfielder Arturo Vidal, could Schalke's Roman Neustadter be plan B?
To address that hypothetical scenario, here is a scouting report on Neustadter, a 26-year-old German international.
Neustadter Positives
#Neustädter: "Wir sind nicht einfach im Vorbeigehen zu schlagen." #S04RMA #Schalke http://t.co/6WkgHjCHmk pic.twitter.com/xIKiIbt2jk

— FC Schalke 04 (@s04) February 26, 2014
Possessing balance, mobility, power and superlative size, Neustadter is blessed with the physical tangibles to prosper in the Premier League.
At 6'3" and 183 pounds, Neustadter is bigger, stronger and taller than Vidal (5'11", 165 pounds).
When Neustadter played for Borussia Monchengladbach, he was predominantly a midfield destroyer with a simple role: win back the ball and distribute it to Marco Reus.
Neustadter accrued 169 tackles and intercepted 162 passes in 59 Bundesliga games for Gladbach.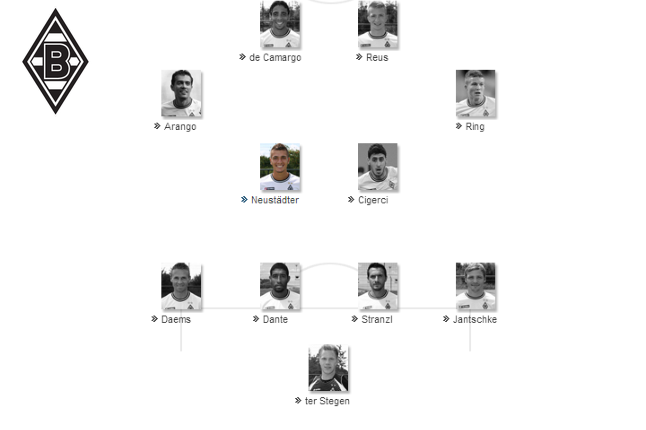 Credit: Kicker.de
Времена в #Gladbach #Reus #Neustadter pic.twitter.com/h6D9SVNZw7

— Doom (@reuspect) January 2, 2014
Hoher Besuch im BORUSSIA-PARK! Die ehemaligen Borussen Marco Reus und Roman Neustädter schauen im VfL-Stadion vorbei pic.twitter.com/bhulLW9uaf

— Borussia (@borussia) September 15, 2013
Since moving to Schalke, Neustadter has proved his game is more extensive.
Showing footballing smarts, Neustadter chested the ball into the path of then-Schalke (now Hoffenheim) centre-forward Adam Szalai against Hannover 96.
After playing a neat one-two with Schalke substitute Leon Goretzka, Neustadter split open Wolfsburg's defence with a through ball to Schalke central midfielder Kevin-Prince Boateng.
Carrying the ball out of defence, Neustadter pierced Hannover's back line with an incisive pass to then-Schalke (now Konyaspor) centre-forward Ciprian Marica.
Being a passing outlet and creating impact plays is an area where Neustadter is comparable to Vidal.
League Only

Arturo Vidal

Roman

Neustadter

Assists
5
5
Key Passes Per Game
1.5
1.0
Passes Per Game
45.9
50.8
Pass Completion %
83.7
83.0
Long Passes Per Game
3.7
4.1
Long Pass Completion %
81.3
79.8
Neustadter Negatives
When Schalke were hemorrhaging goals last season, Neustadter spoke about the team's need to enforce in midfield.
"We have to attack the ball more aggressively," Neustadter said, per Schalke's official website. "We're spitting venom again [flying into tackles in training] and that's how we need to carry on."
However, Neustadter noticeably declined in defensive productivity for Schalke.
In addition, his defensive output over the last four seasons was significantly lower than Vidal's.
Roman

Neustadter

League Only

2013-14

2012-13

2011-12

2010-11

Tackles Per Game
2.1
3.2
3.0
2.9
Fouls Per Game
1.3
1.3
1.3
0.8
Tackles Per Foul
1.7
2.5
2.3
3.5
Interceptions Per Game
2.8
3.2
3.4
2.1
Possessions Won Back Per Game
4.9
6.4
6.4
5.0

Arturo Vidal League Only

2013-14

2012-13

2011-12

2010-11

Tackles Per Game

4.1
4.9
5.4
4.7

Fouls Per Game

2.3
1.9
2.1
2.4

Tackles Per Foul

1.8
2.6
2.6
2.0

Interceptions Per Game

1.2
1.5
2.2
2.8

Possessions Won Back Per Game

5.3
6.4
7.6
7.5
Neustadter's defensive ability was at times unconvincing last season.
This was illustrated when Real Madrid right-forward Gareth Bale was offered ample time by Neustadter.
Bale telegraphed his cut in, so Neustadter covering as if the Welsh international would veer to the outside was a low-percentage decision.

Neustadter was not in position to cut off Bale's passing lane.
As a result, Bale completed a pass to Real left-forward Cristiano Ronaldo, who punished Schalke.
Lacking awareness, Neustadter had the ball stolen by Werder Bremen defensive midfielder Felix Kroos (younger brother of Toni).
Neustadter ball-watched and forgot to mark Borussia Dortmund central attacking midfielder Henrikh Mkhitaryan, who played in Dortmund left attacking midfielder Marco Reus.
Bottom Line
Cartoon of the Day: Vidal snubs Manchester United http://t.co/wDe2sECHuV #MUFC pic.twitter.com/vwWwvfZyMX

— Goal UK (@GoalUK) July 25, 2014
Vidal has given conflicting responses regarding his future at Juventus.
While he said "No, no," when asked if he would join United, he also said, per Sky Sports Italia (h/t The Guardian): "I don't know if I am staying at Juventus at the moment."
The smoking gun is Antonio Conte walking out of the Juventus job.
One theory behind Conte's resignation was being informed by Juventus that Vidal and Paul Pogba were saleable assets in this summer transfer window.
Clear to me that Conte resigned the second he found out that some of his key pieces at Juve are being sold. He wanted an ambitious project

— Matteo Bonetti (@TheCalcioGuy) July 15, 2014
United risk paying a Real Madrid-esque transfer fee the longer the Vidal transfer saga drags on.
Twitters obsession with #mufc and Vidal continues. Definite message of 'no interest' from the club, tho.

— Ian Ladyman (@Ian_Ladyman_DM) July 25, 2014
How about Neustadter as a viable alternative?
Tasked with anchoring Schalke's midfield, Neustadter went missing for parts of the season.
There was a drop-off in quality when you compared his performances last season to Augsburg's Daniel Baier or Gladbach loanee Christoph Kramer, two of the Bundesliga's pre-eminent central midfielders.
That said, Neustadter is physically superior to Vidal, just as good a passer and would be a cheaper option.
#Neustädter: "Lassen uns nicht aus der Ruhe bringen." http://t.co/s5MbeyBd7n #S04BMG pic.twitter.com/Hfkfbcwudw

— FC Schalke 04 (@s04) April 25, 2014
Statistics via WhoScored.com