The New York Jets invested a 2013 second-round pick in Geno Smith, endured the growing pains he went through as a rookie and stuck by him long enough to see improvement at the end of last season.
Although the team acquired veteran signal-caller Michael Vick to spur competition, Smith will remain atop the depth chart to start the 2014 campaign. Rich Cimini of ESPN reported the news:
Finally official: Smith will start week 1, per Ryan. #nyj

— Rich Cimini (@RichCimini) August 23, 2014
Dennis Waszak Jr. of The Associated Press provides head coach Rex Ryan's logic behind the decision:
Rex finally says Geno will be the starter: "He's done everything that we've asked." #Jets

— Dennis Waszak Jr. (@DWAZ73) August 23, 2014
Rex on Geno: "I think he's taken off from where he left off (last year)" #Jets

— Dennis Waszak Jr. (@DWAZ73) August 23, 2014
Rex says he feels "blessed" to have the QB situation he has with Geno and Vick. #Jets

— Dennis Waszak Jr. (@DWAZ73) August 23, 2014
Kimberley A. Martin of Newsday and Manish Mehta of the New York Daily News pass along comments from Smith:
Geno: "All along, I've had the notion I'd be out there in Week 1." #jets

— Kimberley A. Martin (@KMart_LI) August 23, 2014
RE: starting job, Geno said: "Did I have any doubt? I wouldn't let doubt creep into my mind."

— Kimberley A. Martin (@KMart_LI) August 23, 2014
Geno Smith on being named Jets Week 1 starter: "Obviously it's a big deal, but I'm going to keep working." #nyj

— Manish Mehta (@MMehtaNYDN) August 23, 2014
Geno Smith: "My game has to evolve." #nyj

— Manish Mehta (@MMehtaNYDN) August 23, 2014
Jane McManus of ESPN has Vick's take on the news:
Mike Vick: "I knew the entire time that Geno was going to be the starter." #Jets

— Jane McManus (@janesports) August 23, 2014
Vick acknowledged on the opening day of Jets training camp that Smith had already been anointed the starter—but didn't downplay his own abilities—per Mehta:
I think that's already been addressed as far as who the starter is. There's no more speculation about that. ... I still feel like I'm a premiere quarterback in this league.

As long as that's what I feel in my heart, when I step on the field, I can go out and (express) that. My thing is to continue to try to improve each and every day and not feel like I'm a crafty veteran who knows it all. I'm still open to learning. I still feel like if the opportunity comes, I can help this football team win.
This decision gives the Jets some clarity as to who their leader will be. Now that Ryan and the rest of the organization have endorsed him, it's up to Smith to deliver as the face of the franchise.
With that comes a lot of pressure, especially with such a dynamic, dual-threat QB behind him in Vick, whose improved proficiency from the pocket threatens to unseat Smith at any moment.
The NFL sample size on Smith is too small to draw definitive conclusions, but at this early stage in his career, he isn't as consistent with his footwork or as accurate as Vick has been in recent years. Both have immense arm talent, but Vick is superior in that regard as well, meaning Smith must prove he can execute at a high level.
Given how hard the Jets' schedule is in the early going, it may also be difficult to get a true indication of Smith's progress. At least, that's the opinion of Football Outsiders' Scott Kacsmar:
Jets could get hot after the bye, but those first 10 games are brutal. I'll be very surprised if they start 5-5. @Ryan_Riddle

— Scott Kacsmar (@FO_ScottKacsmar) July 23, 2014
Who will be the Jets' starter by the end of the 2014 season?
In the AFC East, the New England Patriots are the perennial powerhouse, having won 10 of the last 11 division titles. To unseat them, New York has to continue playing exceptional defense—something that's been commonplace during Ryan's tenure. What hasn't turned up in spades is steady quarterback play, something Smith must produce to get the Jets over the hump.
Ryan and his staff evidently feel that Smith gives the Jets the best chance to win now. This is a crossroads season for Ryan, and he's essentially entrusting his job security to an unproven QB. His contract isn't fully guaranteed after the 2015 season, so it's important that New York takes a big step forward.
I personally believe Michael Vick can do for Rex Ryan's Jets the same thing Alex Smith did for the Chiefs. Just an objective view folks.

— Omar Kelly (@OmarKelly) July 12, 2014
"Their passing offense last year with Geno Smith was 31st in the league & I can't believe Vick can't do better" Bill Polian on the #Jets

— SiriusXM NFL Radio (@SiriusXMNFL) July 17, 2014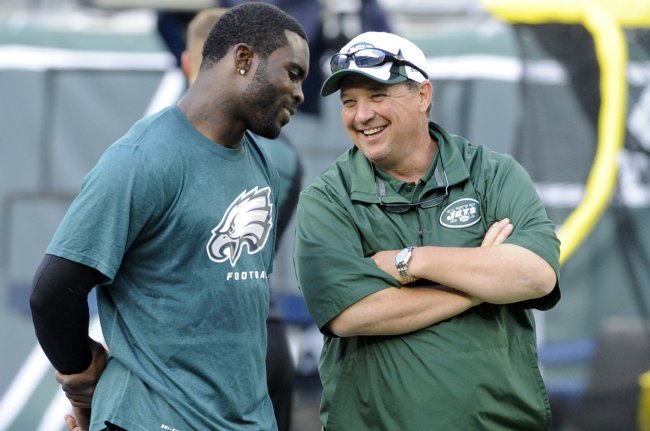 Bill Kostroun/Associated Press
For the Jets, success hinges heavily on Smith's performance. If he doesn't get it done right out of the gate, expect the leash to be short. Vick ought to get an opportunity if Smith struggles, clouding the long-term solution yet again for the Jets' perpetual problem at pro football's most vital position.