Teddy Bridgewater will have to wait a little longer to get his shot at being a starting NFL quarterback.
According to Fox Sports' Jay Glazer, the Minnesota Vikings have decided Matt Cassel will get the start in Week 1 while the rookie remains on the bench:
Vikings players were informed this morning that Matt Cassel will be the starting QB in Minnesota over Teddy Bridgewater

— Jay Glazer (@JayGlazer) August 25, 2014
Team loves Bridgewater and he will be their future but Cassel came in and performed well this preseason, did nothing to lose job

— Jay Glazer (@JayGlazer) August 25, 2014
The Vikings later confirmed the news:
Coach Zimmer just announced that Matt Cassel will be the #Vikings starting QB. pic.twitter.com/l1OF5FVwQC

— Minnesota Vikings (@Vikings) August 25, 2014
After a successful career at Louisville, Bridgewater went through a disastrous stretch before the draft and saw his stock slip significantly. He fell to the last pick in the first round before the Vikings traded up to grab him.
Despite this, Minnesota offensive coordinator Norv Turner admitted that his team got a steal.
"I think he probably should've gone in the first 10 picks. He probably should've gone at least in the first half of the first round, and then we're sitting there with an opportunity to get him when we did, it was a bonus to me," he explained on the team's official site, via Chris Wesseling of NFL.com.
The only problem was the challenge of cracking the starting lineup with more experienced players at the position. According to Matt Vensel of the Star Tribune, head coach Mike Zimmer already had a favorite going into camp:
Zimmer admits that Matt Cassel is his No. 1 guy going into training camp.

— Matt Vensel (@mattvensel) July 24, 2014
That Zimmer sided with a veteran out of the gate should have come as no surprise. After all, from 2008 to 2010, Cassel averaged over 3,200 passing yards per season, and he was selected for the 2010 Pro Bowl after guiding the Kansas City Chiefs to their first winning record since 2006. He's fallen off since then, to be sure, but experience is a valuable thing for a rebuilding team.
This competition is not something Bridgewater wanted to discuss early in training camp, via Tom Pelissero of USA Today:
Bridgewater on #Vikings QB competition: "That's something I don't feel comfortable talking about." OK then. http://t.co/IgbKT4y9eo

— Tom Pelissero (@TomPelissero) July 21, 2014
As ESPN's Ben Goessling points out, the quarterback was simply working hard to earn his place:
Bridgewater has been throwing in Florida, studying playbook for two hours each morning. Said he's just looking forward to getting started.

— Ben Goessling (@GoesslingESPN) July 21, 2014
Tom Pelissero of USA Today provided one veteran player's take on the decision:
One #Vikings veteran summing up the QB decision: "Everybody is excited about Teddy's future, but feel Matt is right for right now."

— Tom Pelissero (@TomPelissero) August 25, 2014
This is exactly what coaches love to see from young players looking to earn their roles on a squad.
Although Bridgewater will not start the team's opening game against the St. Louis Rams, it likely will not be too long before he ends up on the field for the Vikings. He has tons of pure talent with the composure to be successful early in his career.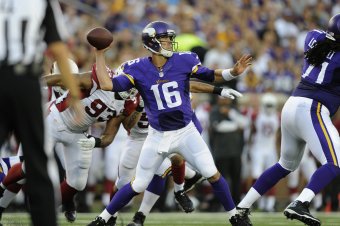 Hannah Foslien/Getty Images
If he can get better acclimated with the playbook as he continues to improve physically, the first-year passer has a good chance of starting by the middle of the season.
Meanwhile, Cassel will have the opportunity to showcase his ability after an up-and-down past few years in the league. While he is likely just holding a place for Bridgewater, he can still prove valuable for an NFL team, as he showed in preseason Week 2 when he went 12-of-16 for 153 yards against the Arizona Cardinals.
No matter who is under center, Minnesota will hope to improve upon the 5-10-1 record from last season and get back into the playoffs.
Follow Rob Goldberg on Twitter for the latest breaking news and analysis.