Manchester United's reported interest in Angel Di Maria may be tested, as Paris Saint-Germain and Real Madrid are said to have hatched a plan to secure the Argentinian's move to France.
Louis van Gaal is rumoured to be courting Los Blancos' unwanted star after James Rodriguez arrived in the Spanish capital, as reported by Paul Hirst of the London Evening Standard.
The Express' Ben Jefferson previously outlined PSG as favourites for Di Maria's signature, but transfer restrictions imposed on the club by UEFA looked set to end their hopes of snapping him up.
However, there does appear to be one way around the Financial Fair Play restrictions. As highlighted with PSG's loan signing of Serge Aurier, as reported by BBC Sport, agreeing to loan transfers without an immediate transfer fee allows the champions to continue working toward expensive targets.
Jefferson details the ploy: "Indeed, it is suggested that Real and PSG will agree to an initial season-long loan with a obligation to make the deal permanent next summer. That would allow PSG a further year to get their finances in order and offload players if necessary."
Although such a technique will allow world-class stars to arrive, Jonathan Johnson of ESPN FC indicates a loan deal for Di Maria will still need to be compensated with a major outgoing at the club:
As it stands, Jallet's departure to Lyon should cover Aurier's salary. So, only if PSG want to sign Di Maria, will they have to sell.

— Jonathan Johnson (@Jon_LeGossip) July 23, 2014
United could indirectly profit if Van Gaal's alleged interest in Edinson Cavani is to be believed, per Rob Bleaney of The Guardian. However, Johnson reports quotes from the Uruguayan that suggest he wouldn't be the player to leave if Di Maria's deal goes through:
PSG's Edinson Cavani to Ovacion Digital: "I am good in Paris, I think I'll stay. With market, you never know. The owners want to keep me."

— Jonathan Johnson (@Jon_LeGossip) July 23, 2014
That said, a concrete bid from United for Di Maria could blow PSG's hopes wide open.
Madrid president Florentino Perez is likely to prefer a full transfer fee for the energetic winger, whose recent switch to central midfield makes him a more attractive prospect. Considering he is thought to be valued in the region of £44 million, as noted by Transfermarkt, an up-front bid around this mark will surely give United the edge.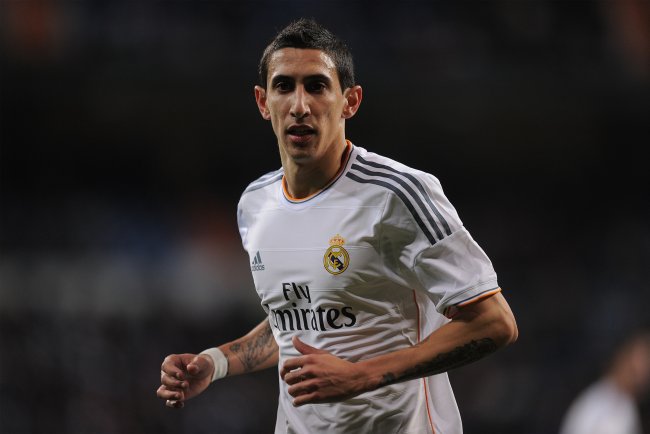 Denis Doyle/Getty Images
Should Manchester United make a bid for Angel Di Maria?
It's a number PSG simply can't match after dropping £50 million on David Luiz just months after UEFA imposed its fine and Champions League squad restrictions on the club. Let's not forget that Madrid recently paid £63 million for Rodriguez and may wish to cover their backs with a hefty sale, per ITV.
So many risks are involved with the loan deal, especially when it revolves around a valuable star who is at the peak of his powers. Unless PSG sign a contract saying the deal will definitely become permanent, they have no obligation to buy. Di Maria may lose his form or get injured before heading back to the Bernabeu having defaced much of his value.
If the French club fail to sort their finances, it may also prove to be a frustrating personal move for the player, who will be thrust around once more next summer.
Clive Mason/Getty Images
There's no doubt United can destabilise a potential loan deal by offering cash for Di Maria's services. He is the type of hard-working, skillful player who would be welcomed to the Theatre of Dreams, especially at this transitional time for the club.
Van Gaal is certainly the type of manager who would utilise him across the breadth of his team, depending on the situation at hand, but he will need to act decisively if he wishes to link up with Di Maria across the next year.