Kansas City Chiefs All-Pro running back Jamaal Charles had an extremely short-lived holdout, as he reportedly agreed to a new contract on Wednesday.
NFL Network's Ian Rapoport first reported the news:
Jamaal Charles and the #Chiefs have struck a deal, source says. He's heading to camp now.

— Ian Rapoport (@RapSheet) July 23, 2014
The Chiefs Twitter account snapped a picture of Charles signing his new deal:
Get ready for a lot more @jcharles25 in Kansas City. #Extension pic.twitter.com/o3HyeSHcvG

— Kansas City Chiefs (@KCChiefs) July 24, 2014
Fox Sports 1's Mike Garafolo provided further details:
Jamaal Charles will get $18 million in new money as part of his 2-year extension with the Chiefs, source tells @FOXSports1

— Mike Garafolo (@MikeGarafolo) July 23, 2014
Charles joked about holding out on Twitter:
I had no intention on holding out...I just ran out of gas on the way to camp and my cell phone battery died. It was a long walk I tell ya.

— Jamaal Charles (@jcharles25) July 23, 2014
Rotoworld's Evan Silva felt Charles was deserving of the fresh contract:
Good on #Chiefs to pay Charles. Was criminally underpaid after carrying KC O. Only RB in NFL to lead his team in every rush&receiving stat.

— Evan Silva (@evansilva) July 23, 2014
Matt Miller of Bleacher Report implored the Chiefs to pay Charles before the deal went down:
Running backs may be devalued, but Jamaal Charles *is* that offense. #paytheman

— Matt Miller (@nfldraftscout) July 23, 2014
Charles has been an integral part of Kansas City's offense, particularly in the passing game in 2013 under head coach Andy Reid. In addition to running for 1,287 yards and 12 touchdowns, Charles also caught a career-high 70 passes last season for 693 yards and seven more scores.
That doesn't quite do Charles' impact justice. Check out the context ESPN Stats & Info puts it in:
Jamaal Charles led the Chiefs in Rush yds, Rush TD, Rec, Rec yds & Rec TD in 2013. He had an NFL-best 35.3% of his team's yds from scrimmage

— ESPN Stats & Info (@ESPNStatsInfo) July 23, 2014
With how increasingly rare workhorse ball-carriers have become in the modern NFL, the value Charles adds to the Chiefs can't be understated.
Minnesota Vikings superstar running back Adrian Peterson received a lot of press for winning the MVP award in 2012 after tearing his ACL the season prior.
Many people forget Charles overcame the same injury—albeit with more time for rehabilitation—to run for a career-high 1,509 yards that same season. And that was with a bad passing game—on a team that went 2-14 and had the No. 1 overall pick in the subsequent draft.
Charles may have been hinting at this just days ago on Twitter, where he may or may not have been subtly plugging himself for a contract extension:
I got hurt... everybody said I wouldn't be the same & came back better!

— Jamaal Charles (@jcharles25) July 17, 2014
The combination of durability, elite speed and all-purpose versatility truly make Charles an elite commodity in the backfield. He is well worth the money despite the shorter shelf life for NFL featured backs.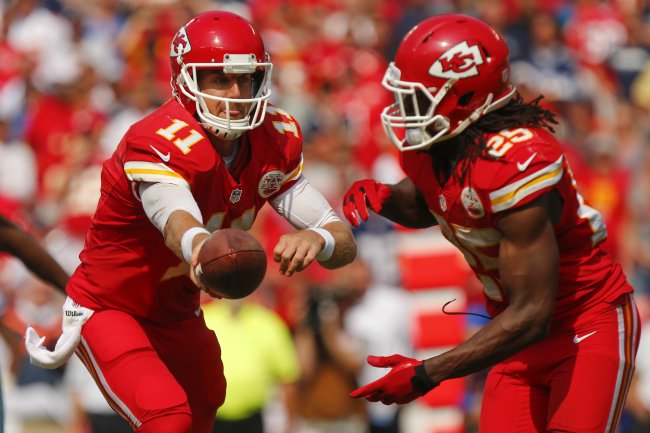 Kyle Rivas/Getty Images
Having Charles back on the field should be a relief for Kansas City. Whether quarterback Alex Smith enters camp disgruntled remains to be seen. Smith has felt deserving of a new deal entering a contract year, and absent a proven backup behind him, the Chiefs have to be careful not to upset their solid signal-caller.
With a back like Charles to hand off to and a cerebral QB in Smith under center, Kansas City has all the pieces in place to emulate last year's success. The concern is that Smith may ask for too much money, even though he isn't considered among the league's elite QBs by most.
At least one delicate financial situation has passed. Charles has proven he can get it done with or without a viable passing attack. The question is whether the Chiefs have the goods to keep their current nucleus. If not, they might be taking a step back in an AFC West division that saw three of its four teams make the playoffs last season.