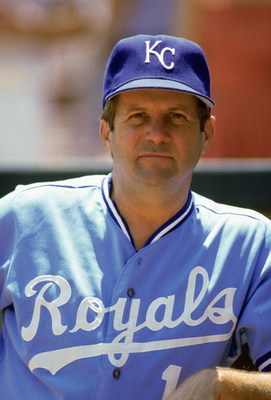 2009 has quickly become a "here we go again" year for Royal fans.
In order to salvage sanity and receive the second wind we all need to follow these lovable losers through almost 80 more games, it has become necessary to take a look at the elements that have kept us on this bandwagon through the decades of failure.
Certain players bring excitement.
Speed, power, hustle, arm strength...these are a few of the skills that impress everyone from the most experienced sportswriter to most casual fan.
Since the mid 1980s, these entertaining elements are all we Royal fans have come mid summer.
Here are a few of my favorites through the years:
10-Bob Hamelin & Calvin Pickering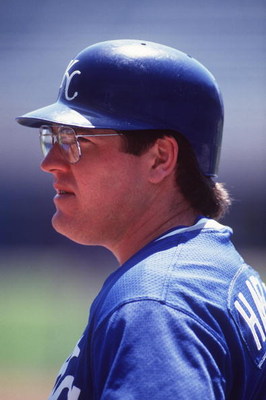 I admit it, I was tricked.
When I saw Bob Hamelin hit 24 home runs, win the Rookie of the Year Award, and covet a sweet nickname—"The Hammer"—in a strike shortened 1994 season, I was convinced the Royals had struck gold.
At least we had '94!
Who would have ever thought that an athlete of his caliber would be hindered by leg injuries?
When I saw Calvin Pickering, all I saw was 6'5", 275 lbs. If Bob Hamelin was "The Hammer", this was most definitely "The Sledge-Hammer".
Then they threw him a breaking ball.
Reminds me of another ballplayer:
Pedro Cerrano: Bats, they are sick. I cannot hit curveball. Straight ball, I hit it very much. Curveball, bats are afraid. I ask Jobu to come, take fear from bats. I offer him cigar, rum. He will come.
Eddie Harris: You know you might think about taking Jesus Christ as your savior instead of fooling around with all this stuff.
Pedro Cerrano: Jesus, I like him very much, but he no help with curveball.
9-Steve Balboni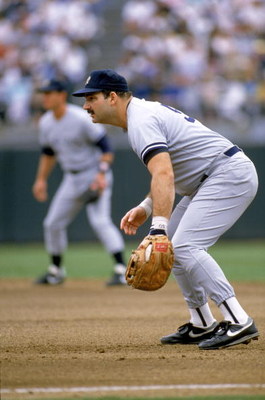 "Bye-Bye" Balboni is the Royal definition of power.
His perfectly vertical bat head leading to a quick and powerful stroke awed the fans in Kansas City on 36 occasions in 1985—still a team record.
He was very one-dimensional, but on a team that won the World Series that year, Balboni knew his role.
Before baseball entered the modern "steroid" era, home runs were more of a commodity.
Balboni was an old-fashioned, overweight, power hitter that looked like he played baseball.
And he had a sweet Burt Reynolds on his top lip.
8-Willie Wilson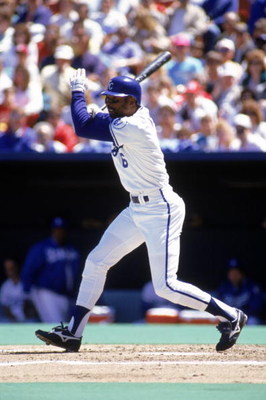 I am too young to remember Wilson leading the American league in stolen bases with 83 in 1979.
I am too young to remember Wilson's memorable 1980 season, in which he was fourth in the American League MVP voting (.326 BA, 230 H, 133 R, 28 2B, 15 3B, 79 SB).
I am too young to remember Wilson's batting title, when he hit .332 in 1982.
But Willie still had plenty left in the tank by the mid 1980s and beyond.
His jittery stance, slappy swing, and frail frame were assets given the small ball style the center fielder played.
He was one of the finest leadoff hitters to play the game given his career 668 stolen bases and 1,169 runs over his 19 seasons, and it always felt as if he was about to start a rally.
7-Brian McRae (Player) / Hal McRae (Manager)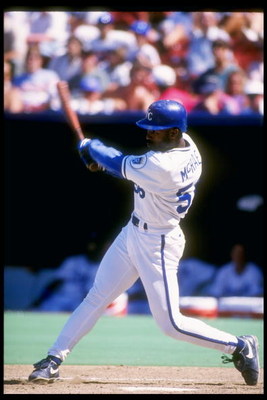 The Griffey Family of Kansas City.
I loved Hal.
I loved Brian.
Hal even managed Brian for four seasons in KC, with Hal's tenure culminating in one of the most astounding tirades baseball has seen this side of Lou Pinella.
Brian McRae roamed the Royal outfield from 1990 through 1994. Though his time at "The K" was short, it seemed like we all won a Willie Wilson bonus.
Wilson had been in KC since 1976 before he left for Oakland in 1991.
McRae's numbers will never be confused with Willie's, but his presence helped blur the gap between dominance and mediocrity in center field.
6-Danny Tartabull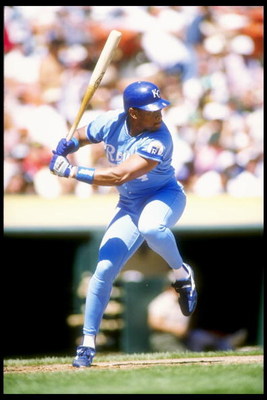 Tartabull's looping Julio Franco-esque swing was a dominant force in the years he spent with the Royals.
He was in the discussion for MVP honors in his first and final seasons in KC. He finished 17th & 12th in the voting for his work in 1987 (.309, 34, 101, 95) and 1991 (.316, 31, 100, 78).
Injuries limited his production at times, but when he was in the lineup, he was raking.
Eventually, the Yankees outbid the Royals for Tartabull's services and his time in KC ended.
Luckily, the Royals benefited from his most productive seasons while the Yankees supported his biggest paydays.
5-Kevin Appier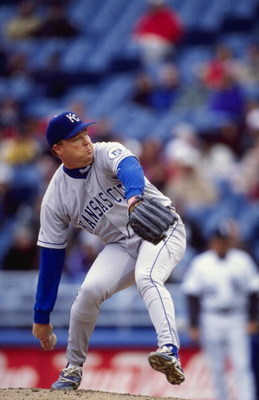 Appier's unorthodox delivery and bring it mentality made him one of the top pitchers in the American League during the early 1990s.
In 1990, Appier put forth a 12-8, 2.76 performance, and made a strong case for Rookie of the Year.
By 1993, Appier had established himself.
That season, he dominated in going 18-8, 2.56, 186 K, an incredible 179 ERA+, and Cy Young and MVP consideration.
All of this in a small market with an under performing team.
After an injury plagued 1998 season, Appier asked to be traded to a contender and ended up on the Athletics for his last 12 starts of the season.
He would return to end his career a Royal, but he was never the same once he initially left Kansas City.
4-David DeJesus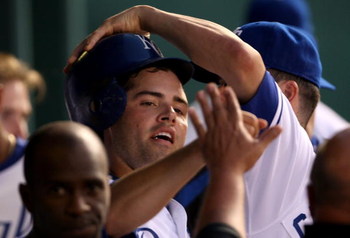 David DeJesus loves baseball.
He's always bouncing around the field—not in that annoying David Eckstein way, though.
And he's always joking with teammates—not in that "does he even care?" Manny Ramirez way, either.
He is who I always dreamed I would be when I was 14 and still had aspirations of going pro.
Not only does he have fun, but that fun has allowed him to maximize on his modest abilities.
He has always been considered quick, but not fast. A good hitter, but lacking power. Having a decent, but not exceptional arm.
While all of these may be fair assessments, there is an element that cannot be accounted for.
David DeJesus loves to play the game. His attitude elevates his own game and spreads to his teammates.
3-Bo Jackson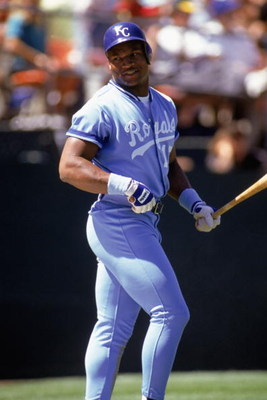 The most amazing athlete I have ever had the pleasure to watch on a consistent basis.
Throwing a speedy Harold Reynolds out at the plate from the wall should be regarded as one of the greatest plays in baseball history.
It probably would be if anyone could wrap their head around what he did.
Even when Bo struck out it was entertaining. You never knew if he would break the bat over his head or knee.
As a lifelong Chief fan, I even found myself watching Raider games to bask in Bo's athleticism.
He was one of a kind, and I'm just glad he was a Royal.
2-Frank White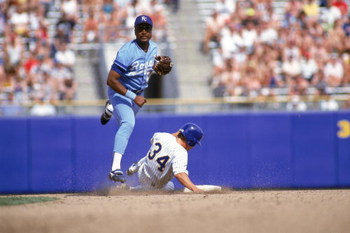 Frank White may be the only Royal to have more fun on the job than David DeJesus.
By the mid 1980s, Frank wasn't just having fun, he was producing in every aspect of the game.
The once light hitting middle infielder sorted out his offensive woes and became a productive member of the lineup with 20+ home run power.
His defensive abilities blossomed, and he became a perennial gold glove winner.
In 1986, his efforts culminated as he put forth a .272, 22, 84, 76; he also won the Silver Slugger Award, Golden Glove Award, and made the All-Star Team.
The fact that he was a product of Ewing Kauffman's Royal Academy, played his entire career in Royal Blue, managed in the farm system, and now broadcasts Royal games on FSN proves he is a fan and student of the game.
His presence in this organization is integral to its success.
If/When Trey Hillman runs his course as Royal Manager, Frank White should be atop the list of possible replacements.
1-George Brett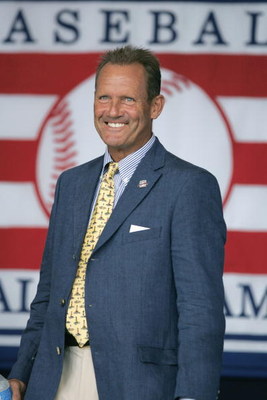 Any All-Time Royals list that does not build toward Brett is a list I want no part of.
He is KC's Golden Boy from the Golden State.
His Hall-of-Fame career needs no introduction.
He is regarded as one of the greatest hitters of all time.
He still bleeds Royal Blue, and his quotes about the team are almost as entertaining as his play was.
When Brett stepped into the box, waved his bat, and leaned back on his left leg, there was a sense of comfort.
A feeling that George wouldn't let us down.
He usually didn't.
The Royals need another George Brett...but I'd settle for a Bo.
Keep Reading

Kansas City Royals: Like this team?